One sunny afternoon in late May the Visit Notts team had the pleasure of taking a rather unique excursion around our good city of Nottingham. A new guided tour, the Nutty Nottingham Comedy Tour, had come to our attention, so of course we had to give it a whirl.
Our guide for the afternoon, Paul – aka The Sheriff – is a born raconteur and an all-round affable personality to spend a couple of hours with. His illustrious history lies in radio, comedy and travel – making for some cracking stories, which he told us over a few drinks after the tour at the famous Ye Olde Trip to Jerusalem.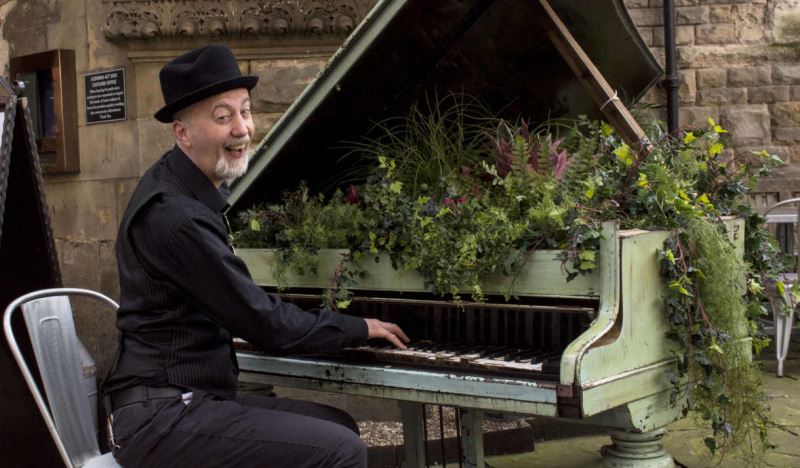 Paul met us by The Bell Inn, another of Nottingham's oldest pubs, and after a friendly hello and introduction it was clear we were in for a relaxed, witty wander through Nottingham's streets. It was very much like having an old mate show you around their home town, letting you in on the local humour and in-jokes that you'd never normally discover, while providing some fascinating facts about the city.
We made our way through the Old Market Square, hearing some infamous history of the famous Left Lion, and up to the boho district of Hockley, returning through the historic Lace Market with conversation buzzing all the way. For anyone unfamiliar with the city, Paul's knowledge is more offbeat and will provide you with some little-known gems. Along with historical facts and humorous quips, Paul pointed out bars and restaurants to check out, street names that hint at Victorian history, a pub with very intriguing signage, and some of the well-known brands that were born here.
Being local and quite Nottingham savvy, we took a slightly shortened route. Should you prefer a private booking, Paul is able to tailor the tour for you too, so whether you've got kids in tow or a group of stags to entertain, you'll get the right flavour of humour and pace.
The Nutty Nottingham Tour is a great way to get under the skin of a city which has a rich and gritty history, spending an hour or two with Paul will provide you with laughs as well as learning. Each tour begins at The Bell Inn and takes place every Saturday at 2.30pm and 5pm, lasting around 90 minutes.
Nutty Nottingham tours can be booked online or pop into Nottingham Tourism Centre, just next to the Old Market Square, where you will receive an MEP (Most Excellent Person) card to exchange on the day.
---
This blog was written by Sophie Gargett, Marketing Assistant at Visit Nottinghamshire.
Related
1 Comments