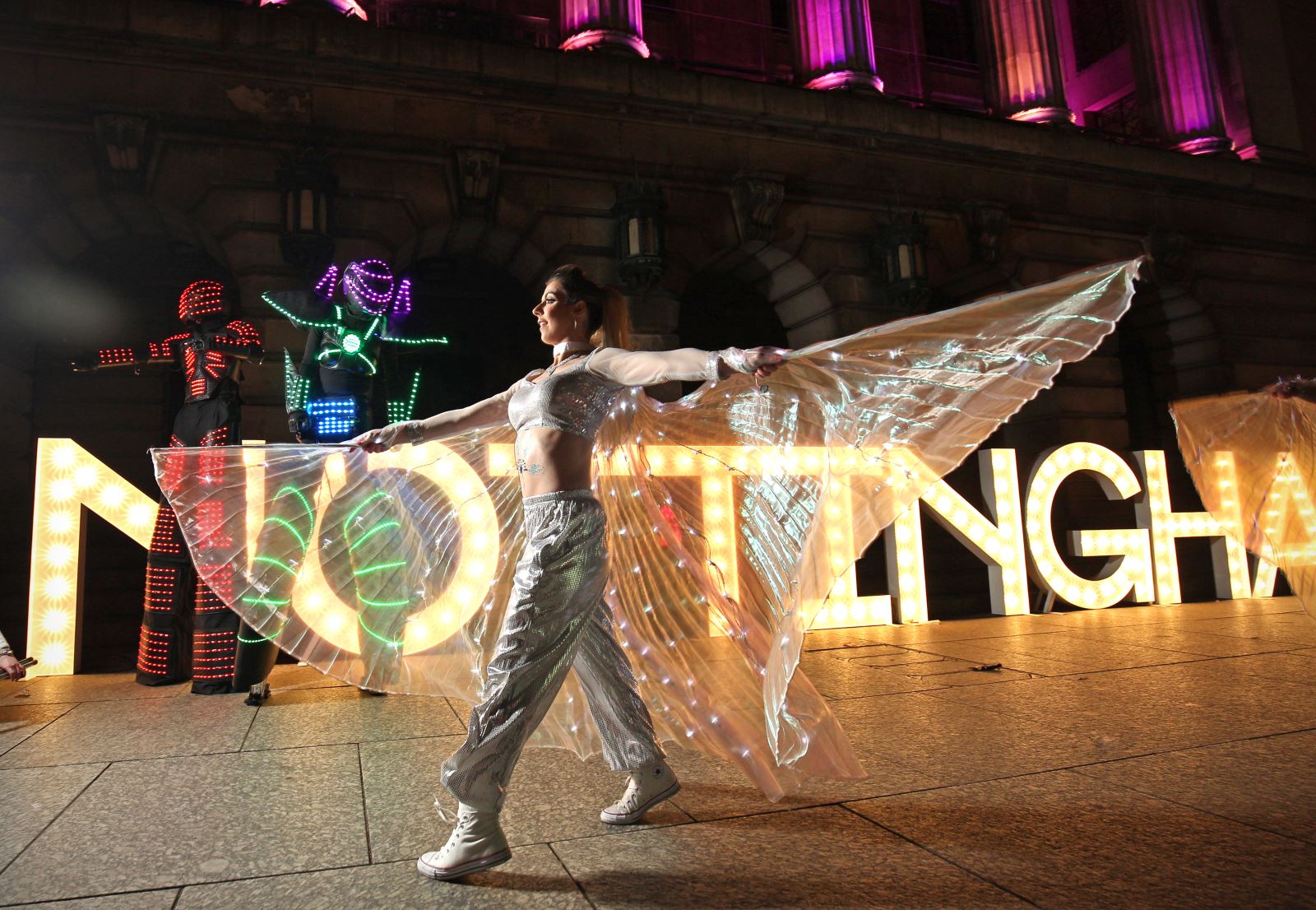 The evenings may still be a little dark and dreary but there's something on the horizon to brighten things up! The ever-enchanting Light Night sees the city come alive with illuminations, installations and inspired performances. This year's delights are all inspired by the 50th anniversary of the Apollo 11 spaceflight and landing of the first man on the moon.
With so much going on, we've selected a few favourites and things not to be missed to guide your journey though the city on this most magical of evenings. Click here to take a look at all the events Light Night has in store using the way finder, which is available in digital and printable PFD form.

Highlights

---

Museum of the Moon

Where: Royal Concert Hall
When: 5-10pm (plus Saturday 9 February 10am-4pm)
If you only see one thing in Nottingham this Light Night, make it the Museum of the Moon. This spectacular artwork by Luke Jerram was created using NASA imagery to replicate the lunar surface with astounding detail. The colossal seven-metre sculpture is complimented by a sound composition created by award-winning composer Dan Jones for an immersive, awe-inspiring experience.
---
Where: Old Market Square
When: 10am-10pm
See the city from an aerial perspective with a spin on The Wheel of Nottingham - a 60m-high observation wheel. The wheel will be around from the 8 – 24 February, but there's no better opportunity to take in the breath-taking views of city skyline than Light Night! For more information and to beat the queues by booking online, please click here.
---
Mill by Moonlight

Where: Green's Windmill
When: 4pm – 8.30pm
Nottingham's picturesque mill on a hill will be open after hours at this special open evening - a unique opportunity for visitors to look over the city's twinkling lights during darkness.
---
Sneinton Market

Where: Sneinton Market Avenues, NG1 1DU
When: 7-8.30pm
Expect a carnivalesque, festival atmosphere in the avenues of Sneinton Market with live music and light installations to enjoy as you can browse the craft and food stalls of the night market. At 7pm, the illuminated parade of colourful dancers, magical performers, glowing lanterns and puppets will create a spectacle not to be missed.
---
Night at the Museum

Where: William Booth Birthplace Museum
When: 4-8.30pm
Step back in time and enjoy a guided tour around the candle-lit Georgian home of William Booth – founder of the Salvation Army - and learn about the young man who would go on to change the world by bringing the light of hope into people's lives. Free tours will be running at 5pm, 5.30pm, 6pm, 6.30pm, 7pm & 7.30pm – call the museum on 0115 979 3464 to book. In the Community Centre next door to the museum, there'll be more free Light Night fun, including: live music and a drop-in all ages crafts workshop.
---
Family Activities
---



Kiddo Dis-Glow

Where: Malt Cross
When: 4-8pm

Bring the kids along for a boogie at the glowstick dance party downstairs in the Workshop of Nottingham's gorgeous Victorian Music Hall. Entry is free with glowsticks available for a £1 donation.
---
LA TABLA

Where: Broadway
When: 6pm until late
LA TABLA is a magical table – put things on it and they come to life! This ground-breaking way of interacting with computers allows you to reach into the simulation world to make music and animations, play games and design your own pinball table. You can use your body, paper, drawings, games pieces - the only limit is your imagination! This description-defying installation is something you really need to experience first-hand to appreciate.
---
Lunar Explorers

Where: Nottingham Playhouse
When: 4.30-8.40pm
Head on a lunar adventure at Nottingham Playhouse where you can create your own magical lantern inspired by the solar system.
---
PlayWorks Spaceship

Where: Nottingham College, Adams Building, Lace Market, NG1 1NG
When: 4-8pm
Drop in to get creative using recycled materials to create an awesome spaceship with PlayWorks.
---
Making Light of Things

Where: By Our Hands We Make Our Way, Unit 42 Sneinton Market, NG1 1DQ
When: 5-7pm
Get stuck in at this free workshop - make glowing shadow puppets, create strange and wonderful lit-up worlds, and project your stories onto the windows to surprise passers-by.
---
PERFORMANCES
---



Urban Astronaut

Where: Old Market Square
When: 6.40pm and 9.10pm
An astronaut is suspended mid-air, a visitor from the future returning to search for a solution to impending environmental disaster. Combining simple storytelling with a moving dance performance and amazing special effects, this unique and thought-provoking performance that explores air pollution is not to be missed.
---
Nottingham Ukulele Orchestra

Where: Royal Concert Hall
When: 7-9pm
Experience the delight of 30 Ukuleles, playing songs you know and love. You will soon be tapping your feet and singing along to the sparkling sound of The Nottingham Ukulele Orchestra.
The Physics Buskers Light Fantastic

Where: Canalside, NG2 1EE
When: 6-9pm
The Physics Buskers present several physics tricks on the theme of light, including fibre-optics, spectra and loads of glow-in-the-dark stuff.
---

Installations
---

Beams of Light and Celestial Sound Cloud

Where: St Mary's Church, Nottingham City Centre
When: 6-10pm
There's plenty to see at the historic St Mary's in the Lace Market; the beautiful candlelit church will be open all evening for regular short concerts by the renowned choir of St Mary's, and the chance to see some amazing installations. Beams of Light is an immersive projection installation designed from digitised natural textures. It presents the subtle, tiny details of our environment we normally miss, showing its geometric order, pattern and form as the audiences explores a mist of projected light. Here you'll find the Celestial Sound Cloud - a beautiful sound and light installation which is activated as you move beneath it to create unique vocal harmonies and light show.
---
Nebulae

Where: St Peter's Square, Nottingham
When: 6-10pm
Ethereal and otherworldly, Nebulae are moving sculptures which refract and reflect light as that rotate, casting nebulous shadows. Make sure you check out this mesmerising installation.
---
Celestial

Where: Robin Hood Statue
When: 6-10pm
A suspended lunar sculpture illuminated by slowly colour-changing LED lights to create a celestial ambiance.
---
Light Field

Where: Lace Market Square, NG1 1QS
When: 6-10pm
This participatory sound and light installation really has to be experienced to be appreciated. A field of glowing beacons and sound-emitting lanterns await activation. Light Field invites people to both become part of and alter the ambient installation with simple choreographic instructions for movement and play.
---
This blog was written by Claire Jones, Marketing Assistant at Visit Nottinghamshire.

Related
0 Comments