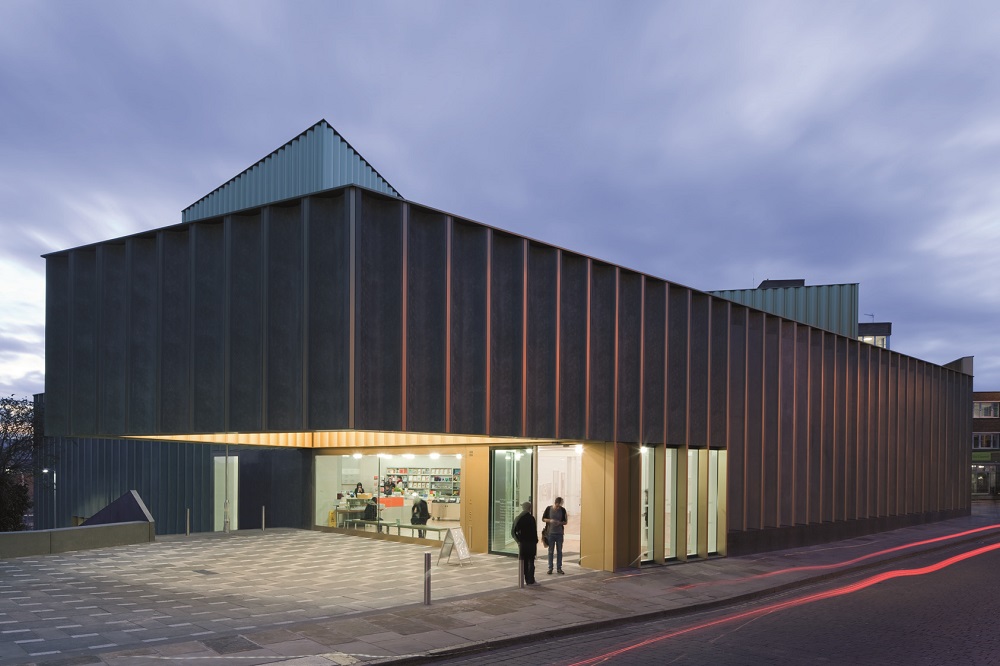 Visit Nottinghamshire were thrilled to see that our very own Nottingham Contemporary has been named as one of five finalists for Art Fund Museum of the Year 2019, regarded as the most prestigious museum prize in the world. The annual award celebrates innovation and exceptional achievement in museums and galleries across the UK, and it's wonderful to see Nottingham Contemporary gaining recognition in these areas.
To celebrate this fantastic achievement – which just so happens to coincide with their 10th birthday – here are 10 reasons we love Nottingham Contemporary:
It has a reputation for adventurous and ground-breaking exhibitions. Nottingham Contemporary is considered to be one of the most vibrant and vital contemporary art centres in Europe, and was once described as "the most inspiring gallery in the UK" by the Guardian. You'd be forgiven for feeling a little smug that it's right here in Nottingham.
They've reached over 2 million people since opening in 2009, through over 50 exhibitions by 500 artists. That's a lot of people who have been able to experience their fantastic cultural programme. The gallery has even embraced new technologies, rendering their exhibitions in virtual reality to reach visitors beyond the region.
It's free to enter. Over the last decade, they've run over 1000 free-to-attend events, talks and educational programmes as well as the exhibitions themselves. We shouldn't underestimate the importance of making art accessible to everyone, helping to inspire the next generation of artists and art-lovers.
We love the building itself. Designed by Caruso St John Architects, Nottingham Contemporary's RIBA Award-winning building has been described by the architecture critic Owen Hatherley as "the first masterpiece of British architecture of the twenty-first century", whilst the antique lace design on its walls is a tribute to Nottingham's industrial heritage.
They celebrate the work of marginalised groups. In the past year, they've hosted three critically-acclaimed exhibitions, shining a light on the work of women artists and overlooked and marginalised cultural practices, including From Ear to Ear to Eye, exploring the Arab world, The House of Fame by the British artist and musician Linder, and Still I Rise: Feminisms, Gender and Resistance, which explored the museum in the age of #MeToo. It's relevant, it's inclusive, and it gets a huge thumbs up from us.
They do fantastic work with young people in Nottingham. Nottingham Contemporary partners with UoN and NTU to support 60 student placements a year, equipping young people with vital skills and experiences. Some 2,500 young people from across the city attend events each year programmed by Nottingham Contemporary's 1525 Collective, and their free-to-attend learning programme of activities, workshops and projects reached over 25,000 people.
They support artists at all stages of their careers, and have commissioned major new works from artists including Simon Starling, Otobong Nkanga, Wu Tsang and Daniel Steegmann Mangrané. A public artwork by Lara Favaretto, titled Thinking Head (2017), took the form of a cloud of steam billowing above the building for six months, and will be presented this year on top of the Central Pavilion at the 58th Venice Biennale.
They play a vital role in the city's cultural regeneration. Nottingham Contemporary has led three seasons of "The Grand Tour", a partnership spanning cultural venues across Derbyshire and Nottinghamshire. Supported by Arts Council England, this programme alone has generated £47 million towards the local economy.
They undertake cutting-edge research. Working in partnership with both universities, Nottingham Contemporary's vibrant and significant programme of public events and original research engages with cutting-edge cultural debates and artistic practices. Launched last year, The Contemporary Journal is Nottingham Contemporary's open-access digital publishing platform, which shares research to audiences internationally.
They support and engage with the local community. Nottingham Contemporary collaborates with a range of local groups and communities and have been partners in projects that have seen the work of the city's residents represented in exhibitions at the Houses of Parliament (First Waves, 2018) and the National Portrait Gallery (Creative Connections, 2017). Since 2016, Nottingham Contemporary's Loudspeaker programme has supported 150 women with complex needs, living in difficult circumstances.
All of this means that Nottingham Contemporary is a huge asset to the city, and we're so proud that they're getting the recognition they deserve by being shortlisted for Museum of the Year 2019. The winning museum, which will receive £100,000, will be announced at a ceremony at the Science Museum, London, on Wednesday 3 July 2019, and the other shortlisted museums will receive £10,000 each in recognition of their achievements. We're keeping our fingers crossed…
This blog was written by Sophie Milne, Communications Executive at Visit Nottinghamshire.
Related
0 Comments