Always a highlight of the autumnal calendar in Nottingham, The Robin Hood Beer and Cider Festival returned triumphantly yesterday. For many years the annual beer festival was held in the grounds of Nottingham Castle, but with it currently closed for its grand transformation project, last year it was moved to its new home at Motorpoint Arena. Like many visitors who'd grown accustomed to the beautiful views over the city from the Castle's grassy lawns as you enjoyed a brew or two, I wasn't sure what to expect from the new venue. Thankfully I was pleasantly surprised and reassured that Nottingham's fantastic festival is still the best around, with more beers than any other in the world, live music, outdoor spaces to enjoy and the same great atmosphere - whilst making the most of the opportunities presented by the new venue - so I was excited to see what this year's festival had in store.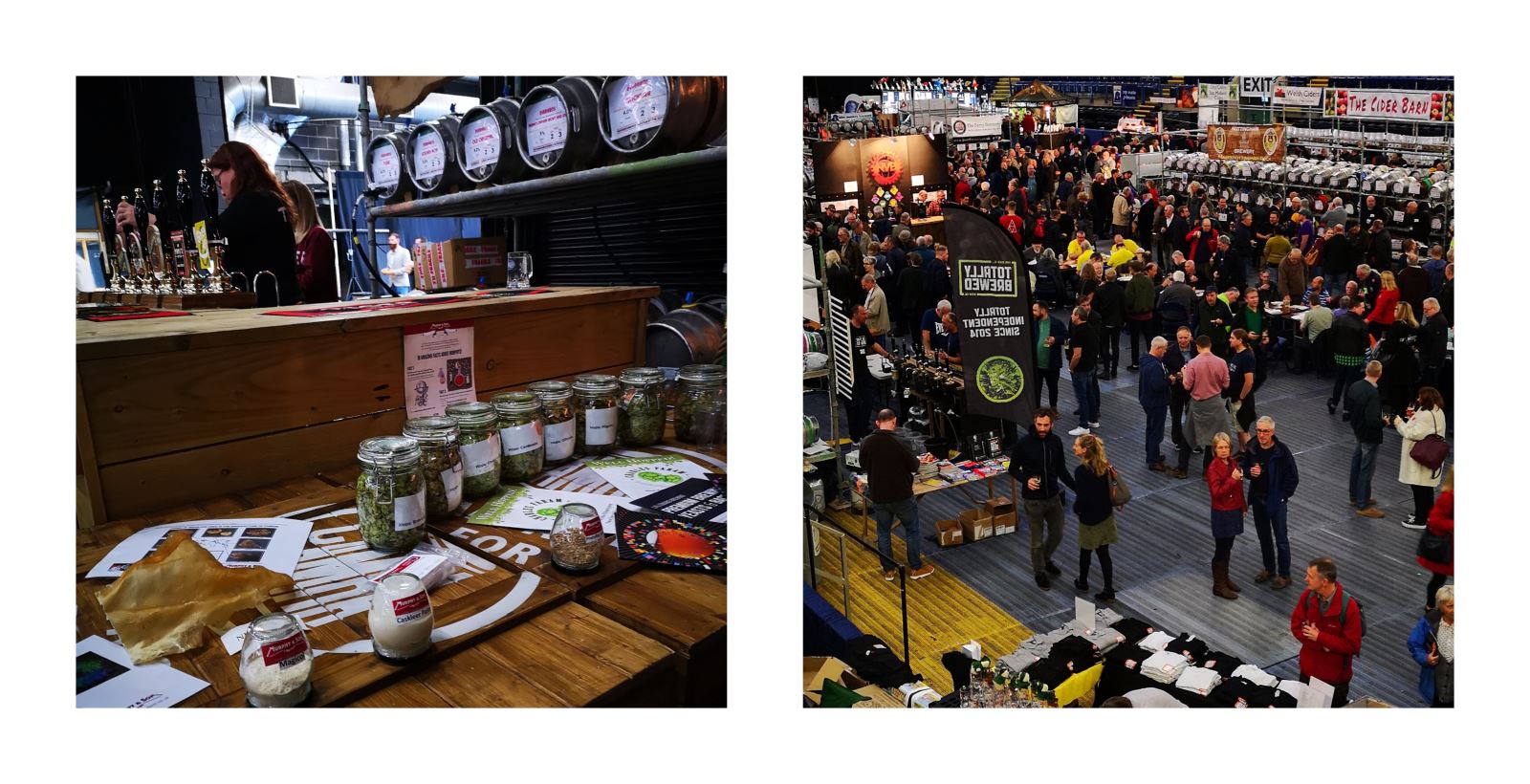 As you enter the expansive hall and pick up a programme, be sure to check out CAMRA's (Campaign for Real Ale) brand-new Learning and Discovery space, aimed at helping beer and cider lovers become knowledgeable about their favourite drinks, whether you're a novice, enthusiast or connoisseur (I like to think of myself as belonging in the second category). Along with finding out more about the production process and the unique ingredients that go into making different styles of real ale, I took part in an intriguing comparative tasting.
A very helpful and friendly CAMRA volunteer (who just so happened to be my father, but rest assured, there was no special treatment going on) handed me a taster of local craft brewery Hallow Stone's Oligo Nunk - a hoppy American style pale with a lightly floral finish, which was a favourite tipple of mine already. Lovely, as usual. Next, I was handed a sample of the same beer, from the same brew, but dispensed through the traditional hand-pull cask delivery system. Perhaps I'm a traditionalist, as I tend to favour hand pulled ales over craft beers and I'd never tried Oligo Nunk as a traditional ale, but I was surprised by how much more clearly pronounced the flavours were. Nevertheless, fans of craft beer should rest assured there are plenty of rare beers delivered through the 'KeyKeg' system to try, some of which have never before been seen in the city.
Armed with newfound knowledge to inform my appreciation of the different styles of beer (and one personal recommendation from my dad to seek out New Bristol's Cinder Toffee Stout, which he accurately described as 'a Crunchie in a glass' - so perhaps there was one tiny element of special treatment there) I set off to explore the festival.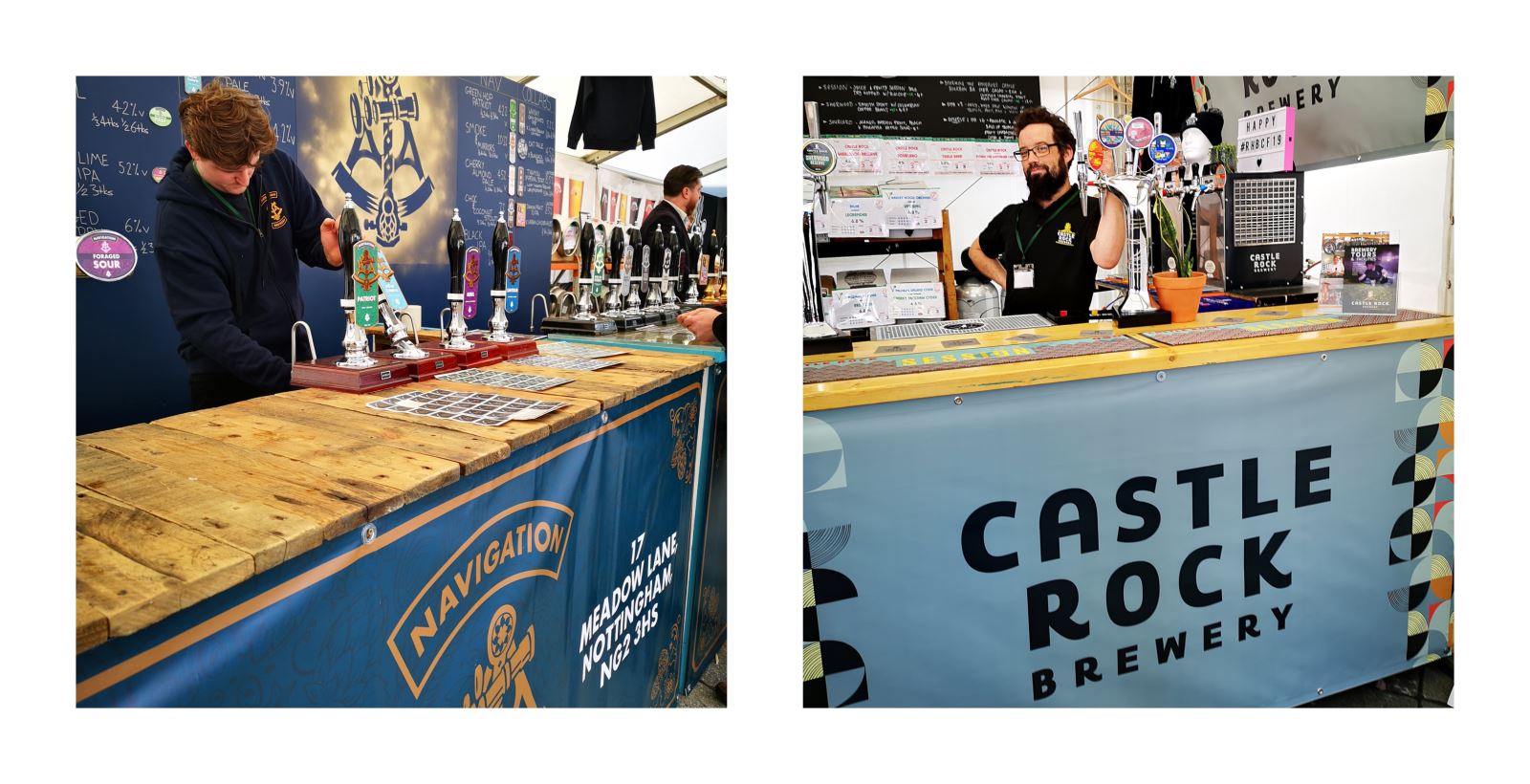 After a wander around the main arena marvelling at the hundreds upon hundreds of casks stacked on the three main bars - occasionally sniggering at the weird and wonderful names like My Dragon Ate Your Unicorn and You Take Your Car to Work, I'll Take My Board – I soon realised the trickiest part of the festival is inevitably narrowing down the drinks to sample. With around 1000 beers on offer there's definitely something to suit absolutely every taste, from hoppy pales and delicate fruit beers through to rich porters and stouts, alongside more unusual offerings like smoked beers, saisons and milkshake beers, with what seems like a record number of gose and sours on offer this year.
I should mention there's also an extensive selection of ciders and perries on offer, and for those who prefer grape to grain there's a variety of wines available, plus a dedicated gin bar and even some unusual rums to try should you be so inclined. Everyone is catered for, with a selection of gluten-free beers, while vegans will be pleased to hear there are many beers available which have been brewed without the use of animal-derived finings; just look for the beers marked as 'unfined' in the guide.
Of course, I can't help but have a bit of soft spot for Nottinghamshire's own incredible breweries, and as you'd expect from the branch who pioneered the LocALE scheme, there's a huge range of amazing beers brewed within 25 miles to try.
For the past two years Magpie Brewery have developed a reputation for their exceptional and somewhat unusual dessert inspired beers which are always a big hit. Cake and Egret, is the classic raspberry jam Victoria Sponge transformed into beer form, while their refreshing Lemon Meringue Pom Pom pale ale is deliciously different and not too sweet. New for this year's festival they've created some very tempting stouts indeed; the Affogato Imperial Raven Stout is strong and sweet with an amazing depth of flavour and hotly tipped to be one of the standout beers of the festival. Those looking for something a little more unusual should try their Raven Stout infused with sloe berries or the citrussy and aromatic lemon verbena wheat pale Forager.


Castle Rock run some of the best boozers in the county and have a well-deserved reputation for their consistently excellent traditional ales and, in recent years, for their exciting craft offerings. Established in the seventies by then CAMRA chairman Chris Holmes, Castle Rock is firmly established as a favourite in local and national beer drinking circles. Beers to look out for include the latest in their Nottingham celebration ales series, which was launched just this week to honour Ada Lovelace – a porter as complex as the extraordinary and pioneering mathematician it is named after. The Festbier is a very tasty traditional German Oktoberfest style beer which was brewed in collaboration with Brauhaus 2.0 to celebrate 50 Years of Karlsruhe's twinning with Nottingham. My final recommendation is Storming the Emperors Castle – a complex stout barrel aged over cocoa nibs which is about as divine as it is potentially lethal, rocking in at 13% ABV – you have been warned!

Navigation's brewery bar is located in the outdoor Bolero Square area and their line up for this year's festival is impressive indeed, and a must visit for craft beer fans. Their G&T KeyKeg beer has notes of all the aromatic botanicals you'd expect to find in a delicious gin, while the Rhubarb and Lime Brut IPA bursts with fruity but not overpowering flavours and pleasantly dry finish. They've also been working on some truly intriguing collaborations like There's A Rainbow Inside My Mind – a bright pink Dragon Fruit IPA, made with Urban Chicken, and their Whisky Oak Smoked Rye made with Linear. I didn't get the chance to sample the latter and I have my fingers crossed they'll have some left when I visit again on Saturday!


Festival favourites Blue Monkey have won more awards than I've drank pints over the past decade, which is to say, they've won many, many awards. Their Chocolate Guerrilla is a must try for fans of a sweet, malty and chocolatey stout, while its counterpart the Guerrilla Plum Stout is full of rich fruity and toffee flavours. Look out for the rather special Woody Infinity and Beyond – a British pale loaded with powerful citra hops which has been oak aged in a champagne barrel.


Other local heroes to look out for include Black Iris, Neon Raptor, Totally Brewed and the aforementioned Hallow Stone.
The Robin Hood Beer and Cider Festival runs from Wednesday 9 – Saturday 11 October at Motorpoint Arena. Tickets are still available – click here to find out more and purchase tickets.
---
This blog was written by Claire Jones, Marketing Assistant at Visit Nottinghamshire.
Related
0 Comments