Let's be honest, when isn't a good time to go to a buffet? Here at the Visit Notts office, we're always down for unlimited-food-at-one-set-price when the offer is temptingly wafted under our noses, and come rain or shine, Nottingham's COSMO World Buffet has always been there to help us get through the January blues.
Once again, the Chinese New Year has brought about a multitude of events that kicked off in the city with the Market Square's Hangzou – Nottingham Temple Fair over the last weekend of January. And to well and truly wake us up from our post-Christmas slumber, COSMO hosted its delightfully foodie new year festival to close off the celebrations.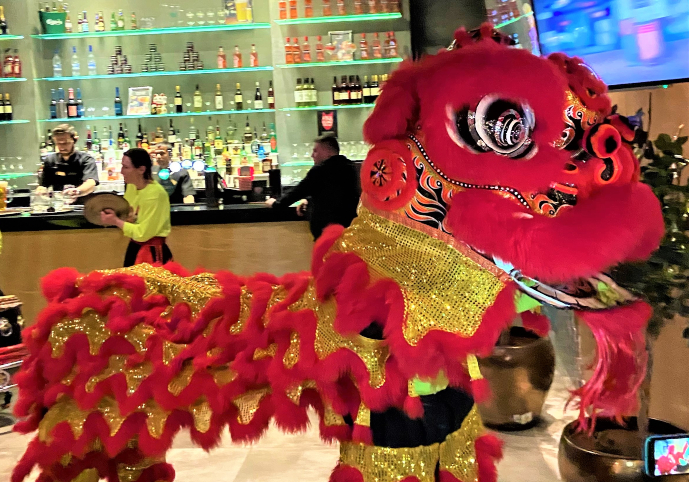 You can find COSMO located on Milton Street, hidden deceivingly on the first floor just above Waitrose and opposite John Lewis. If you scout the dance floor projection on your travels, you know you're in the right place. After being greeted by our friendly host who explains our way around the table service, we step into the hubbub of COSMO's international banquet. With 150 unique dishes freshly prepared by the restaurant's chefs, there's bound to be something to suit every food sleuth and fussy eater. COSMO's menu serves up eight regional foods of the Asian continent and mixes this up with Teppanyaki, South-East Asian favourites from India, Continental pizzas to more homely Carvery dinners. Five minutes of wandering around goo goo eyed over the different counters, and we feel like we're in the next instalment of Fantastic Feasts and Where to Find Them.
To start off the evening, we were greeted with a perfect pitcher of Mojito – well balanced, not too minty or too sweet but just right. To whet our appetites, we start off with "a taste of seafood", a delicate dish of prawns and squid stir fried with courgette, sugar snap peas, carrots and bean sprouts. Next came the platter of prawns with glass noodles, both cooked to perfection.

As we sipped our Mojito, a taster of COSMO's best-selling dishes followed. We have a try of the chefs' signature Crispy Spring Chicken; deliciously tender with seasoned crispy skin on top. The Crispy Pork is, we are told, the chefs' favourite; crackly, savoury, pork bites that taste even better than your average crackling. This is finished off with a plate of Chinese Broccoli served in Oyster sauce, which you'll be glad to hear, counts as part of your five a day. While the flower heads are similar to your usual supermarket broccoli, the kids definitely won't be pulling faces - not a tough vegetable in sight!
Well, what to say about the dessert counter! Chocolate Brownies, Gateaus, Cheesecakes, mousses galore. If dessert counters were an Olympic sport, this takes home the gold. Gelato pot or whipped ice cream? Don't worry, COSMO has you covered with an exceptional array of ice cream puddings, which you can then lovingly finish off with sweets on top. It's hard not to stay in the immediate neighbourhood of the chocolate fountain, which is the perfect topping to your (by that point) small pile of bite size cakes!
To finish off our evening, we watch as the dancing Lion weaves its way through the aisles of the restaurant while we make a toast to the year of the Rat. The climax is a bizarre but equally fun ritual that involves throwing cabbage into the audience to wish them luck and prosperity over the forthcoming year. Unfortunately, the raw cabbage can't tempt us as we're absolutely stuffed – but we'll take the good wishes!
For more information about COSMO including their special offers and more please click here.
---
This blog was written by Lydia Jones, Partnerships Coordinator at Visit Nottinghamshire and Sui Yi Thornton, Finance Assistant at Marketing NG.
Related
0 Comments