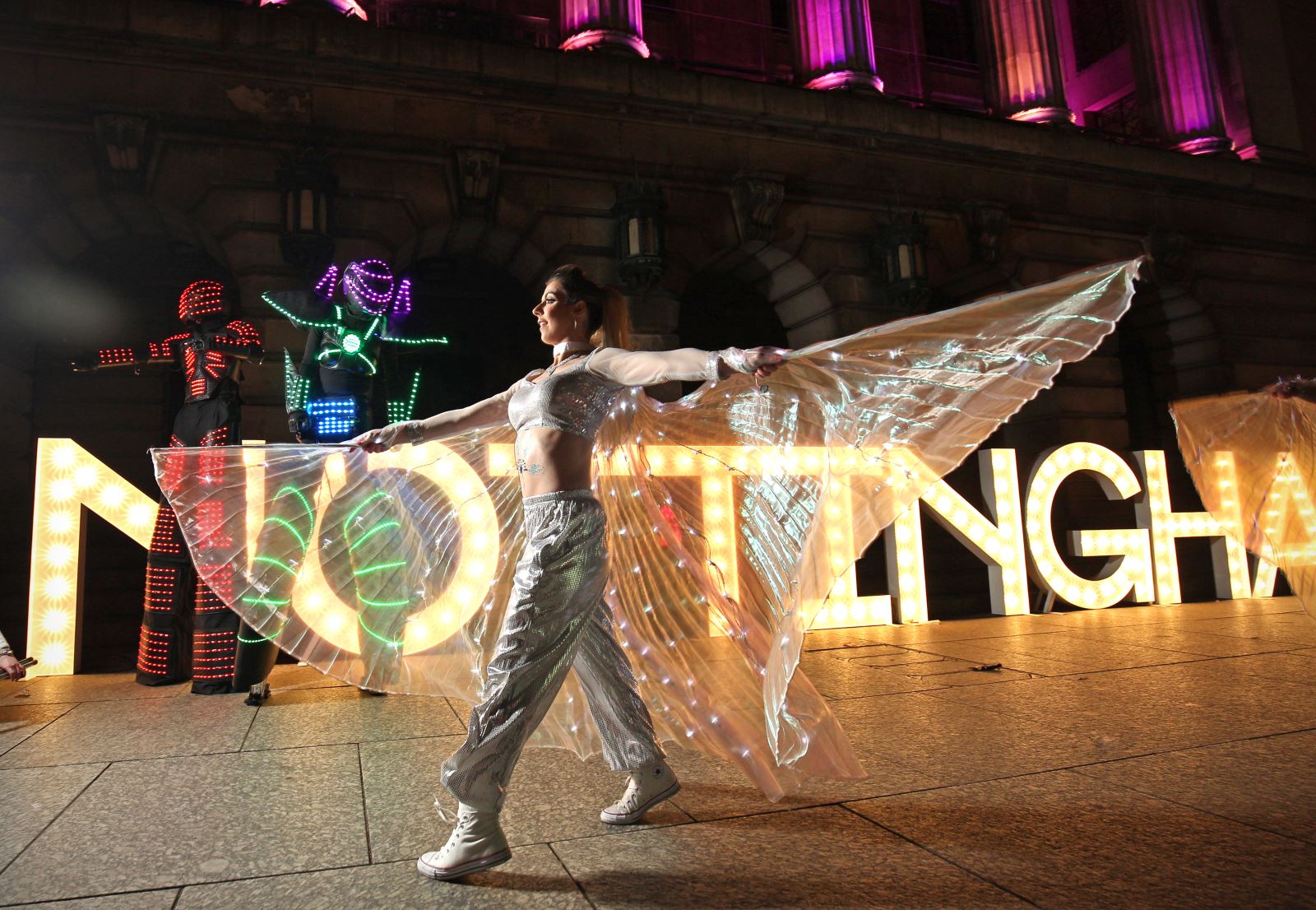 The evenings may still be a little dark and dreary but there's something on the horizon to brighten things up! The ever-enchanting Light Night sees the city come alive with illuminations, installations and inspired performances.
With so much going on we've selected a few favourites to guide your journey through the city on this most magical of evenings. For details of all the activities in store, you can download the Light Night App here, or check out the google map.

We've cherry picked a few of the best bits and things you don't want to miss, but be sure to pick up a copy of the Light Night Guide – available now from Nottingham Tourism Centre, or you can pre-order your copy ready to collect on Friday or Saturday here. Alongside details of all delights in store and suggested routes to take to help you plan an unforgettable evening, it's packed with money off vouchers for food, shopping and more.
If you're out and about enjoying Nottingham Light Night we'd love to see your photos! You can share them using #NottinghamLightNight and #NLN2020. We're excited that this year @nottsnomad will be documenting his journey through Light Night on Friday evening on our Instagram, so be sure to follow us to check out his adventures.

Highlights

---

Augmented Reality Trail – A Nottingham Love Story
When: Friday 7 and Saturday 8 February | 10am-9pm
Where: Trail starts at the Sue Ryder store on Goosegate in Hockley NG1 1FF

Download the free Light Night app to see artworks created by Jason Wilsher-Mills come to life across the city through ground-breaking augmented reality. Follow the trail to discover the tale of Denise on a magical first date with the mysterious Ern as they see the sights of Nottingham.

---
Paint to Pixel
When: Friday 7 and Saturday 8 February | 6.30pm - 10pm
Where: Nottingham Council House
See Nottingham's iconic Council House in a whole new light! A spectacular collage of graffiti will stretch 200ft into the air, projecting a vivid kaleidoscope of colour over the century-old building. Created by Metro Boulot Dodo, Paint to Pixel is a celebration of street art on an epic scale - using projection, rather than paint, it allows marginalised artwork and artists to shine brightly for all to see.

---
When: Friday 7 and Saturday 8 February | 4 - 8.30pm
Where: Green's Windmill
Nottingham's picturesque mill on a hill will be a sight to behold as the sails rotate in near darkness, lit only with multi-coloured lights. Open after hours exclusively for Light Night – climb the windmill for breath-taking panoramic views of the city's twinkling lights in the distance.

---
Light Night Avenues Party
When: Friday 7 February and Saturday 8 February | 5 - 10pm
Where: Sneinton Market Avenues, NG1 1DU
Expect a festival atmosphere in the avenues of Sneinton Market with live music, DJs, art installations and projections to enjoy alongside some of the best independent food stalls by Nottingham Street Food Club. Explore the avenues to see specially commissioned window displays, check out the UV skate and don't miss the Alternative Fashion Show of Friday at 6.30pm and 7.30pm. We heartily recommend seeking out Luisa's Vegan Chocolates to sample some of her award-winning wares.

---
Illuminated Carnival
When: Friday 7 February | Performance at 7pm, Parade from 7.30pm
Where: Sneinton Market, NG1 1DS
Some of the award-winning troupes and artists from Nottingham Carnival will be dusting off their incredible costumes and adding some amazing illuminations ready for a spectacular Light Night Parade curated by City Arts. At 7.30pm the parade will make its procession from Sneinton Market, up Goosegate, through Hockley and onwards to the Old Market Square before winding their way back to Thurland Street (outside Zara) for the grand finale. If you'll be visiting on Saturday you'll miss the parade, but you can still catch some of the amazing costumes at the pop-up performances scheduled for 1pm, 1.45pm, 2.30pm and 3.15pm at Trinity Sneinton Market, Thurland Street (outside Zara), Old Market Square, Trinity Square & St Peters Square.

---
Light Night Lantern Parade
When: Saturday 8 February | Performance at 7pm, Parade from 7.30pm
Where: Sneinton Market, NG1 1DS

Featuring giant lantern artworks by artists Jessica Kemp and Bryony McCombie-Smith alongside creations from community groups from across Nottingham, don't miss this stunning illuminated procession set to a samba beat from the Can Samba drummers. Following the same route as the Illuminated Carnival (see above) they'll wind their way from Goose Gate to the Old Market Square and back.

---
Night at the Museum
When: Friday 7 February | 4 - 7.30pm
Where: William Booth Birthplace Museum

Step back in time and enjoy a guided tour around the candle-lit Georgian home of William Booth – founder of the Salvation Army. Free tours will be running between 5-7pm (call the museum on 0115 979 3464 to book). In the Community Centre next door to the museum there'll be more free Light Night fun, including live music and crafts.

---
FAMILY ACTIVITIES
---



Kiddo Dis-Glow
When: Friday 7 February | 4 - 8pm
Where: Malt Cross


Bring the kids along for a boogie at the glowstick dance party downstairs in the Workshop of Nottingham's gorgeous Victorian Music Hall. Entry is free with glowsticks available for a £1 donation. Please note this is anticipated to be a popular event so advanced booking is recommended. Call 0115 941 1048 or book online.
---
How the Borks Became: An Adventure in Evolution
When: Friday 7 February | 5 - 6pm
Where: Nottingham Central Library, NG1 6HP
Join author Jonathan Emmett for an entertaining blend of science and storytelling at this interactive family session suitable for children aged 5-11. Discover how the Borks evolved from blue, smooth & short to yellow, hairy & tall. Please note that this event is free but you'll need to book your place via Eventbrite here.

---
Family Workshop: Luminous Landscapes
When: Saturday 8 February | 4 - 6pm
Where: Backlit Gallery, NG3 1JG
Join artist Ryan Heath for a weird and wonderful workshop exploring natural worlds and glowing creatures, suitable for children aged 4 and over. Play with light, paint and sculpture to create your own luminous landscape to take home. No need to book, just drop-in anytime.

---
The Physics Buskers: Playing With Light
When: Friday 7 February | 6 - 8.30pm
Where: Canalside, NG2 1EE
The Physics Buskers present entertaining physics tricks on the theme of light, from how to communicate with light to how you can bend light waves with water and loads of glow-in-the-dark fun. Suitable for all ages.

---
PERFORMANCES
---



Plankton
When: Friday 7 February, 6 - 6.30pm | Saturday 8 February | 1.30 - 2.15pm
Where: Goose Gate, NG1 1FF
Enter the diverse and beautiful world of these microscopic ocean dwellers, brought to life through puppetry and performance by Enter Edem. Cyclops and Tomopteris will enlarge this essential element of the eco-system and bring the story of this unseen world beneath the seas to light.

---
DIY Poets Present: Twenty Twenty Vision
When: Saturday 8 February | 6 - 8.30pm
Where: Sue Ryder, NG1 1FF
Tickets: £2 suggested donation
Join local bards DIY Poets for poetry performances on the theme of vision, and on how to find and shine light in 2020. If you're a budding performer there will be slots available on the night to share your own poetry. Please note there is a suggested donation of £2 for this event.

---
The Glowstick Trails
When: Friday 7 February | 6.30 - 9.30pm
Where: National Justice Museum
Tickets: £3.50
Join comedy troupe Missimp for some improvised hilarity as your misdeeds are put on trial in Nottingham's historic shire hall. The performers don't know their crime before they get to the dock, and the judge doesn't know the punishment - grab a glowstick and decide the fate of the defendant.

---



Installations

---



Illumaphonium: Halo
When: Friday 7 and Saturday 8 February | 6 - 10pm
Where: Robin Hood Statue, NG1 6AA
Part sculpture, part instrument and totally mesmerising, the Illumaphonium is an interactive art work by inventor Michael Davis. Create an immersive moment of wonder as you play with colour, sound and rhythm or sit back and relax within this sonic and visual spectacle.

---
Macro Wave and Time for Change
Where: Nottingham Contemporary
When: Friday 7 February 5-9pm | Saturday 8 February 6 - 10pm
Time for Change will take over the terrace with colourful cubes by artist Raphael Daden, a Nottingham-based sculptor working in light. From 6.30pm you can check out Macro Wave - an interactive light show where you can play with waves of light and sound. There will also be three band-new exhibitions to explore as part of Nottingham Contemporary's launch party, which will continue into the night with live music in the café bar.

---
Flock
Where: St Mary's Church, NG1 1HN
When: Friday 7 and Saturday 8 February | 5-10pm
In the grounds of the beautiful St Mary's church in Nottingham's historic Lace Market this ephemeral light installation playfully dances through a screen of mist, inspired by Finnish composer Rautavaara's Swans Migrating.

---
Pendulum Wave Machine
When: Friday 7 and Saturday 8 February | 6 - 9pm
Where: Outside St. Nic's Church, NG1 6AE

A mesmerising machine which captivates all who watch its magical, mechanical movements as it sways back and forth. This mechanical marvel of motion sees twenty silver spheres rhythmically fall in line, then descend into chaos and back again with hypnotic effect.

---

This blog was written by Claire Jones, Marketing Assistant at Visit Nottinghamshire.
Related
0 Comments