Love or loath it, Valentine's Day will arrive in all its saccharine sweet glory this weekend, so if the pressure is on to stage something spectacularly romantic and thoughtful to impress a loved one, then step away from the red roses and chuck away the chocolates because Visit Nottinghamshire have got you covered. You'll find loads of ideas and inspiration in our blog round-ups of unique gifts or quirky date ideas and lots of other things to do on our Valentine's Day page, plus a couple of our favourite events which would be equally enjoyable with your beau or bestie below.

If you have kids to entertain you'll find lots of ideas for fun events and activities in our February Half Term guide, and there are many more events in our What's On calendar, so you're sure to find something exciting to do!
Don't forget, if you are out and about having a great time in Nottinghamshire, you can use #lovenotts to share the love and connect with us via our Twitter, Facebook or Instagram!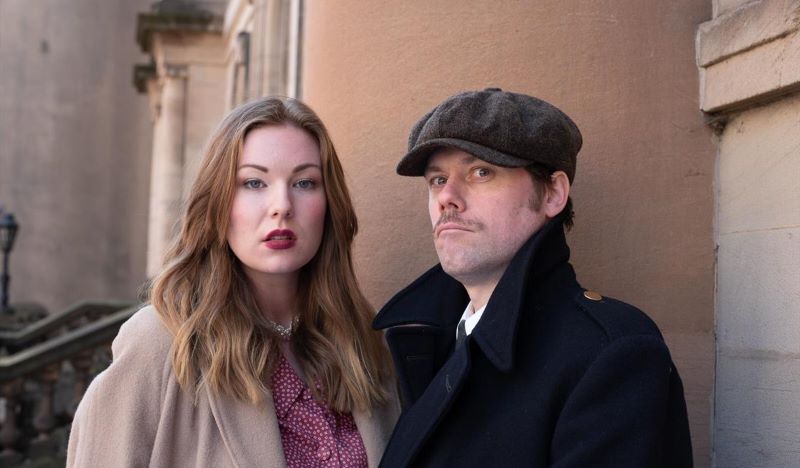 Friday 14 February | 7pm | National Justice Museum
Whether you're looking for a Valentine's Day date with a difference or for an interesting evening with your partner in crime, this murder mystery event is just the ticket. Allow us to set the scene…

You are invited by James Wells, leader of the notorious gang Mors Sabuleum, to an unforgettable night to celebrate another year of their successfully domination of Nottingham's criminal underworld. All being well, the night promises to bring booze, laughter and great criminal connections. But unexpected guests could change it all…

Enjoy a cocktail on arrival before visiting the museum's darkest corners on the hunt for the killer. Study the clues and question the suspects in the grand Shire Hall - and grab a drink at the bar if the tension gets too much!
For more information, please click here.
---
Friday 14 February | 8pm–12am | Nottingham Contemporary
Another intriguing Valentine's Day event which would be equally fun to attend with your beau or bestie, this slightly surreal sounding shindig is a must for anyone who's ever daydreamed about stepping into a teen movie directed by David Lynch or John Waters. Grab your corsage and get ready for punch, cherry pie and awkward slow-dancing at their prom night set in small town America, somewhere between the 50's and 80's.

For more information, please click here.
---
Various Venues | Wednesday 12 – Wednesday 19 February
Now in its fifth year, this week-long festival takes science, technology, engineering and maths out of the lab and into our everyday lives, so there's lots happening this weekend to pique your curiosity!

At Lakeside Arts you can catch remarkable and poignant film installation TOM, which explores the story of one man's journey to discover who he really is through choreography, digital animation and projection mapping, crossing the boundaries between real life and animation. If you're feeling brave book yourself onto Flight – an immersive and innovative convergence of theatre and technology which explores the Many-Worlds Interpretation of quantum mechanics, taking audience members through two worlds, two realities and two possible outcomes to their journey. Or for something a little more light-hearted, you can create your own comic book with illustration artist Francis Lowe at Comic Book Conversations.

If you've got little ones to entertain there's a free Curiosity Market at intu Victoria Centre where they can get stuck in with hand-on activities exploring genetics, microbes medicine and much more. At Broadway they can build inventive marble machines at their Explorer's Fair: The Ball Run Factory (booking required).

For more information, please click here.
---
Saturday 15 and Sunday 16 February | Wollaton Hall and Park | Free

As part of the Festival of Science & Curiosity Wollaton Hall and Deer park are hosting a special Family Fun Weekend packed with fabulous drop in activities in the Grand Hall, from the ExploreDome inflatable planetarium to creative sessions where you can make and launch your own rocket.
They'll also be running a range of workshops which explore their ongoing exhibition Plant Blindness by Jason Singh - a unique and immersive sound installation in the Camellia House which uses naturally occurring 'biodata' from plants to create a musical score. Join poet Matt Miller for a playful and imaginative writing session where you'll listen to the plants, hear what they are saying and think about what you might like to say back. Have a go a Drawing Sound with Gina Mollett and explore experimental and creative ways to 'capture' sound, or check out Conducting Nature and try out plants that play music when you touch them and make your own.
For more information, please click here.
---
Friday 14 February 2020 | 7pm | Doughnotts

If you'll be boycotting Valentine's Day in favour of spending some quality time with your mates then what could be better than sipping prosecco while getting creative decorating delicious dough-based delights with local legends Doughnotts? Why not make a night of night of it and head with your pals for pizza at Oscar & Rosie's who'll be hosting their own Palentine's Day event on Friday. Tables for two are strictly off-limits on Friday the 14th and they'll be playing a playlist of songs about heartbreak, betrayal and loneliness.

For more information, please click here.
---

This blog was written by Claire Jones, Marketing Assistant at Visit Nottinghamshire.
Related
0 Comments