At this point in the week I would normally be sat in the Visit Nottinghamshire office writing our weekly 'What's On This Weekend' blog, scrolling through our what's on calendar to pick out our top five recommendations for events and places to go in Nottingham and Nottinghamshire.

Instead I'm writing this from my dining room table as we all collectively adjust to cutting out social contact and spending time at home. Luckily, through the wonder of technology there are some amazing exhbitions from Nottingham's art galleries and heritage sites you can enjoy from the comfort of your own home, curtesy of the incredible v21artspace – a Nottingham based business who specialise in capturing arts and cultural spaces to create 3D virtual tours & immersive VR experiences. It's the closest we can get to the real thing at the moment and you don't even have to wait until the weekend to check it out!

---

This poignant exhibition of historic photographs of women living and working in prisons ran at Nottingham's National Justice Museum from November 2019 to February 2020. The photos in the collection were taken in several UK prisons from 140 years ago to the 1980s with very little information about their provenance or the stories of the women they captured. Looking at these emotive images of women in captivity might provide some interesting food for thought as we each experience our own kinds of isolation and distance from the wider world. Throughout the collection you will notice solidarity, togetherness and moments of joy within the bleak context.
---


In the summer of 2017 The University of Nottingham, Nottingham City Council and the Institute of Vertebrate Paleontology and Paleoanthropology in Beijing brought a unique dinosaur exhibition to Nottingham's Wollaton Hall and Lakeside Arts. Featuring fossils and specimens never before seen outside of Asia, the collection brings to life the story of how dinosaurs evolved into the birds that live alongside us today. Check out the Gigantoraptor, which at 4 metres high and 8 metres long is the largest feathered dinosaur ever found, and the flying Microraptor, a close relative of the Velociraptor which has wing feathers on its arms and legs. The star of the show is the Mamenchisaurus, which would have stood as high as three double decker buses!
---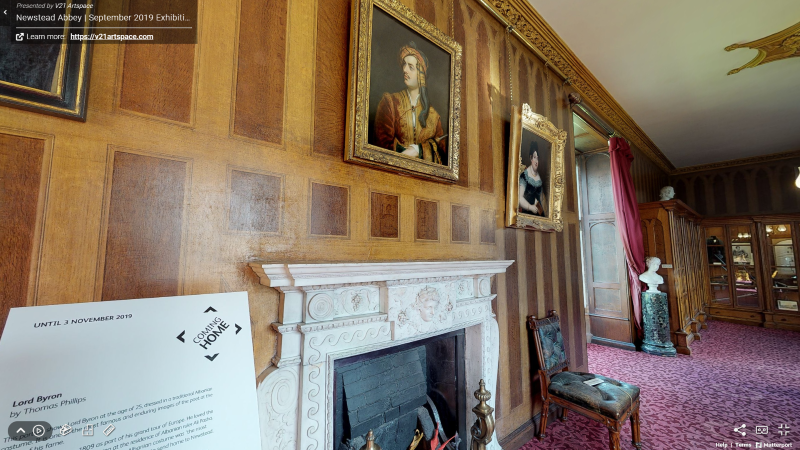 Newstead Abbey

The ancestral home of Lord Byron is a treasure trove of the rare and beautiful and through the wonders of technology you can explore sections of the former Augustinian priory and some of their most interesting recent exhibitions. Feast your eyes on a particularly dashing portrait of the pin-up of Romantic poetry from the National Portrait Gallery, which was on display last year as part of the Portraits Coming Home initiative. Chuckle at some Late-Georgian satirical prints or cheer yourself up with the amusing prints and drawings of contemporary artist David Shrigley - Kindness which highlights the obscurities of the Human Condition, mocking the often benign and casual way we live our daily lives.

As part of Lace Unveiled you can see work by contemporary artists inspired by lace on display in the grand rooms, including works by Lisbon-based Joana Vasconcelos, a video commission by artist Joy Buttress and designer Manolis Papastavrou. You can even take a virtual stroll along a frosty stretch of the curiously named Monks Stew Pond in the Abbey's grounds and experience Score For Newstead by Shane Waltener.
---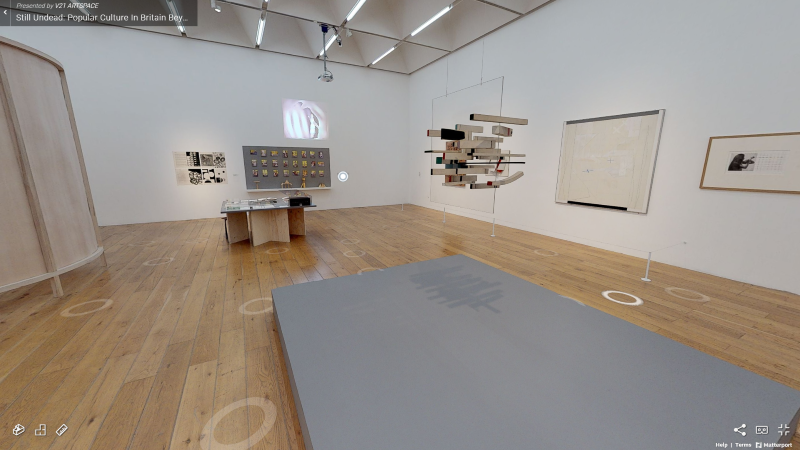 Nottingham Contemporary

Of course Nottingham's amazing contemporary art gallery is ahead of the curve when it comes to creating accessible virtual versions of their world-class exhibitions! There are plenty to to choose from:

Still I Rise: Feminisms, Gender, Resistance explores the role that women have played in the history of resistance movements and alternative forms of living.
FELT TIP is a solo show from Turner Prize-winning artist Elizabeth Price, featuring a series of large-scale pinhole photographs and architectural interventions.

Daniel Steegmann Mangrané the Rio-based Catalan artist looks at how diverse mediums and technologies can represent aspects of the Mata Atlântica - a rainforest stretching along the Atlantic coast of Brazil.

Dissident Lines is a retrospective of the work of Liz Rhodes - a pioneer of experimental filmmaking and a major figure in the history of artists working with film in Britain.
Still Undead: Popular Culture In Britain Beyond The Bauhaus explores how the ideas of the pioneering Bauhaus art and design school and teaching lived on in Britain. Spanning the 1920s to the 90s, and including works by some 50 artists, designers and musicians, it narrates the eclectic and fragmented ways that the Bauhaus's legacy has been transmitted and transformed.
---



New Art Exchange

New Art Exchange is the largest art centre in the UK dedicated to culturally diverse arts and there are several thought-provoking exhibitions from their exciting programme available to experience online:
Hassan Hajjaj: The Path presents a unique and timely consideration of culture and identity in the modern, globalised world. Colourful, energetic and full of life, his portraits are full of bold patterns which contrast with borrowed logos and have a real sense of vibrancy as well as purpose.

Encroachments – Shezad Dawood takes a pragmatic and oblique look at the relations between Pakistan and the US since partition in 1947. The narrative behind Encroachments is a meditation on ideas of sovereignty, private property and the politics of space in the two largest cities in Pakistan: Lahore & Karachi.

When The Snow Melts: The World Wars, Empire and Muslim Soldiers charts the stories of Nottingham's Muslim communities involved in the Second World War and was created in collaboration with local Muslim families. Artists Jagdish Patel and Farida Makki have used personal memory and archival material to pose questions about the process of war memorialisation, empire and its interconnections to our present-day identities.

NAE Open: 2019 was an exhibition created through an open application process with works in painting, drawing, video, live art, sculpture, installation and mixed media by over 50 artists. A panel of judges viewed each application to select what they felt to be the most innovative and accomplished works, creating a snapshot of contemporary fine art practice today.
---
This blog was written by Claire Jones, Marketing Assistant at Visit Nottinghamshire
Related
3 Comments