Outdoor drinking and dining are set to return from 12 April (if the easing of lockdown restrictions proceeds as set out in the Government's roadmap) and if you're already imagining that first sip of freshly poured beer or sipping a cool cocktail in the sunshine, we've compiled a guide to our favourite beer gardens in Nottinghamshire for post-lockdown inspiration and planning.
---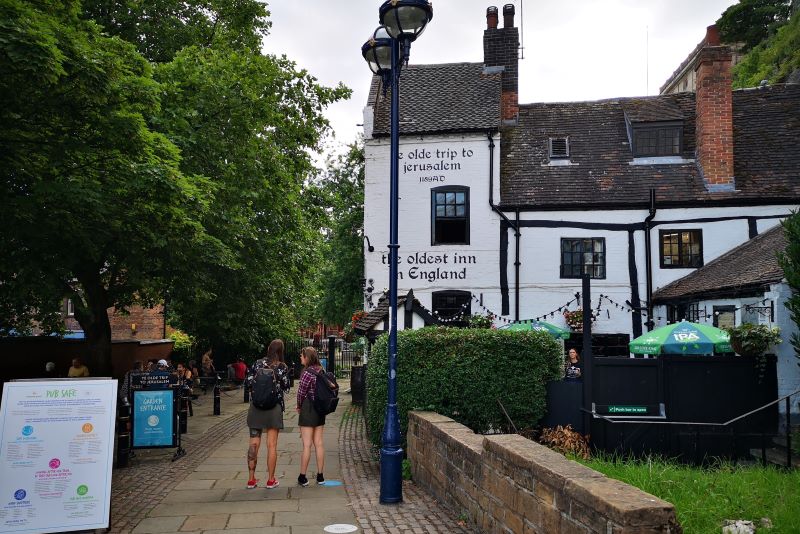 A pub that almost needs no introduction, Ye Olde Trip to Jerusalem plays one of the starring roles in Nottingham's rich history, and not least because it is carved out of the rock on which the Castle stands. The oldest inn in England, the building is brimming with character with a large, leafy garden to enjoy. Sit outside and you can get a unique view of the Castle's cliffs while relaxing and imagining the dramatic events which would have taken place around the pub over the past 800 years.
The garden will reopen from Monday 12 April and they'll be taking online bookings from Friday 26 March. Where there is availability they will be accepting walk-ins.
---
There's something about waterfront drinking and dining that really gives us those summer holiday vibes, so next on our list is The Canalhouse. This Castle Rock pub is housed in the former canal museum and is famous for having a canal that flows into the Grade II listed building, complete with resident narrow boats. Their beautiful waterside garden is said to be the largest covered outdoor area in the city, bright with flowers and the gentle bustle of the boats going by, and lit by fairy lights as the evening draws in.

The garden will reopen from Monday 12 April. Advanced booking is strongly recommended for this popular venue as some dates in April have already sold out. You can book a table online here.

---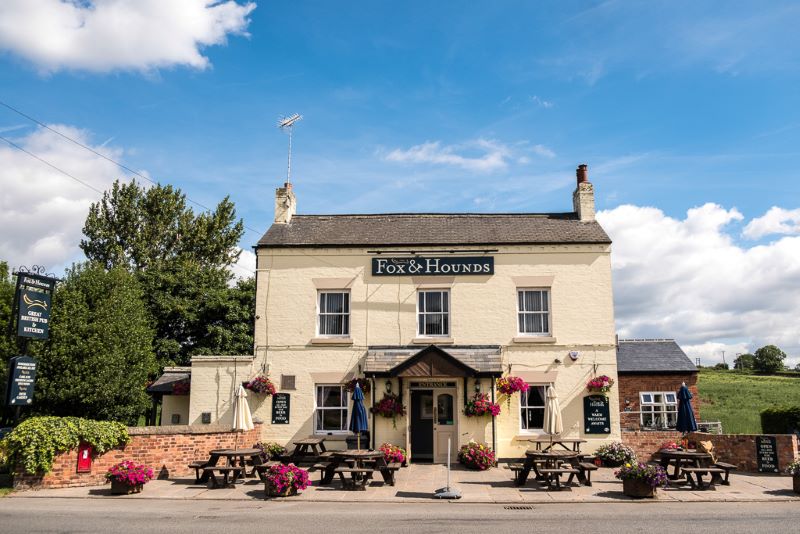 For rural charm and stunning views this traditional country pub in the charmingly named Blidworth Bottoms is hard to beat. Well known for its home-cooked British food, real ales and excellent wine, there's always a warm welcome and sunny days draw visitors to the huge beer garden and terraces, which brim with brightly blooming floral displays. This charming pub is just a short drive from the glorious Newstead Abbey and the perfect place to stop off for a spot of lunch after a refreshing walk in the countryside.

Their ample outdoor spaces will reopen for drinking and dining from 12 April and some areas are available for advance booking. They have tables which seat 4 and 2 available to book on the terrace. The best way to get in touch with them is via email or social media. Tables in their large garden area seat 4 or 6 people, and these will be available on a first come, first served basis. In addition, they have a new field area next to the garden where customers can bring their own blankets and chairs and they will serve you in the field itself.
---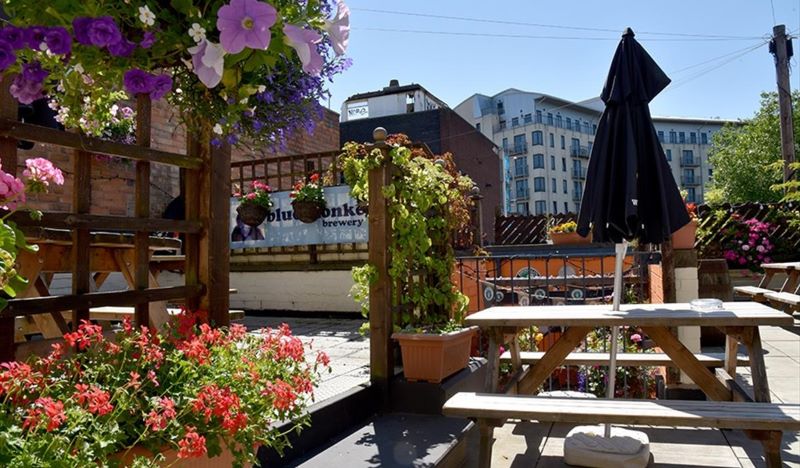 Another quality, classic pub with a great atmosphere, cosy fire blazing in the winter and lush garden for the summer months! Their rooftop garden is dotted with hanging baskets and benches, making this garden a delightfully chilled out suntrap to enjoy one of the many fine ales they offer. As a Blue Monkey Brewery pub, the selection of drinks is second to none and classic pub snacks like pork pies and scotch eggs are served, making it the perfect place to while away a long and relaxing afternoon.
Tthe Organ Grinder will reopen from Monday 12 April. They're not taking bookings so tables will be allocated on a first come, first served basis. Find out more on their Facebook page.
---
Located a stone's throw from the gorgeous Wollaton Hall and Deer Park, this modern pub has plenty of outdoor space to enjoy. They have an excellent reputation for their high-quality, home style cooking, especially their amazing Sunday Roasts. Besides all of the usual favourites the bar features cask ales, craft beers, cocktails, carefully curated wines and fizz, and if that's not enough there's a dedicated gin bar stocking over 40 gins.
The Wollaton Pub and Kitchen are planning to reopen on the 12th April, with alfresco drinking and dining available in their garden area. They are not taking bookings and will be operating on a first-come, first-served basis. Please keep an eye on their Facebook page for updates.
---
Another Castle Rock favourite, this traditional well-stocked boozer, complete with a great range of ales and whiskey, is a little off the beaten track, located a short walk from the city centre on Mansfield Road. Much-loved by locals, its walled rear garden with blooming hanging baskets and vintage signage is a charming place to enjoy a pint or two.

The Lincolnshire Poacher team have confirmed the garden will reopen 'as soon as we are allowed to do so' but at the time of writing they are not currently accepting bookings. Stay in the loop by checking their Facebook page regularly.
---
We couldn't make a list of our favourite outdoor spaces without including Pitcher and Piano, which is housed inside a striking Grade II-listed church in the heart of the Lace Market. Beautifully restored, the church setting provides a stunning backdrop to dining and drinking on their lovely outdoor terrace.
Please note – at the time of writing Pitcher and Piano have not yet released information regarding their reopening, so keep an eye on their Facebook page for updates.
---
Sitting on the leafy banks of the River Trent in the pretty village of Gunthorpe, Tom Browns Brasserie offers some gorgeous views of the river and local wildlife, especially from the heated outdoor sun terrace. This isn't your standard boozer beer garden but if you're looking for somewhere stylish to enjoy a creative cocktail or glass of wine their outdoor space is beautiful, and their food is outstanding.
They're currently unable to accommodate table bookings for drinks only but if you speak to a member of the team at the venue they will try to fulfil your request where they have availability. Restaurant reservations can be booked online.
---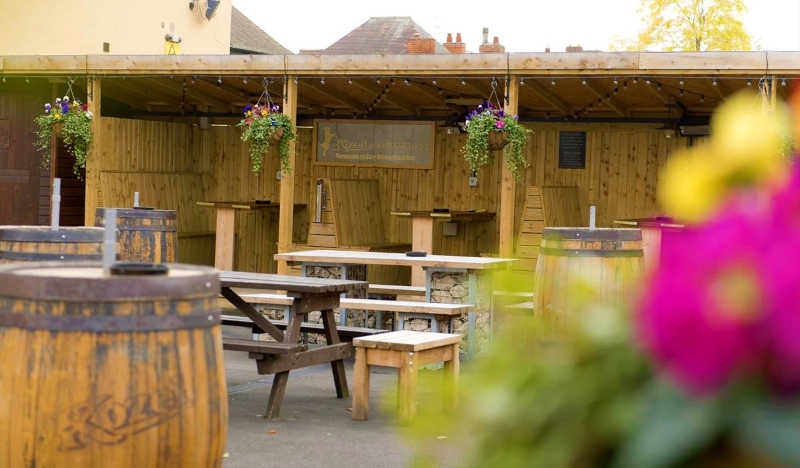 Located on the city side of Trent Bridge, the Embankment pub is part of Nottingham's history. In 1907 it opened as 'Boots Store No.2' following the city's flagship store on Pelham Street. John Boot, son of Sir Jesse, is credited with inventing the weekend when he chose to give his factory workers Saturdays off with no reduction in pay rather than make redundancies during the Great Depression, so it's fitting that the building - which was also used as a recreational space for Boots staff - is once more a spot for socialising. You'll find a wide range of ales and craft beers on tap to enjoy in the sunny beer garden.

The garden will reopen from Monday 12 April. You can book a table online here.
---
Also situated at the side of the iconic Trent Bridge you'll find Brewhouse & Kitchen, a fine pub and microbrewery with a garden that has some of the best views in the city. Located on the scenic Victoria Embankment overlooking the river Trent, the spacious and stylish terrace is the perfect suntrap for a few drinks on a summer day (though they've got shelters and outdoor heaters, so it's great in all weather!)

The garden will reopen from Monday 12 April. You can book a table online here.
---
This blog was written by Claire Jones, Marketing Assistant at Visit Nottinghamshire.
Related
6 Comments