What's it to be? Escape an ancient Pyramid and unearth a mysterious treasure, follow in the footsteps of ancient Aztecs, defeat rogue robots on a military space station, break out of prison with your squad to clear your name... Adventure is the arena and your imagination is the limit in the mind-bending world of Meetspace VR.
There's a reason gaming increased double fold across the world over the last year and it hasn't failed to keep us entertained through a time that made escapism to another world even more appealing. While we've been living through lockdown vol 1, 2 and 3, gaming has flourished, and now that the curtains are once again drawn and we've tentatively made our first steps outside again, your local arcades, escape rooms and gaming cafes are ready to welcome players back with open arms - and the concepts are just as imaginative, creepy and challenging as ever.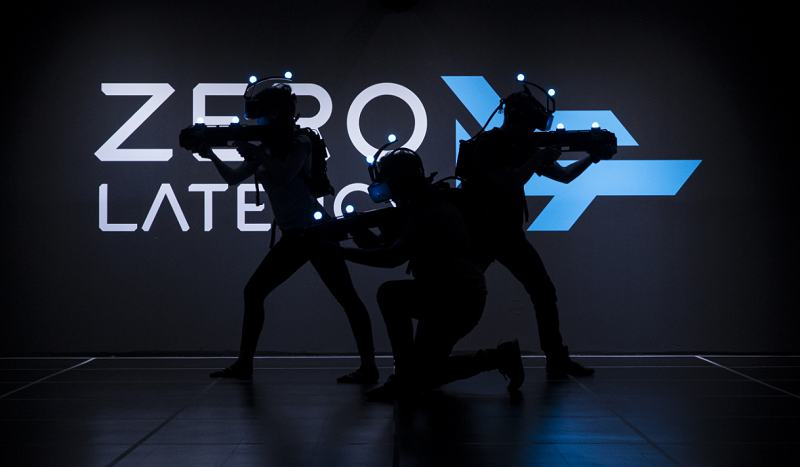 Gather your motley crew, rag-tag mercenary band and freedom fighters because Nottingham is home to one of the UK's only large-scale, free-roam, multi-player virtual reality gaming arenas: Meetspace VR's Zero Latency. Fight your way through colossal zombie battles in Zombie Survival, scale topsy turvy sky walkways in Engineerium or investigate a space station gone dark in Singularity. It's an easy sell for us Visit lot, one mention of all the excitement above and our team of keen beans were there before you could say Zombie apocalypse. Before we headed off into Zero Latency's warehouse-size free roaming arena, we were given the 411 on what to expect, the mission brief and the equipment we'll be using so we can at least get to grips with the gear before all the shooting started. Shout out to team members Lewis and Lucy, who were fantastic with our little group of semi-newbies and threw in the odd joke or two along the way. Headphones on, visors down and the grey walls of the room transform into a black and blue grid while the game loads – serious Tron vibes if you've ever dreamt of living out that movie scenario.
We start out with what we're told is a nice light introduction to free roaming VR, Engineerium, a family friendly game that'll flex our mental muscles as we get used walking and talking in a virtual space. We begin pretty confidently, Psssht Easy we think as we walk around… until suddenly our path is turning upside down, twisting and bending in mid-air and each illuminated blue goal gives us a new challenge to get to. The young'uns will love it, especially with the added hilarity of having your troupe walk around like T-rex's trying to mind their balance! Next is Singularity, one game down and hella ready to try more, we're propelled into a virtual space mission which quickly turns into a shoot 'em up. Get your guns a' ready with this one, they come thick and fast, but it'll get your adrenalin pumping.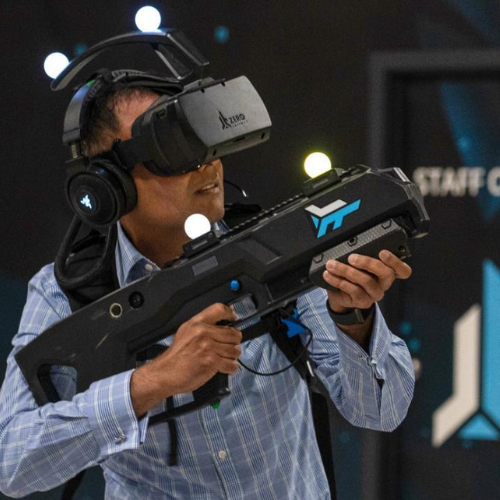 After a much-deserved break it's time to channel our inner code breakers and give an Escape Room a try. Now Nottingham isn't shy when it comes to its escape room scene, in fact we have a bit of a rep going on here for great themes and 5* reviewed rooms ranging from the downright disturbing (here's looking at you The Butcher) to one based on loveable legend Robin Hood himself. Throw us the prospect of a VR room and we'll happily take the challenge. Just like any real-life escape room, the premise is just the same. You have one hour, crack the code, solve the puzzles and escape by the strike of the next hour. We opt for Escape the Lost Pyramid, which allows us to step into the shoes of old-time explorers investigating a lost Egyptian treasure in 1928. You're standing still for this one with similar VR gear to the free roaming games, and the experience is staggeringly immersive; watch out when you're climbing, don't look down unless you want a familiar bout of vertigo! 45 minutes in no sign of light above, we stand and resign ourselves to our fate, we're about to get entombed, our virtual selves destined to be mummified in a VR pyramid forever. However, one last final test of steely eyed resilience gets us out in time and ready for our final game and we congratulate ourselves on our effort. There are a surprising number of scenarios ready to try, including Alice, Cyberpunk, House of Fear, Sanctum and Beyond Mudusa's Gate and many more, all at varying levels of difficulty and fear factor suitable for the budding novice to your more avid gamers.

We end our day with a friendly neighbourhood zombie shoot out. A standard motif of any quality zombie story is a final stand with your squad as you make one last ditch attempt to escape the impossibly expanding horde just to make it to the pick-up point in time, and you bloomin' well won't go down without a fight. Live or die, you're sure as hell going to go taking out some of the undead with you along the way. Yeah, that happens here. It's probably best to go in with some sort of action plan.

So, if you've had enough of real-life apocalypses and want to try the made-up thing for once, give this a go. The whole experience with Meetspace VR blew us away, and pacts were made to come back again with more crew in tow to try out more escapes. What's more - from the 1st of November 2021, the Nottingham venue is being upgraded with the latest and greatest generation of technology, delivering immersive arena scale free roam VR. You are able to try it out for yourself now with their new game, Far Cry VR - Dive into Insanity. Players will jump into the world of Far Cry 3, fighting across Rook Islands vast environments. And if that wasn't enough to to convince you to try it out yourself, you can now get 20% off your booking with our promo code: 'VISITNOTTS20'. Our verdict, attractions like this make you not mind being a grown up so much, not when you can live out your childhood gaming fantasy right on your doorstep. After all, who said you ever had to grow up anyway!

---
This blog was written by Lydia Jones at Visit Nottinghamshire.
Related
8 Comments