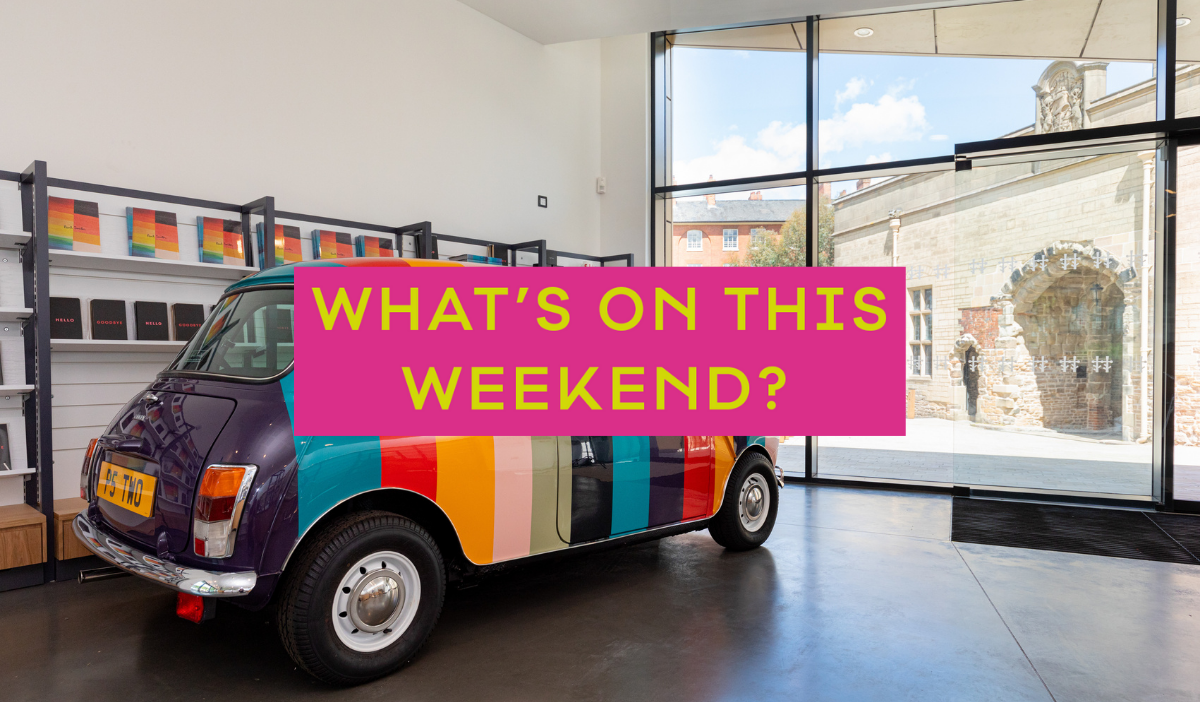 Coming up this weekend in Nottingham and Nottinghamshire there are some great things to do, from a world class exhibition at Nottingham Castle and the untold stories of the Star Wars universe to travelling back to the 1940's at Newark Air Museum, getting a fright at Notts Maze and discovering a part of Chinese culture. With many more happening, read on to find out our top picks of what's on this weekend!
There are many more events in our What's On calendar such as amazing live music, fantastic art exhibitions and more. So have a browse and you're sure to find something exciting to do.
Don't forget, if you are out having a great time in the city or out in county, you can use #LoveNotts to share the love and connect with us via our Twitter, Facebook or Instagram.
Friday 1 & Saturday 2 October 2021 | Notts Maze | 7pm - 11pm | Tickets: £15 - £20 | Suitable for 17+
October is creeping closer and the season of creepy clowns, witches and all things scary and gory is upon us. If you just can't wait for Halloween and you're in for a good scare, then roll up to the Labyrinth's latest show, The Corn Evil! For 11 nights only, CORN EVIL invites you to discover its darkest secrets this October 2021. The freaks you'll encounter at the woods of Notts Maze are like no other, years on the road can send you a little…stir crazy. The entrance of this 17+ event might not be hard to find but the exit is a completely different story... Try not to scream, you don't want to upset them. Trust your instincts and don't get too lost - will you make it out?
For more information, please click here.
---
Saturday 2 & Sunday 3 October 2021 | Newark Air Museum | 10am - 4pm | Tickets: £5 - £9.50
Swing back in time with Newark Air Museum's 1940's Weekend! Commemorating various aspects of the 1940s, there will be a distinctive 1940s feel, with incredible displays such as: fabulous vintage vehicles, local history groups a great variety of themed wartime trade stalls and brilliant performances during the weekend by singers performing 1940s era songs to really get you swinging! Don't be afraid to look the part, visitors are encouraged to enter into the '1940s spirit' by attending in period costume! And if you do, you will even be admitted at a discounted admission rate over the weekend.
For more information, please click here.
---
From 21 June 2021 - 20 February 2022 | Nottingham Castle | Admission included in a ticket to Nottingham Castle (£9.50 - £13.00)
We all love Nottingham Castle for its gorgeous architecture and historical importance, but here's one more reason to pay Nottingham's Castle on the rock a visit: the world-class "Hello, My Name is Paul Smith" exhibition! The temporary exhibition reveals how the Nottingham legend's intuitive take on design, alongside his understanding of the roles of designer and retailer, have laid the foundations for lasting success - offering visitors a unique insight into the magnificent mind of Paul Smith. Made up of over 1,500 objects which span the British designer's vast career, the exhibition focuses on a series of key themes and objects that have defined the history of Paul Smith.
For more information, please click here.
---
Saturday 2 October 2021 | Lakeside Arts | 1.30pm | Tickets: £5 | Suitable for ages 6-10
You're never too young to learn more about different cultures and eplore the world! Let the kids broaden their horizons at Lakeside Arts' About China, a brand new series of participatory events introducing children and their families to some elements of the Chinese culture and language. This Saturday will be all about the traditional dragon and lion dance. During this fun workshop they will learn how to do the magical dragon or lion dance that gets performed at Chinese New Year themselves. Lead by Ling Peng, they will be delivering the dances with accompanying percussion music at the end of the session.
For more information, please click here.
---
Friday 1 October 2021 | Nottingham Playhouse | 7.45pm | Tickets: £9
If you're a Star Wars fan and just can't get enough of droids, lightsabers and jedi, head to Nottingham Playhouse this Friday! The improvised Star Wars show It's A Trap explores untold stories of the Star Wars universe. With a handful of audience suggestions, the talented performers of MissImp will create a unique episode right before your eyes – complementing and breaking the canon in unexpected and ingenious ways! Truly geeky, hilarious entertainment – this IS the show you're looking for.
For more information, please click here.
---
This blog was written by Ananda Datema, Marketing Assistant at Visit Nottinghamshire.
Related
2 Comments