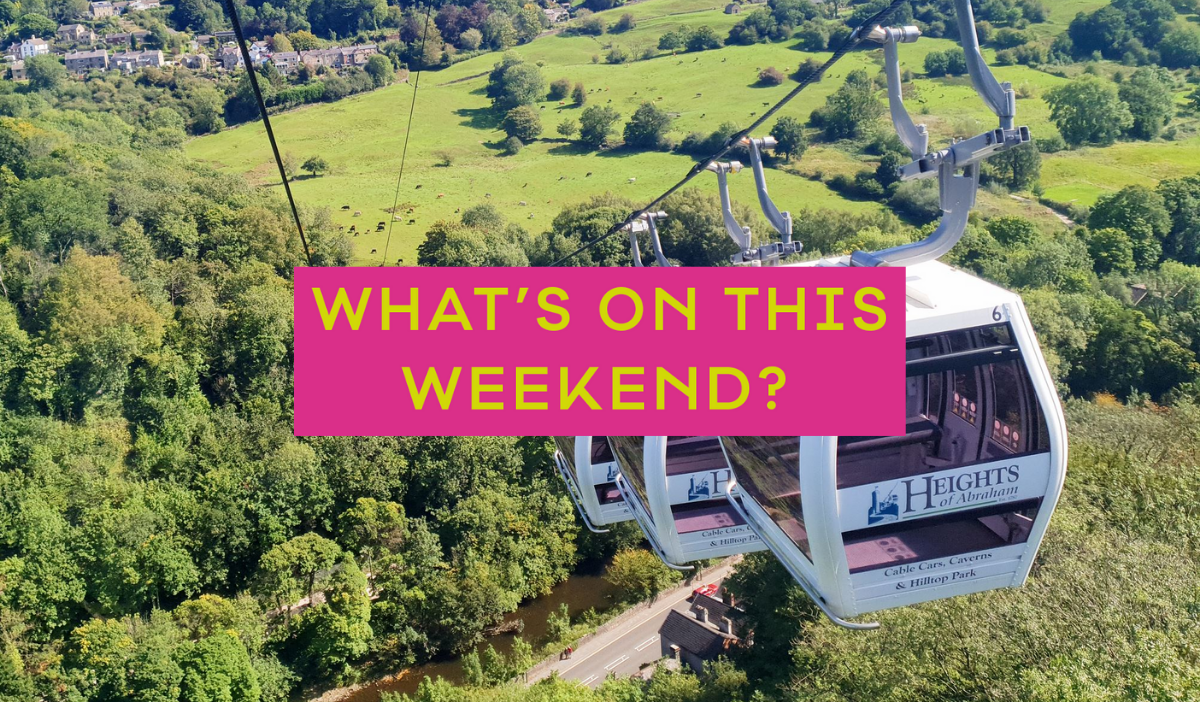 Coming up this weekend in Nottingham and Nottinghamshire there are some great things to do, from indulging on tasty food and drinks at the Heights of Abraham to stepping into the World of performing arts with the Northern Ballet - Merlin. With many more happening, read on to find out our top picks of what's on this weekend!
There are many more events in our What's On calendar such as the Robin Hood Half Marathon events, more survival skill training at Forestry school and Elio Pace performing Billy Joel's greatest hits. So have a browse and you're sure to find something exciting to do.
Don't forget, if you are out having a great time in the city or out in county, you can use #LoveNotts to share the love and connect with us via our Twitter, Facebook or Instagram.

Wednesday 22 September - Sunday 31 October 2021 | Lakeside Arts | Tickets: £12.50, Students: £8
Join this dreamlike experience and be immersed into a labrinyth style hotel that is both an intense and exhilarating ride through darkness. This communal experience uses binaural sound and speech recognition technology to immerse each audience member into a dreamlike, labyrinthine hotel - transporting you through rooms and down corridors and more, taking you deeper into the dream. Follow the right path to avoid being the subject of everyones eulogy...
For more information, please click here.
Saturday 25 September 2021 - Sunday 10 October 2021 | Heights of Abraham | 10am - 4:30pm
Back by popular demand, the Heights of Abraham is celebrating all things food and drink between Saturday 25 September and Sunday 10 October. Featuring food and beverages from local suppliers, take the cable car ride up to try their tasty specials. Nothing beats delicious food with a goregous view.
Find out more information by clicking here.

Wednesday 22 September 2021 - Wednesday 6 October 2021 | Bromley House Library | 2:30pm | Tickets: Free
Calling all book lovers and those wanting to take a break from technology, Bromley House Library tours are back this Autumn! Take a tour around this independent lending library and relax with a book in one of their reading rooms from this Georgian townhouse. Founded in 1816 and housing over 40k books - it's well worth a visit!
For more information, please click here.
Saturday 25 September 2021 - Saturday 2 October 2021 | Theatre Royal | Tickets from £11 - £49.50
If you're looking for a magical and relaxing evening out, the majestic performance by the Northern Ballet is just what you're looking for! Watch the adventure of how Merlin the legendary widzard gained his magic as the Northen Ballet tell his story through ballery and beautiful imagery. Expect an enchanting spectacle choreographed by Olivier award-winning Drew McOnie (Broadway's King Kong and Baz Luhrmann's Strictly Ballroom)!
Find out more information plese click here.
Saturday 25 September 2021 | Debbie Bryan | 10am - 3:30pm | Tickets: £33 - £42
Learn about traditional practices of Nottinghamshire with an afternoon creating embroidery designs using patterned lace fabrics. Supplied by Cluny Lace, they have also provided lace for Burberry, Vivienne Westwood, Paul Smith and even the lace for Kate Middleston's royal outfit for her marriageto Prince William, Duke of Cambridge. Whilst crafting your own lace design, enjoy Debbie Bryan's chocolate afternoon tea.
For more information, please click here.
This blog was written by Tashana Dodd at Visit Nottinghamshire.
Related
1 Comments