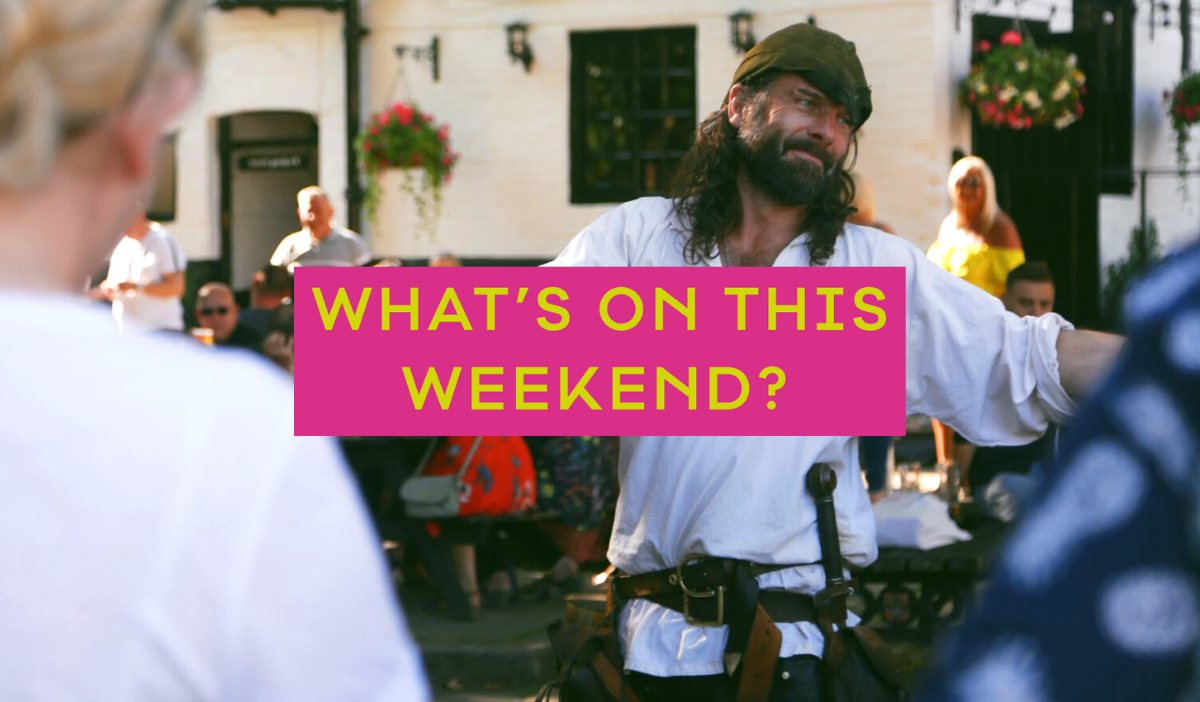 Coming up this weekend in Nottingham and Nottinghamshire there are some great things to do, from the marvellous worlds of musical and jazz to exploring Nottingham with Robin Hood, ice hockey tournaments and Halloween events. With many more happening, read on to find out our top picks of what's on this weekend!
There are many more events in our What's On calendar such as amazing live music, fantastic art exhibitions and more. So have a browse and you're sure to find something exciting to do.
Don't forget, if you are out having a great time in the city or out in county, you can use #LoveNotts to share the love and connect with us via our Twitter, Facebook or Instagram.
Sunday 10 October 2021 | Peggy's Skylight | 1pm - 3pm | Tickets: £6 - £8
Weekends are made for winding down and relaxing, and if you're a lover of the soothing melodies of Jazz we've got just the event for you! Kick back & relax with the Sunday afternoon jazz & meze sessions at Peggy's Skylight! Me & Mr Jones, existing of Rachel Foster and Paul Deats, they will be serving up sweet music from the American Songbook and other long loved confection on this fine Sunday afternoon. The pair know just how to add their own unique twist to classics from the Great American Songbook - taking inspiration from Nina Simone, Ella Fitzgerald, Billie Holiday, Etta James as well as the rich canon of jazz and popular music composers past & present!
For more information, please click here.
---
Thursday 7 - Sunday 10 October 2021 | National Ice Centre, Motorpoint Arena Nottingham | Tickets from £6.50
It's getting colder, and although the icey winter weather is still months away, we've found a way to bring the ice cold season to Nottingham a little early. This year, the UK is hosting the Women's Ice Hockey Olympic Qualifying in no place other than our very own Nottingham! Join the women's ice hockey team on their road to reach the 2022 Winter Olympics in China at the National Ice Centre this weekend. During this qualifying tournament team Great Britain will be taking it up against Korea, Slovenia and Iceland.
For more information, please click here.
---
Saturday 2 - Sunday 31 October 2021 | Rufford Abbey Country Park | £7.95 - £10.95
Who says Halloween has to be all scary and gory, when it can be fun and spooky? At Rufford Abbey Country Park you're in for a brilliant time with the family this Halloween season! Explore the park with their brand new Totally Spooky trails for all the family fun - suitable for all ages. This 1km trail will take you on a journey through the woods as you try and find the answers to the puzzle as you go along. For a more spooky feel, why not try the Totally Spooky illuminated night-time trail - we promise there won't be anything scary jumping out of the bushes!
For more information, please click here.
---
Wednesday 6 - Sunday 10 October 2021 | Theatre Royal Nottingham | Tickets: £20 - £57
Musical and Disney lovers unite, a magical musical rendition of Disney's classic Bedknobs and Broomsticks is coming to Nottingham! Enter a world of magic and fantasy as you follow the three orphaned Rawlins children on their magical adventure. Armed with an enchanted bedknob, a bewitched broomstick and a magical flying bed, they encounter surprising new friendships on their journey from Portobello Road to the depths of the beautiful briny sea. This brilliant new musical is brought to life with both new and original songs, including favourites such as Portobello Road, The Age Of Not Believing, The Beautiful Briny. It's time to start believing...
For more information, please click here.
---
Saturdays in October 2021 | Tours depart from outside The Cross Keys | 2pm - 4.30pm | Tickets £8 - £14.50
Eager to learn all about the world famous legend of Robin Hood and to find out the best that Nottingham has to offer? Why not join tour guide extraordinaire Ezekial Bone for a Robin Hood Town Tour! Follow a trail of historical facts to discover how simple ballads over 700 years old grew into one of the greatest stories ever told. This fun, theatrical exploration of the legend is told against the back drop of the city. As you visit places associated with Robin Hood, you will also see the town's key sites of interest and learn about its past, present and future. Robin will also point out the best places to eat, drink and make merry - ending the tour at Ye Olde Trip to Jerusalem, where you're invited to stop for a refreshment and a good old chinwag with Robin.
For more information, please click here.
---
This blog was written by Ananda Datema, Marketing Assistant at Visit Nottinghamshire.
Related
0 Comments