I'm Not From London is the brainchild of Will Robinson, an event organiser, dandy and man about town within the Nottingham music scene. Putting on up to twenty events per month under the I'm Not From London umbrella, INFL keep the bars of Nottingham in tune with quality music, and you can expect to find their name behind a variety of gigs, festival stages, open mics and club nights throughout the city and beyond.
With 12 years under his belt scouting talent and promoting gigs, Will is quite the connoisseur when it comes to making events memorable. Each summer I'm Not From London organise The Waterfront Festival at The Canal House - an all day charity event showcasing the best of Nottingham's music and providing some smashing fun for those who come along. Check out this video to see for yourself!
We caught up with him to talk about I'm Not From London, its featured artists, and to see what's coming up in Nottingham over the next few months.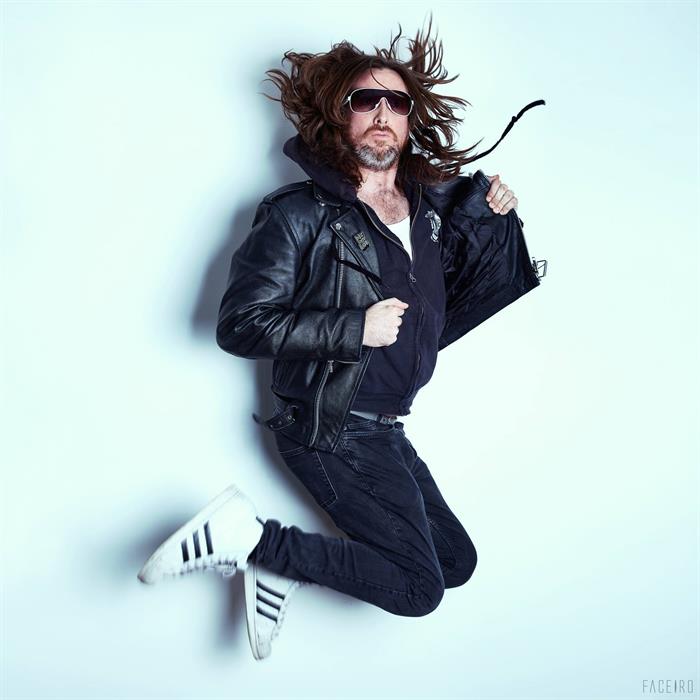 VN: I'm Not From London is a pretty eye-catching name, harking a little towards the north/south divide. Where did it come from?
Will: When I moved up to the East Midlands from Watford (Hertfordshire), it was a phrase I repeated to people a lot as the Watford and London accents can be quite similar! When I moved into Nottingham from Mansfield, I was fascinated by the local scene but didn't see a great deal of support for it and all the bands and musicians that were doing well all wanted to move to London, as they never saw themselves as being able to make it as career musician by sticking around.
I started the nights as a way of unifying all the bands and creative groups of people I had met since moving to Notts and giving them a local platform to hone their craft and have a good time while doing it.
It was also a line from my favourite film Withnail and I. The hilarious film starring Richard E. Grant and Paul McGann follows a couple of out of work actors in the late 60s, teetering at the brink of their career success/failure who go on holiday "by mistake" to the Lake District.
It's very funny and tragic at the same time and incredibly quotable. They say the "I'm Not From London" line and variations of it a couple of times in the film and then coincidentally enough I found out a few years after naming the night that the lead character was based on an actor named Vivian Mackerral who grew up Nottingham! Serendipity!
VN: But it's not just I'm Not From London you run is it? Tell us more about the sister label Wire & Wool Records.
Will: Wire & Wool as a night started out at the now sadly gone Loggerheads pub. There was no amplified music license so we filled the caves with singer/songwriters, acoustic bands, poets and musicians. The label formed out of those acoustically rooted bands and has a mix of blues, country and lately in the case of W&W's latest signing (Stacey McMullen) flamenco/folk styled acts.
Our I'm Not From London Record Label on the other hand has been more of your louder "in your face" electric bombastic bands with a mix of indie rock/pop and we've gone back to our roots the last few years with our heavier, punkier signings like Arrows Of Love, Chambers and No Nothings.


VN: Which local artists are worth checking out at the moment? Will: Bru-C is really up and coming, incredibly talented and hardworking. If you like your Bassline do check him and his night Krudd out. You'll see much more of him in the coming years. If you like your electro pop then check out the awesome Twin Kidd and Cherry Hex and the Dream Church. I'm a big fan of some of the new garage rock bands coming out of Nottingham like TV Crime and Slumb Party. We've been working with a great local band for a while now 94 Gunships that have a kind of Tom Waits, Nick Cave style sound, watch out for their new EP coming soon and while you're at it check out any of the acts we've signed here!!
https://www.youtube.com/watch?v=Q_kBoiuZYo0
VN: What have you got coming up for INFL?
Will: Oohh loads of stuff as always with the gigs! This Thursday we have 94 Gunships playing our NIGHTFISH weekly residency at Southbank City Bar and on Saturday we have the free electronic music festival, BROADFEST on Broadstreet, and we'll be putting on the bands as opposed to the other venues which will be mainly DJ's. On Sun 8th October we've got a brilliant couple of stages at The Hockley Hustle too!"
We've always a lot of gigs coming up so it's best to check our website and INFL Facebook events section to keep up on it all! Label wise we're in the middle of an album campaign for Arrows Of Love and they're about to tour Europe and the USA so that's keeping us busy. They'll be playing for us at The Hockley Hustle. We have another release from Chambers coming soon and we're making a spaghetti western video for No Nothings as we were fortunate enough to get one of their tracks on a very popular computer game (we're not allowed to say which one just yet) which we're obviously really pleased about and will be announcing very soon. So yep no sleep basically. Ever.
Finally, this NYE our communal rock singalong, Bamalamasingsong will be taking place at Southbank City Bar. If you're looking for good times with friends who like to sing when they're "happy" to see in 2018, don't be anywhere else!
VN. Nottingham seems to have quite a rebellious streak with our creatives, from writers such as DH Lawrence to bands like Sleaford Mods. Is it in the water or do you think the locals are born that way?
Will: Good question. Maybe Nottingham being neither North or South means you need to try a bit harder to get recognition nationally as we don't fit in too well with either camp or stereotypes or maybe as a result we actively avoid being put in either box?
Rebellious (or possibly stubborn might be more appropriate!) Luddites from Nottingham were pretty creatively destructive when they invented the Ned Ludd legend to avoid capture and dressed as women when they were smashing up the weaving machinery that threatened their jobs. DH Lawrence often wrote about the "Country of his Heart" (Notts) lots and the tales of working class families in Nottingham which were often deemed to risqué, even pornographic, by the bourgeoisie of the time. He didn't care, he did it anyway and became a literary institution, a national treasure and he wrote about something unique to his upbringing which as a result was something brand new to everyone else and became really popular!
You can see similarities with the rise of Sleaford Mods too in that respect. Maybe when you're ignored or vilified enough by the industry you're trying to get noticed by, you stop caring what they think and just get on with doing what you want for your own enjoyment, and if you keep doing that enough you can get really good at it and all of a sudden people can't help but take notice.
If that makes you rebellious then I could see that being true of lots of groups of people involved in the arts and music community here. We have a phrase at INFL "It's better to ask forgiveness than permission", perhaps we should try and get the Council to make it the City's slogan or actually that makes no sense, we should just hang it from the Council House's gates and see what happens.
On that note, we shall say goodbye. Thank you Will for a refreshing take on Nottingham's musical offerings!
Don't forget to check out I'm Not From London's resident nights and regular events:
Nightfish at Southbank City Every Thursday 8pm - 11.30pm Nightfish is a regular Thursday night residency at Southbank City Bar by local music promotors I'm Not From London. Showcasing some of the best bands from Nottingham and national touring acts, so you always have somewhere to catch live music on a Thursday night. This Thursday the headline act in 94 Gunships
Wire & Wool at SoBar Last Thursday of every other month (October/December 2017) I'm Not From London & Sobar presents... Wire & Wool Artistic Jamboree - an avant garde platform for artists, poets, film makers, comedians and musicians to entertain and inspire. Hellcats at SoBar Next date TBC Nottingham's only non age restrictive band night showcasing some of the most exciting young bands in the country.
Broadfest - an electronic music festival in the streets on Saturday 16th September!
Hockley Hustle - live music takes over Hockley for one day to raise money for charity on Sunday 8th October!
Follow I'm Not From London: Twitter @Imnotfromlondon Facebook.com/Imnotfromlondon www.imnotfromlondon.com
Related
0 Comments