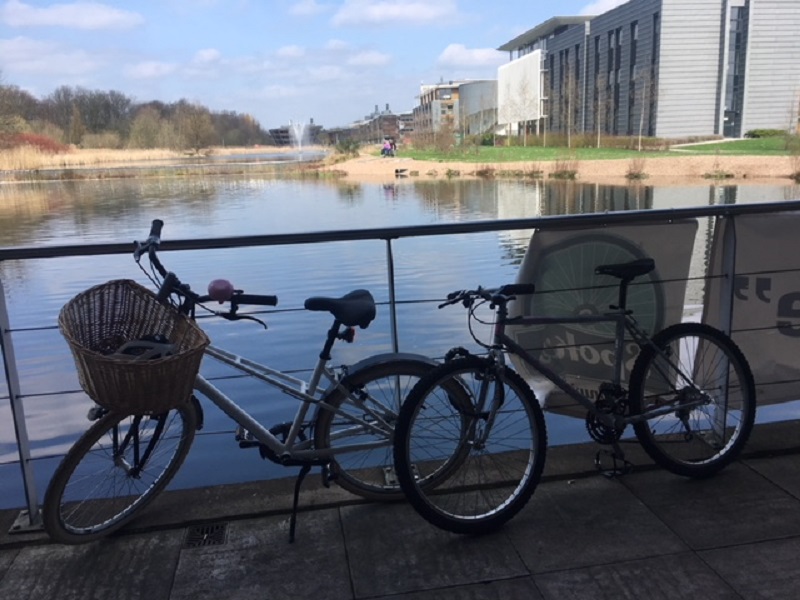 Nuts for noodles or crazy for cake? You're going to love Spokes! Venture just outside of Nottingham city centre (five minutes by bus or car, a little longer by bike or on foot) to the University of Nottingham's Jubilee Campus for a great value-for-money, home-cooked lunch or dinner.
This new venue which opened in 2017, is attached to the De Vere Jubilee Conference Centre, set amongst the striking architecture of the Jubilee Campus with its stunning lake, fountain and weir in full view of the restaurant. Until now this spacious, relaxing, modern venue with free parking and secure cycling, has been the students' and hotel guests' best kept secret. I visited on a sunny Saturday afternoon to review the lunch menu and generally help spread the word about this fantastic new addition to Nottingham's food and drink scene.



The cycling theme runs through from the name, to the décor and even the cake stands! The Jubilee Campus site was once home to the enormous Raleigh empire until its closure in 2002. Celebrating the city's beloved cycling heritage, inside Spokes you'll find displays of bicycle wheels and parts on the walls alongside huge images of professional cycling teams. This is all the inspiration and design of the Head Chef.
The lunch menu features some great home-baked bread options including panini, ciabatta, flatbread and high-protein roll sandwiches alongside salads, warm specials, plus new for 2018 – noodles! After my five mile cycle to Spokes I opted for a hearty flatbread to keep my energy levels up. Grilled halloumi with salad and pesto was delicious – the flatbread was really thick, fresh and fluffy and super value at only £3.95.



Nottingham's leading coffee brand, 200 Degrees, is on sale at Spokes. However, I'm not a coffee lover so opted for one of their hot chocolates to wash down a delicious home-made pistachio frangipani cake and my partner went for his favourite millionaires' shortbread. Both made on site and fresh that day on the bicycle wheel stand!
We just missed out on the new noodle menu which launched just after my visit. Build-your-own style noodles where you pick your type of noodle, your filling and your sauce to suit your taste are going to be very popular and a great alternative to bread at lunchtime. Meaties, veggies and vegans all covered.
Open for breakfast, lunch and dinner, Spokes is a great alternative to the hustle and bustle of the City Centre. See something different while staying in Nottingham – venture out and experience one of our stunning university campus sites while munching on some fantastic value-for-money food. It's not just for cyclists! For more information on Spokes including how to find them and opening hours click here.

---
Spokes is on the University of Nottingham's Jubilee Campus and is open Monday to Saturday 7am to 9:30pm and Sundays for breakfast and dinner.
This blog was written by Sarah McCann, Head of Marketing at Visit Nottinghamshire.
Related
0 Comments