Nestled in the north Nottinghamshire countryside sits the intriguing limestone gorge of Creswell Crags. Featuring an elongated central lake, surrounded by high rugged cliffs full of fissures and caves, a 30 minute walk will take you through the crags and around the lake, where you can admire an array of flora and fauna as you go. But there's much more to this unique than its natural splendor. The history of this site goes back an incredible 30,000 years, and archeological discoveries made within the caves some have been influential in piecing together the story of England during one of the harshest periods known to man.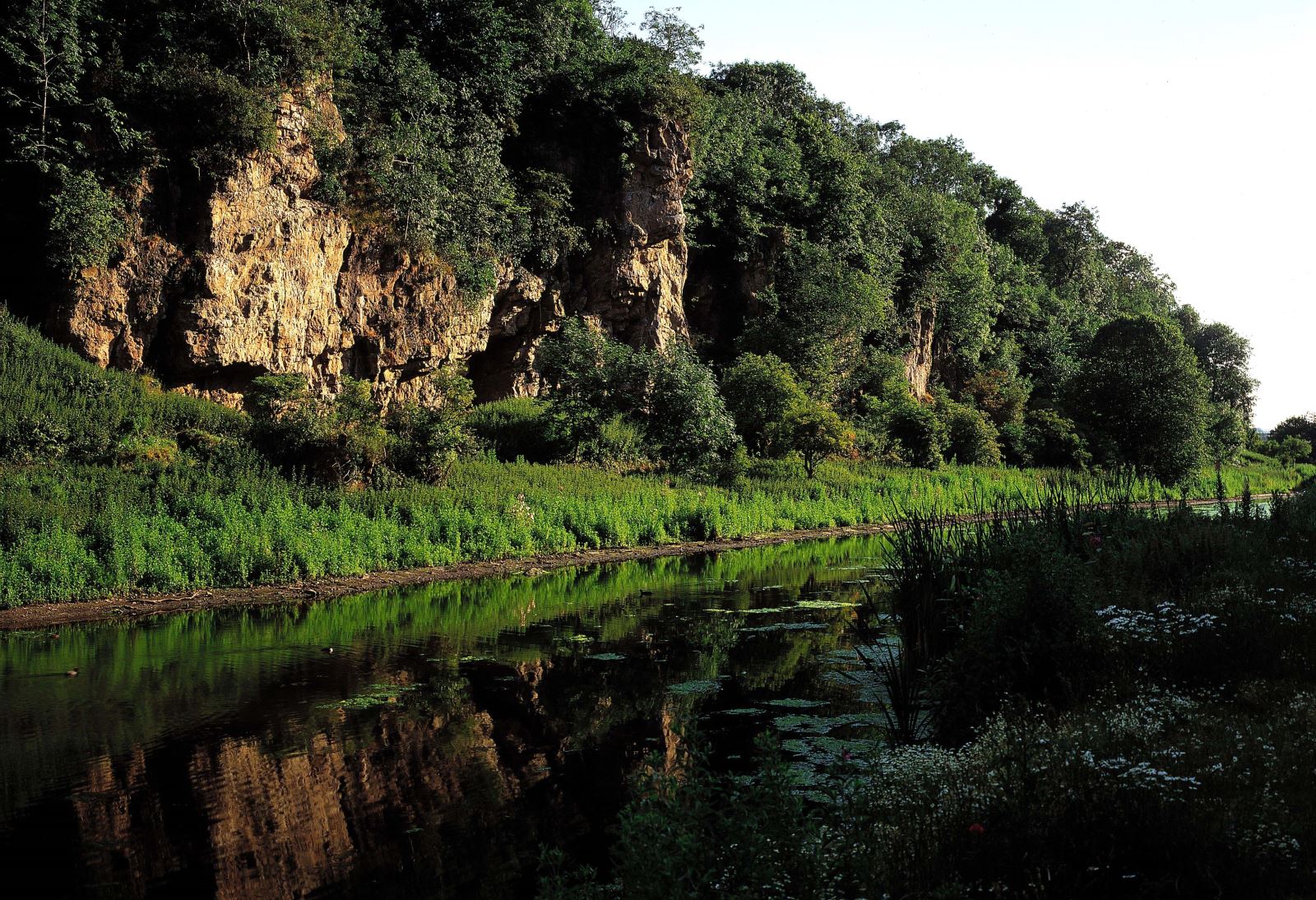 The Visit Nottinghamshire marketing team was lucky enough to be invited along to the Crags recently to experience the popular Rock Art tour, which shows off some of the incredible cave art which has been discovered in the crags. Despite having visited the Crags for a walk before, none of us had ever taken a tour to find out more, so we were all rather excited to see these ancient relics of the past.
The best place to begin your exploration of Creswell Crags is at the visitor centre and museum, which was awarded the RIBA Award for Design Excellence in 2011 and RIBA Sustainability Award in 2010. As you enter the building, you'll notice it is light and bright, and generally just really enjoyable to be in – it's a real hive of activity! The museum holds an exceptionally informative exhibition, explaining the history of the Ice Age and the landscape of Creswell at the time. You can find a brilliant little gift shop, selling everything from Ice Age animal cuddly toys and precious stones, to books on the Ice Age and walking guides. There's also and the lovely Crags Edge Café, where you can enjoy seasonal specials and locally-sourced foodie goods while taking in views of the tree canopy and gorgeous natural landscape.
The super friendly team on reception checked us in for our tour and we were instructed to head downstairs, where we made a new friend!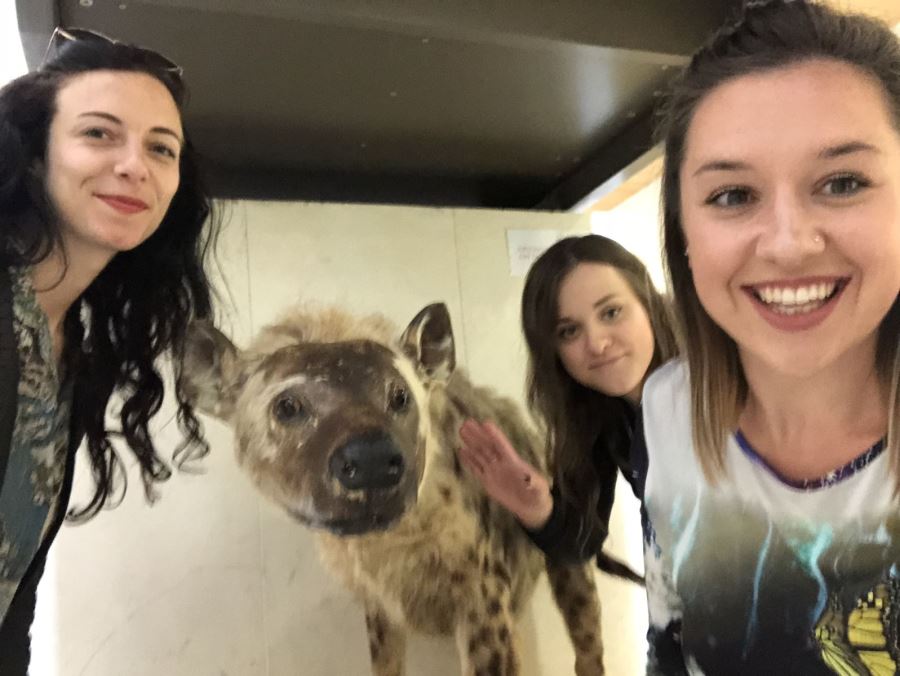 A few moments later we were greeted by our guide for the afternoon, Jack, who dished hard hats out to us all and gave a brief overview of how the tour would work. He then led the group outside and towards the gorge and crags, and on a couple of occasions, brought us to a stop and did some scene-setting, sharing fascinating information about the site. When we'd walked along a woodland path for a few minutes, enjoying the variety of nature along the way, we reached the gorge lake and stopped a moment to enjoy the view. Jack painted a picture of how the crags and gorge would have looked during the Ice Age - explaining how the Duke of Portland had the gorge flooded during the Victorian era, which is why today we have a lake.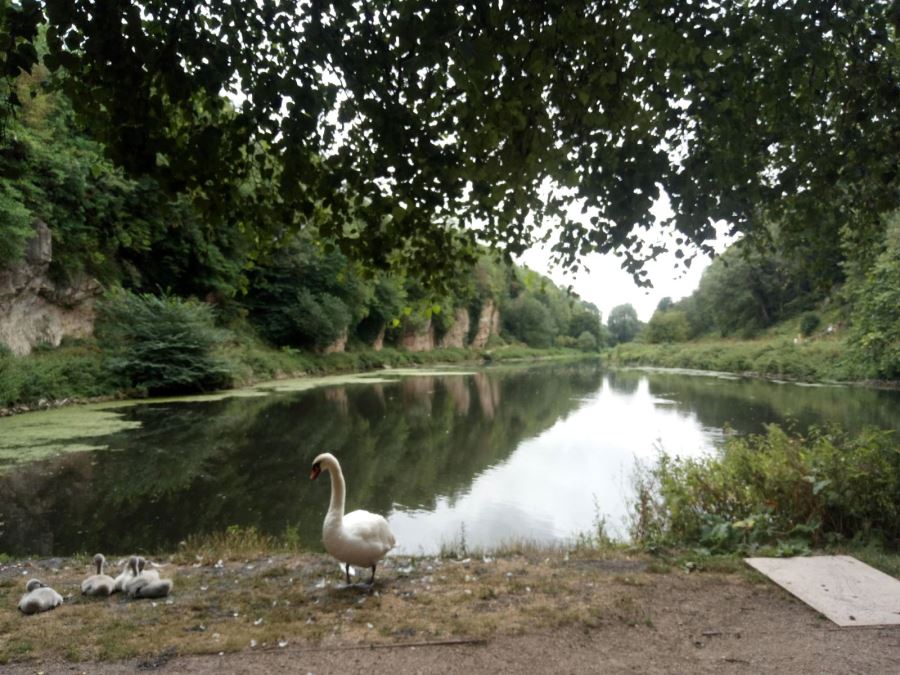 Just a few minutes later, armed with hard hats, and Jack with a torch, we all piled in the Church Hole cave, eager to take a peek at Britain's only known Ice Age rock art! Many of the caves are now set behind bars to preserve the spaces for future generations, so it was quite exciting to actually step inside. Jack did a great job of bringing the story of Ice Age to life, again setting the scene of life in the caves, along with telling us of how Ice Ace tribes migrated between France and England throughout the seasons.
Now it was time to locate the rock art! These curious drawings were first discovered by archaeologists in 2003, and since there has been much investigation as to their meaning, along with identifying their age. By shining his laser torch on the walls and describing the shapes of the art, Jack helped us all see that the drawings were of specific animals. Being between 5,000 - 10,000 years old the lines have of course become fainter, but like an optical illusion, once you spot it you can't miss the shapes. One drawing of an ibex wouldn't have been visible to us without Jack pointing out which engraved lines were which part of its body, and its a wonder anyone managed to discover these subtle but stubborn marks in the first place!
Another of the drawings was of a bird, and the artist had used a natural curve/indent in the rock to form part of the drawing. This was much easier to identify, and again it was amazing to think that someone, thousands of years ago, had stood here creating this piece of rock art, which were now seeing with our own eyes.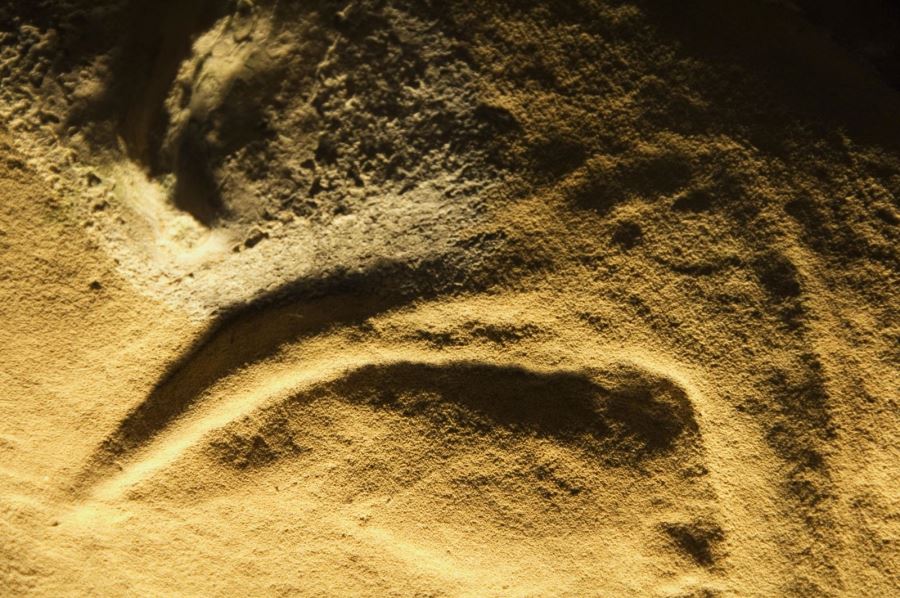 The tour flew by – we were hanging off Jack's every word, truly fascinated by the stories he was telling about Ice Age man and the different archeological theories about the rock art. With such an enthusiastic, friendly and incredibly knowledgeable guide, we're sure you couldn't be underwhelmed by the story of Creswell Crags. We're very lucky to have this enchanting historical gem in Nottinghamshire, and having just opted for the Cave Art Tour on this trip, its great to know there's more to discover next time.

We're sure we will be back at the crags soon to experience their Ice Age Cave tour, which takes you into even bigger caves!
Intrigued? Watch this brilliant video to get a taste of what to expect!

---
There is no charge to visit Creswell Crags site or to walk around the lake and gorge. It is also free to visit the shop and coffee shop. All day parking is just £3.

Exhibition Entry - £3 adults | £2 concessions | Children free
Ice Age Cave Tour (including Exhibition Entry) - £9 adults | £7.50 concessions | £6 children
Rock Art Cave Tour (March to September only, including Exhibition Entry) - £9 adults | £7.50 concessions | £6 children
Combined ticket (both caves and exhibition) Adult £13.50 | concession £11.25 | child £9
Family ticket (2 adults and 2 children) £25.50 per tour | or £38.25 for both tours (combined ticket)
Please be aware that children under 5 years may not be permitted on cave tours for health and safety reasons.
From February to October, visitors can book into the Rock Art and Ice Age Cave tours every day. In November, December and January, the tours take place at weekends and bank holidays. Booking required.
For more information about Creswell Crags, please click here.
---
This blog was written by Alex Broughton, Marketing & Communications Manager, and Sophie Gargett, Marketing Assistant at Visit Nottinghamshire.
Related
0 Comments