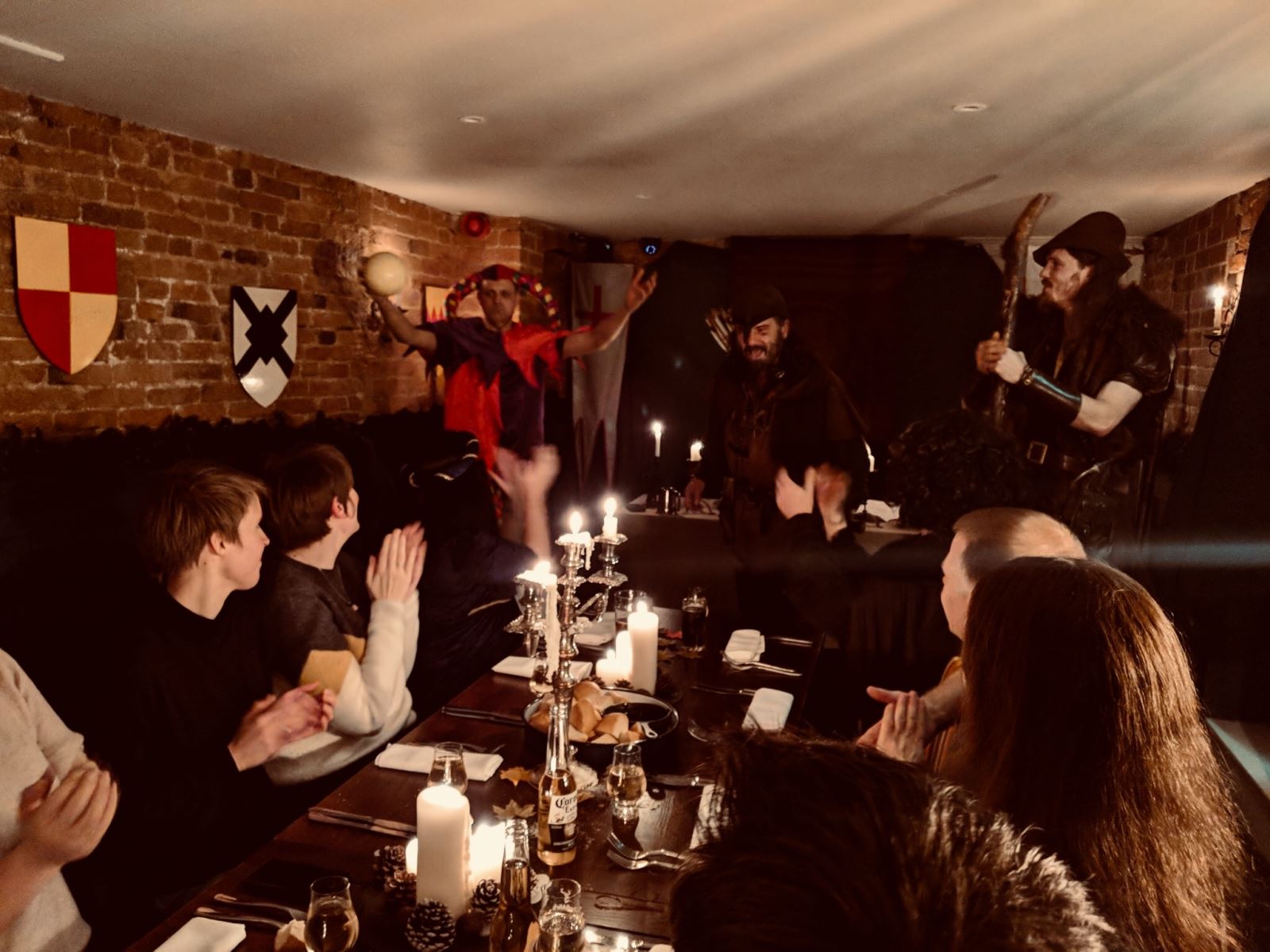 Two days after the release of the latest Robin Hood film, Visit Nottinghamshire were invited to experience the Robin Hood Medieval Banquet; an opportunity to bring the age-old rebel to life once again and witness his medieval ways in a lively evening of drinking, dining and spirited shenanigans. This was the first time this event had taken place, and we weren't quite sure what to expect. We arrive at the Cock and Hoop at the charming Lace Market Hotel in curious anticipation, and it's immediately evident that we're in for a good night.
There's a flame-thrower at the door, illuminating the dark streets with streaks of bright orange fire, and we enter to see our costumed hosts cheerfully quaffing ale inside, greeting the guests warmly as they trickle in from the freezing streets.
It isn't long before we're led down the stairs into a large underground function room, which has been painstakingly transformed into a banqueting hall. We gaze around in wonder at the convincingly medieval drapery and the shields and weaponry hanging from the brick cellar walls.
The room is lit entirely by candlelight, creating a cosy and intimate setting as the flickering flames cast their shadows across our faces. Pine cones and autumn leaves have been scattered between our plates and molten wax drips down the candles and snakes across the table. The attention to detail is breathtaking.
It's Robin Hood, the enigmatic Ezekial Bone, who kicks off the evening with jokes and a warm welcome before handing over to talented medieval minstrels Sloe Gin, who delight our ears with soothingly melodic music played on traditional instruments.
We're swiftly served large glasses of mead - sweet, honeyed wine - to warm our bellies, and we greedily feast from silver platters of bread with oil for dipping.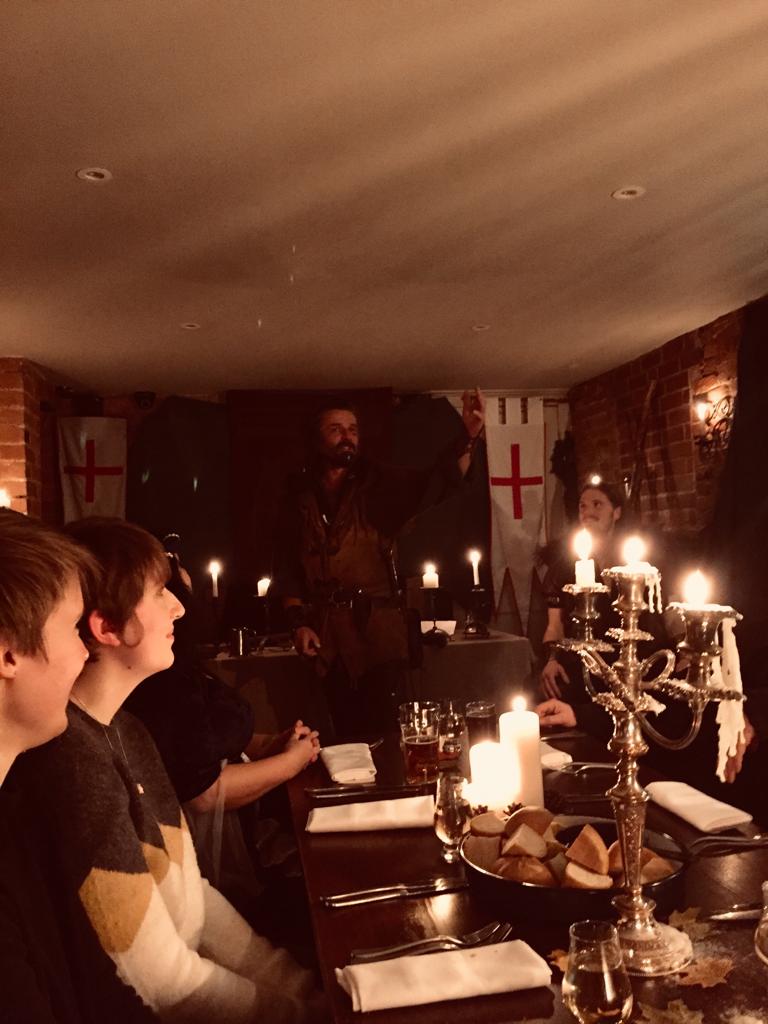 It soon becomes clear that this will not be a high-brow affair. Robin Hood and Little John are refreshingly raucous, encouraging the guests to bang their fists on the table and yell up to the kitchens for the next dish to be served. It's a rare occasion that you are actively encouraged to abandon your manners and we get thoroughly into it – reminding ourselves at the end of the evening that enjoyable as this is, it would perhaps be unwise to continue this behaviour when dining elsewhere.
The food itself is delicious; as the evening progresses, we're offered delicious terrine followed by pheasant and honey roast vegetables served on huge sharing platters. It's easy to get carried away by the carefully-crafted medieval atmosphere, and we have to restrain ourselves from challenging a fellow guest to a duel over the last roast potato, which are the best we've ever had.
The courses are interspersed with fantastically authentic medieval entertainment. Robin Hood and Little John are true raconteurs, telling legendary tales of Robin Hood and his Merry Men. They recount Robin's adventures with vivid storytelling and a theatrical panache that keeps the audience on the edge of their seats, utterly enchanted.
Shambolics the Jester provides comic relief, keeping everyone in fits of laughter with a perfect blend of slapstick, pantomime-esque comedy, hilariously engaging audience participation and genuinely impressive circus skills.
Of course, all good things must come to an end, and the night draws to a close with the final course, a deliciously creamy custard tart, accompanied by a last jubilant song from Sloe Gin - and it's time for us to reluctantly bid our farewells.
The whole event is so slick, meticulously well-structured and authentic that it's hard to believe that it was in fact being trialled before our eyes; an experimental evening with a view to making it a regular occurrence. As far as we're concerned, it's a rousing success, and it leaves us hammering on the table and demanding an encore. We want more!
Related
0 Comments