Afternoon tea is without a doubt the finest of British institutions, and Thoresby Hall Hotel is one of the most luxurious hotels in the region, so when Visit Nottinghamshire received an invitation to experience Thoresby Hall's festive afternoon tea, we knew we were in for a very special treat indeed.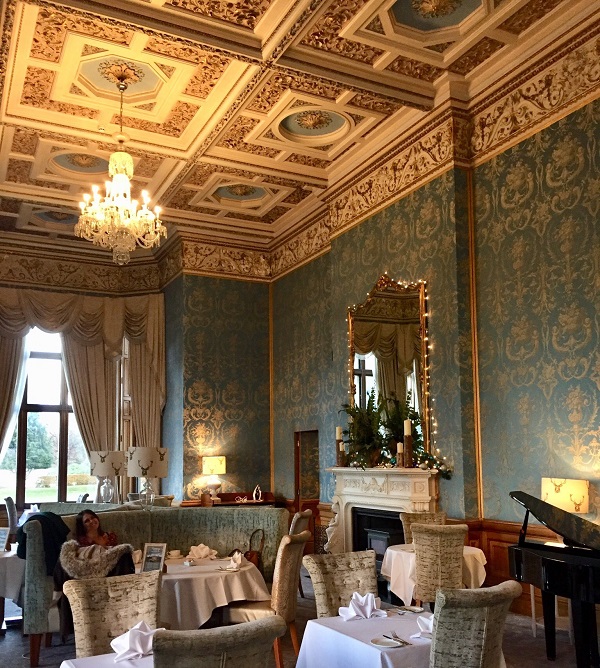 We arrive at the hotel – once a magnificent stately home, surrounded by rolling countryside – and are awed by the sheer size of the Grade I-listed building. We're led through a series of opulent rooms, each more elegant than the last, resplendent with period features, panelled oak walls and sumptuous armchairs.
We head through the impressive Great Hall – a huge vaulted hall with ornate parapets and archways, decorated with tapestries, chandeliers and a monumental Christmas tree. The room has a decidedly Hogwarts feel, and we half expect to look up and see floating candles.
We're then led into the Blue Grill restaurant and shown to our seats by the charming and helpful Leanne, who diligently checks our dietary requirements and takes our drinks orders before leaving us to take in the glorious decadence of our surroundings.
There's just enough time to catch a glimpse of the expansive landscaped gardens and the fountain through the bay windows before the sun sets, darkening the room and making for a cosy and festive atmosphere. The room itself is stunning; the walls, we're told, are exquisite teal and gold silk, soft to the touch. We sink into our plush velvet armchairs, gazing up at the huge mirrors adorned with fairy lights and the delicate glass chandeliers hanging from the elaborately panelled ceiling. There's a crackling fire, too, and soothingly nostalgic orchestral Christmas tunes.
Leanne snaps us out of our reverie by reappearing with our afternoon tea – a majestic three-tiered stand stuffed with dainty sandwiches, scones and cakes. True to the Christmas theme, the portion sizes are pleasingly generous.
We sample the bottom tier first: a selection of thick-sliced finger sandwiches - sure to please afternoon tea traditionalists - with a perfect ratio of bread to filling and not a crust in sight. There's turkey with sweet cranberry sauce, tangy cheddar cheese and spiced chutney, and velvety smoked salmon, cream cheese and cucumber. We scoff the lot.
Next up are two scones each - one fruit and one plain – served deliciously warm. These are fluffy and light, and we top them with generous lashings of Cornish clotted cream and a layer of Tiptree strawberry jam (in that order, naturally).
The final tier contains a selection of utterly charming miniature festive treats – decorated mince pies, colourful macarons, fruity stollen and fresh strawberries, all lightly dusted with icing sugar.
We don't manage to finish it all, though Leanne kindly provides cake boxes for us to take the remainder home to share with our families (or perhaps to secretively devour alone a few hours later, which is tempting, though admittedly not quite in the festive spirit).
We're given a short tour on our way out. Paris, our friendly and knowledgeable guide, shows us some of the period features of the building – original stained-glass windows and a breathtakingly intricate carved wooden mantelpiece in the library, depicting the Major Oak, Robin Hood and Little John.
She describes the vast array of entertainment and leisure pursuits on offer to all guests, including day visitors; they can experience sporting activities such as archery, aqua fun, or rifle shooting tuition; educational experiences such as history, garden and nature tours, wine tasting; or simply relax and enjoy vignettes, plays, and musical entertainment.
There's even a beach outside, she tells us, complete with petanque, draughts and deckchairs for guests to enjoy. We get a tantalising glimpse of the spa on our way past, and admire the glass-ceiling pool in the courtyard and the inviting relaxation rooms. It isn't hard to understand why the hotel is often compared to a cruise ship, and why visitors to the spa or restaurant might be tempted to make a day of it.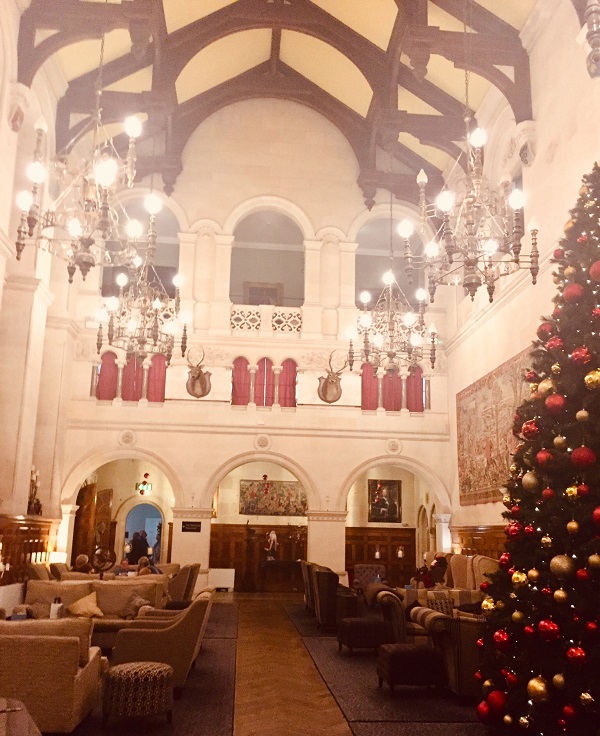 Paris rounds off our tour by pointing out a pair of stag heads perched on high, casting their watchful eyes over the Great Hall, and tells us that these majestic beasts – ostensibly hunting trophies from days gone by - in fact come to life several times a day to engage in witty repartee with one another and the (presumably astonished) guests. We peer at her suspiciously, wondering whether she's having us on, but it turns out that she isn't – and although we aren't lucky enough to witness it on this occasion, it does give us the perfect excuse to come back to Thoresby Hall Hotel soon!
Festive afternoon tea at Thoresby Hall Hotel costs £28 for 2 people and includes hot drinks, sandwiches, scones and a selection of cakes and pastries.
This blog was written by Sophie Milne, Communications Executive at Visit Nottinghamshire.
Related
1 Comments