From the majestic oaks of Sherwood Forest to the murky depths of the subterranean caves network and from the grey concrete expanse of Old Market Square to the redbrick warehouses of the industrial Lace Market, Nottinghamshire has many faces.
The one thing we lack, of course, is the seaside; this decidedly land-locked county is just about as far away from the coast as you can get, which probably explains why Robin Hood is rarely depicted making sandcastles on the beach. Our region has a million and one things to offer, but let's be honest: a seaside resort we are not.
Well, the enterprising minds behind the brilliant Hockley Arts Club and Das Kino apparently decided it was high time somebody changed that. They've recently unveiled their most adventurous concept yet: the holiday resort style arcade, kitchen and bar, Penny Lane. Our curiosity piqued by tales of iconic amusement arcade games, delicious food from the open kitchen and a range of cocktails inspired by childhood days out at the seaside, Visit Nottinghamshire dramatically cancelled our summer holidays and skipped off to Penny Lane instead.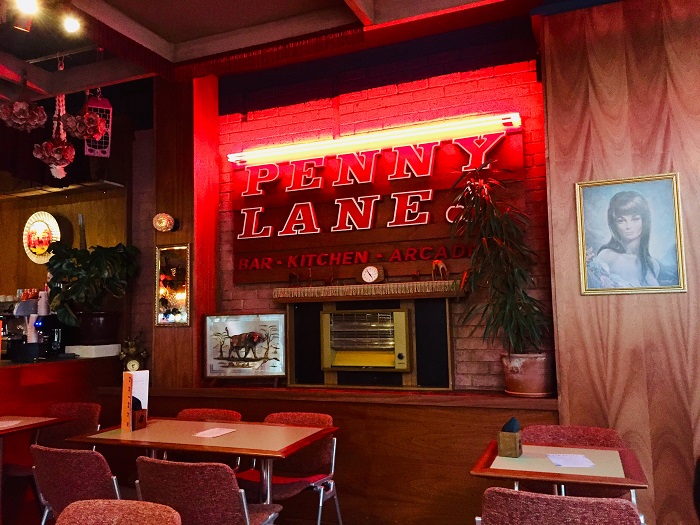 The front bar area is designed to send you straight down memory lane, harking back to the halcyon heydays of a 1950s seaside holiday. The décor is retro and nostalgic, its wood-panelled sideboards adorned with vintage ornaments and frilly lamps that wouldn't look out of place in the home of an elderly relative. Few venues would attempt to pull off salmon-coloured furniture – but then the Hockley Arts Club and Das Kino have never exactly been shrinking violets when it comes to interior design. It's dated, it's passé - and we love it.
The back of the venue, however, is a whole different ballgame. It's dark, lit only by streams of kaleidoscopic neon and the flashing lights of the amusement arcade machines. The striking contrast between mid-century muted pastels and futuristic neon makes us feel like we've walked into an episode of Stranger Things.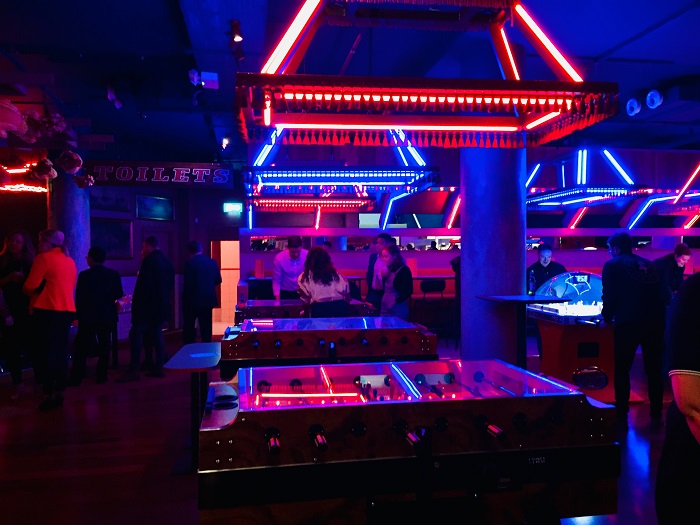 We're drawn in like moths to the light and suddenly we're ten again, enthusiastically trying our luck on the penny pushers and grabber machines, challenging one another to air hockey and table football, and getting giddy with excitement over the 'Donkey Derby'. We gleefully try out the old school sideshow games (some offering a prize every time, ideal for those with poor dexterity and depth perception who still want feel a sense of achievement) and clamour to get our fortunes told.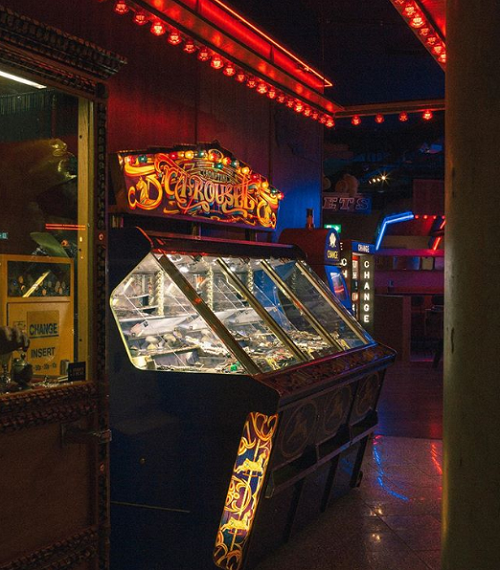 Even the grown-up cocktail menu is evocative of childhood memories and classic British flavours. True to the Hockley Arts Club brand, the drinks are bold and exuberant; we try the syrupy sweet Cherry Chapstick (Amaretto, Midori, Lime & Cranberry), the fizzy and sour Skittle Fizz (Cointreau Blood Orange, Strawberry, Lime & Lemonade) and the strong, heady Tin Can Alley (Buffalo Trace, Apricot Brandy, Pineapple & Mint). Thrillingly, most are served with sweets as garnishes. As far as we're concerned, no one is ever too sophisticated to eat a cherry Haribo.
It truly feels like we've been from bygone-era Blackpool to Brighton and back again. In warmer weather, the whole frontage opens directly onto the street, a breezy seafront bar enticing passers-by to drift inside on lazy summer weekends. Penny Lane captures the essence of schooldays at the seaside, except that you won't get sand in your sandwiches and seawater in your eyes and you won't have to pester your parents to bring you. You'd better get saving those 2ps…
This blog was written by Sophie Milne, Communications Executive at Visit Nottinghamshire.
Related
0 Comments