Nottingham's Trent Bridge Cricket Ground has some stunning surprises in their new fine-dining establishment Restaurant Six.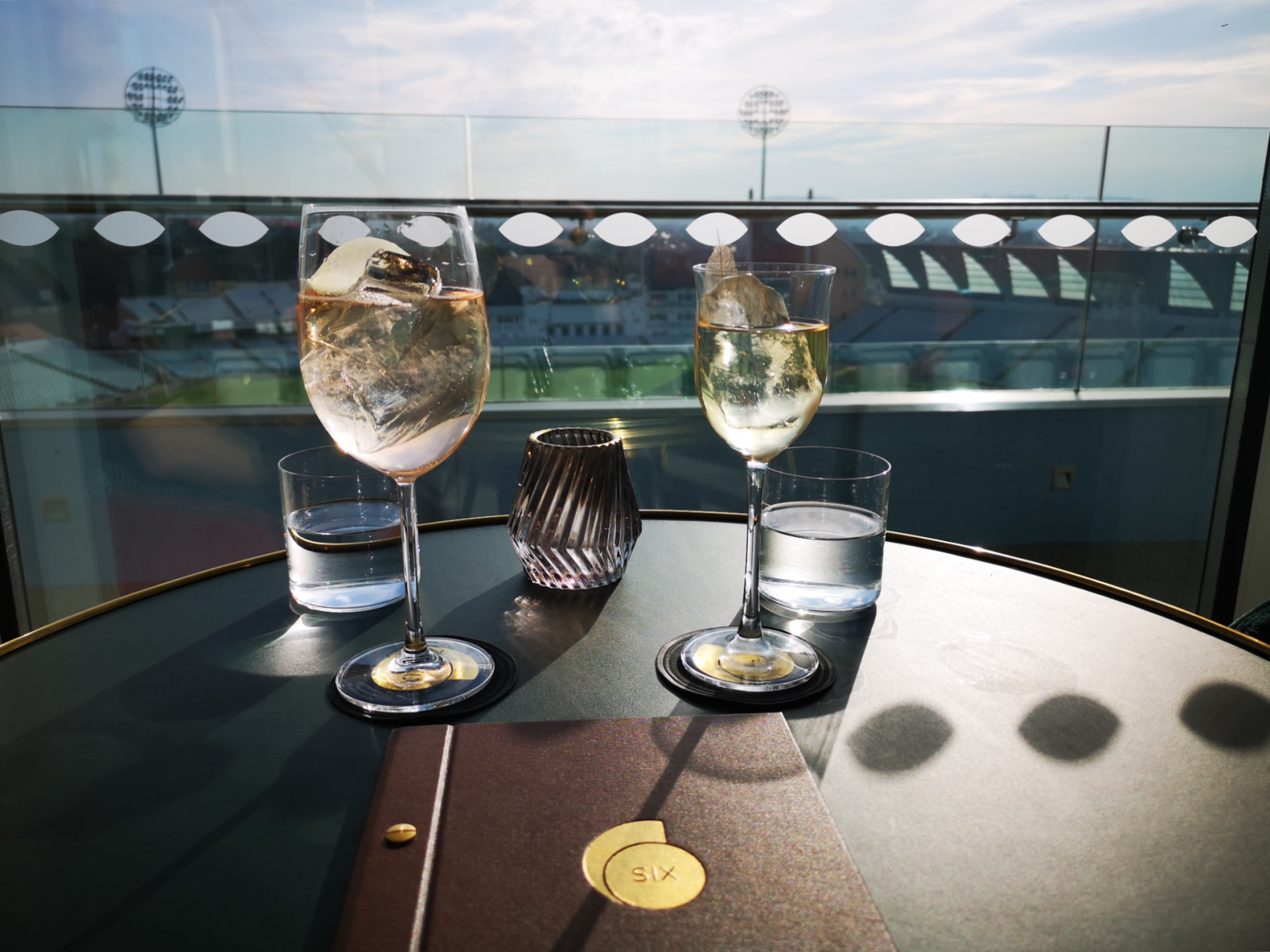 It's a fabulous treat when you unexpectedly find wonderful new places in your hometown, which is exactly what happened when the Visit Nottinghamshire team were invited to dine at Restaurant Six recently.

To begin, we should point out that neither of us are really cricket fans, so despite having heard about the fantastic facilities and legendary history of the Trent Bridge, we had never actually thought about heading out to see a match take place. Since the opening of Restaurant Six in 2019 however, there's now several compelling reasons to visit - delectable food, cocktails and views! By gosh, we may even head to a match one day after seeing the pitch in all its glory from this stunning perspective.



We arrived on a chilly Friday lunchtime in February, and after taking the elevator to the sixth floor the doors opened to bright sunshine pouring through full length windows. We settled into a table by the window to take in the surroundings over a pre-dinner drink.

It is easy to see why the divinely decorated bar The Library is so named - their catalogue of fine spirits is so extensive it requires a ladder to access. A colour palate of deep mahogany browns, rich teals and burnt ochre reds decorate the bar and seating area, accented with gold to give a grand and stylish finish.

This warm and luxurious ornamentation is strikingly juxtaposed, however, with floor to ceiling windows which provide views from Colwick Woods to the city centre, along with a perfect vista of the cricket pitch. Despite the brisk day outside, sunlight bounced and streamed over the room, giving delightful hints at the warmer months to come.

As we sat down, Ash our knowledgeable bartender went through some of the finer points of the drink's menu. Their bespoke cocktail menu brims with creative concoctions - many of which contain notably unusual ingredients that have been locally foraged - like the Daisy Cutter which is spritzed with the scent of the Trent Bridge turf. (Make sure to pause to admire the menu's beautifully printed map, depicting where the ingredients were sourced.)





It's also worth noting the fantastic selection of non-alcoholic cocktails on the menu which have been impeccably designed with botanics and rare ingredients to rival their boozier counterparts – perfect for those driving or on business lunches.

We opted for the White Rose, an utterly light and refreshing mix of gin and English sparkling wine, exquisitely garnished with a rose petal and large, diamond-like chunk of ice, and the Left Lion – a cocktail tribute to Nottingham's much-loved art deco statue who stands guard by the Council House. This unusual concoction included rain and stone alongside the more conventional Reyka vodka and Fino sherry on its ingredients list, and somehow managed to embody the taste of stone and yet be crisp, dry and delicious - a testament to The Library staff's exceptionally creative mixology skills.

After drinks we were invited to dine in the bright, airy and equally well-presented restaurant. The sunny haze of the day had cleared, and we enjoyed picking out familiar spots on the horizon, from city church spires all the way to Wollaton Hall in the distance.





After perusing their unusual cocktail menu, perhaps we were primed to expect something a little different and were intrigued to try the seaweed-infused-butter laced with leek oil, which was served with their homemade sour-dough bread. From the first bite we knew were in for a quite a treat!

In keeping with their name, their seasonal modern British menu offers a section of six creatively curated starters, mains and desserts, with meat, seafood and vegetarian options. It's worth noting that they will happily accommodate any dietary requirements of their diners but request 48 hours' notice to ensure every dish creates a dining experience of the highest order. Their fixed price lunch menu (2 Courses £23 / 3 Courses £29) has four enticing options to choose from.

To start we opted for the bold and earthy flavours of the heritage beetroot salad, served on a bed of creamy goats' cheese and sprinkled with an aromatic hazelnut dukkha, and the richly creamy brown crab pate which contrasted beautifully with the bright and fresh flavours of delicately pickled cucumber and preserved lemon. The main course of butternut squash risotto with brown butter and crispy sage leaves was a delight, as was the perfectly cooked pollock - served with mussels in a creamy velouté, with the added salty punch of samphire and sea herbs. Each dish was artfully presented and utterly delicious.



We're still intrigued to know what kind of kitchen sorcery can create a pop-corn inspired ice cream which so perfectly recreates the flavour of something primarily noted for its unique texture, but needless to say the desserts were equally divine. After dessert we still couldn't bear to leave the easy ambience of the restaurant so opted for an invigorating espresso, which was served alongside a small section of delightful petit fours chocolates.

Whether you're visiting for a drink to take in the unrivalled panoramic views or for a special dinner, we're certain you'll be suitably impressed.
---
This blog was written by Sophie Gargett and Claire Jones.
Related
1 Comments