When the world goes awry and you need a break from all the tiring hustle and bustle, why not go for a stroll and connect with nature? No need to venture out of the city into the picturesque Nottinghamshire countryside for a walk if you don't have much time to spare – a quiet saunter in the scenic University of Nottingham campus can be just as therapeutic for your eyes and soul.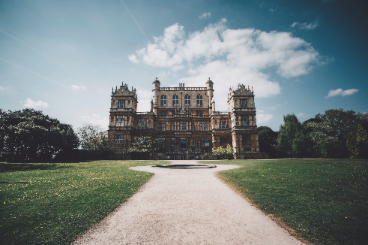 Start your stress-free session by walking on Beeston Lane, pass the imposing David Ross Sports Village and follow the meandering footpath up the grass-covered hill. Right after the Sports and Social Club, there is a small road, marked by a green fence, which leads to Derby Road. You can either follow this path in order to reach the ever so spectacular grounds of Wollaton Hall and Park from Derby Road and wander the gardens and parkland, you might even spot a deer. Want to make your stroll last a little longer? Why not continue on Beeston Lane instead. The trees, bushes and shrubs, carefully trimmed, will surround you in a green fairy-tale all the way down the hill, as you walk by the student halls and the Cripps Health Centre. Of course, don't forget to capture the moment and pose in front of the well-known multicoloured 'Nottingham' sign, which never goes unnoticed – and unposted on Instagram, for that matter.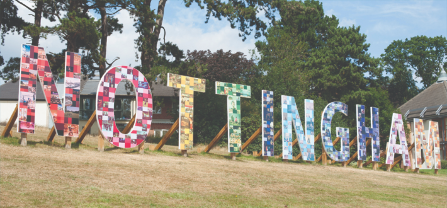 Exit the campus at the crossroads of Clifton Boulevard, Middleton Boulevard and Derby Road and proceed over on Derby Road. You should see Queens Medical Centre on your right and as you advance, you will spot the majestic Gatehouse Lodge (Image by David Nunn), sheltering the South Entrance of Jubilee Campus, which is your next destination.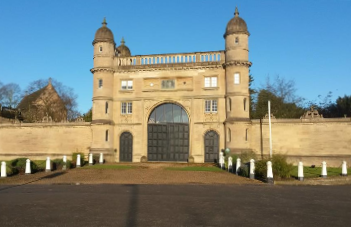 The Elizabethan Revival style Lodge, completed in 1825, was one of five gatehouses around Wollaton Park leading to Wollaton Hall. After you've admired the old gateway, let your steps guide you on Kenyon Road closer to this modern concoction of innovative materials, sophisticated state-of-the-art designs and creative elements. If you feel the need to unwind and take a few moments to rest and regain your energy, you've hit the jackpot - the De Vere Orchard Hotel (now offering takeaway) also hosts another impressive café and restaurant, Spokes, with a selection of daily specials, homemade pastries and drinks waiting for you to lick your fingers and ask for more, so be sure to visit once it is safe to do so.
The treasures Jubilee Campus hides are not over yet, so if you're in it to win it, continue your journey along the lakeside, hum with the bees, sing with the birds or march with the geese – this campus is, indeed, teeming with life. I recommend choosing the evening – the sunset viewed from here is just magical, to say the least. What could be a more pleasant way to spend your afternoon, right?
To exit Jubilee Campus, either return the same way you entered or keep going towards Melton Hall, where the northern exit leads to Wollaton Road.
---
This blog was written by Andra Elekes, Marketing Intern at Visit Nottinghamshire
Related
0 Comments