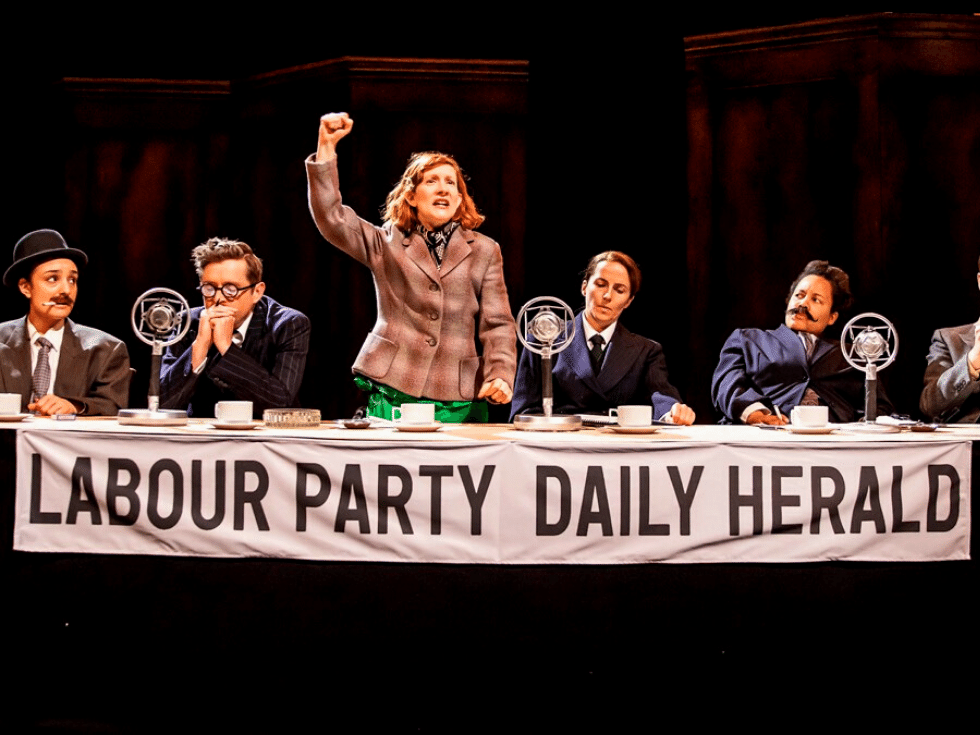 Red Ellen is an inspiring true story about Labour MP Ellen Wilkinson, brought to life by Caroline Bird and Nottingham Playhouse. A moving, poignant and funny play, you are placed in the heart of the 1940s and World War II. Although the play offers an artistic interpretation of events, it gives a convincing glimpse into the public and private life of an incredible woman, and devoted Member of Parliament.
---
What is it about?
Ellen is caught between revolutionary and parliamentary politics, representing the left while drawing a line before communism. She muses on some of the issues which are more relevant today than ever before about party politics, the political spectrum, smear campaigns and what it means to represent the 'people' as part of the ruling class, while she herself is from a working class background.
Ellen fights with an unstoppable, reckless energy for a better world. This is perfectly represented in the staging and script, and you get the idea she is literally running from one cause to another, with equal passion and enthusiasm. This honours her work and achievements while showing the woman underneath it all – a woman so devoted to serving the public that she often neglected her health and private life.
Inequality is also an important theme throughout the play. Whether it's the 80% unemployment rate in Jarrow or Ellen's own role as the only female Labour MP, she battles to expose and redress these injustices with the passion and determination of the famous revolutionaries who came before her.
On the play, writer Caroline Bird said, 'After six years living with Ellen running around in my head like a ghost with unfinished business, I gradually found the confidence to tell this story'.
On the importance of the story, director Wils Wilson said, 'Ellen had an incredible life and achieved so much, against the odds. Her story deserves to be known far and wide'.
---

The Cast & Staging
It is impossible not to fall in love with Ellen, which is a testament to the incredible performance of Bettrys Jones who plays our titular character, Ellen. She is high spirited, personable and exuberant in her desire and passion for a better world, even in the face of war and navigating a complicated political spectrum. Jones plays her with enormous energy and sensitivity, and is a delight to watch as she marches across the stage, willing us to follow her and join the cause, whatever it may be. A thoroughly well-rounded and three dimensional portrayal, the play doesn't shy away from scandal, and instead invites us to understand a real woman who had her own opinions and made her own decisions, with the virtues and faults that make us all human.
The supporting cast are also incredible, navigating challenging accents, multiple roles and working as stagehands to supply props and change of scenery. Jim Kitson was particularly notable for his endearing performance, with an incredible and authentic North Eastern accent. This was perfected, no doubt, by his time living in the region, as well as his tenure on Byker Grove and Vera.
The staging itself was minimal, but effective. Switching out props, some key items were used to identify scenes and made it easy to follow. You will travel to Germany, Belgium, Spain, Jarrow and Parliament on the same stage, and meet Winston Churchill, Albert Einstein and Earnest Hemmingway amongst a whole host of colourful characters.
---
This blog was written by Katherine Taylor, Marketing Executive at Visit Nottinghamshire.
Related
3 Comments