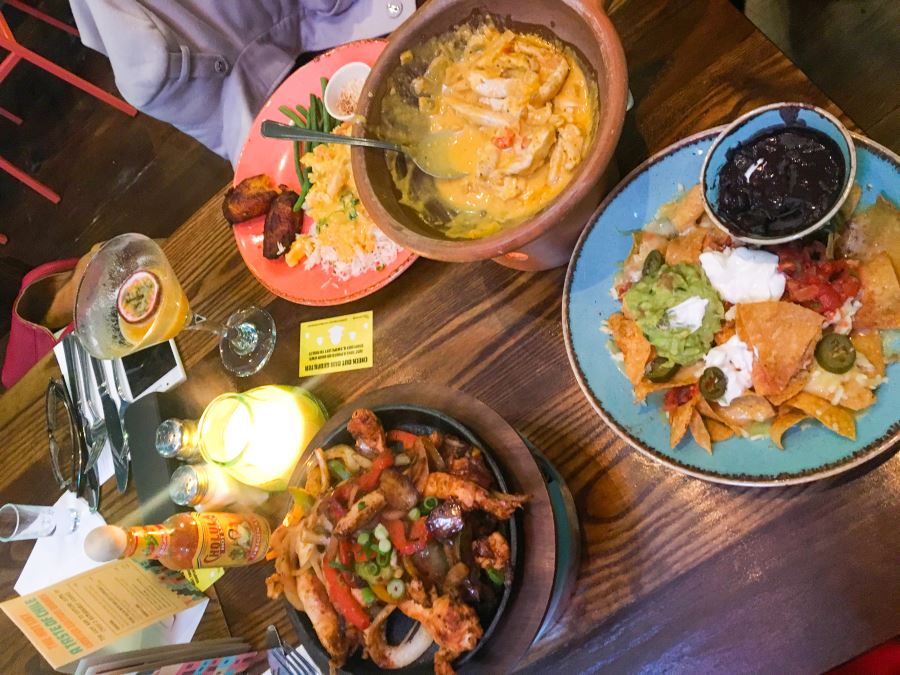 The new-look Las Iguanas is vibrant, fun and bright, which very much reflects their extensive South American inspired menu.
My colleague Jayne and I were lucky enough to be invited to Las Iguanas, located in Nottingham's Chapel Quarter, to take a look at their refurbished restaurant and bar area and try some of their food and cocktails.
As soon as we arrived, we were greeted by the attentive and friendly General Manager, Jamie who recommended a starter, main and dessert to us, as well as a cocktail. I ordered two pornstar martinis, as it's happy hour/2-4-1 cocktails all day every day at Las Iguanas, which is just my idea of heaven! They've made the bar area slightly bigger now too, so people can visit for just for drinks if they wish.
The cocktails were fabulous, especially to say they're always 2-4-1, and kept me very happy during the short wait for my starter to arrive: a generous portion of nachos, served with melted cheese and topped with pico de gallo salsa, jalapeños, roasted tomato salsa, soured cream and guacamole. I opted for an extra topping of refried beans and was glad I did as they were delicious.
For my main, I put my trust in Jamie and went for his recommendation of fajitas and chose to have them with chicken breast strips. I love the way it was served: a sizzling skillet filled with colourful strips of pepper and succulent chicken, delightfully soft tortillas kept warm with a lid and cute individual pots of guacamole, grated cheese, soured cream, jalapeños and roasted tomato salsa. I can confirm that they're the best fajitas I've had in Nottingham.
I'll be heading back to Las Iguanas soon – there's so much from the menu I'd love to try, such as the XINXIM, a north Brazilian dish of chicken & crayfish in our creamy lime & peanut sauce - for the name alone I'm going to try that! There's also the fab cocktail menu I've got to work my way through!
This blog was written by Alex Broughton, Marketing Manager at Visit Nottinghamshire.
Related
0 Comments