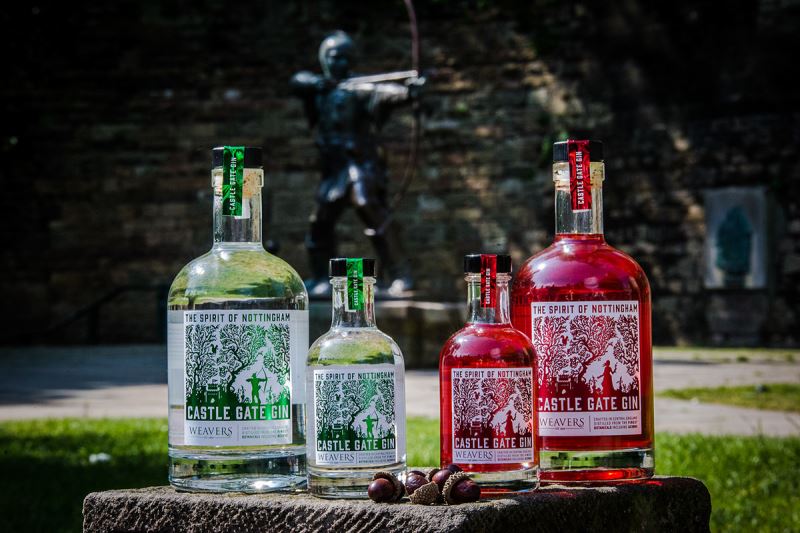 Did you catch our recent blog about one of Nottingham's oldest independent businesses, Weavers Independent Wine & Spirit Merchants? Not only did we delve into the fascinating 174 year history of Weavers, but we also took a look at their beautiful Georgian townhouse, located in Nottingham's city centre, and the family that have passed down their wine expertise for five generations. Click here to read more.

But its not all red, white and rose at Weavers - they also stock a huge range of liquer too. From malt whiskies to crisp vodkas, its worth popping in for a browse if you like making a decent tipple or whipping up cocktails at home. More recently however, Weavers have come up with something truly special - their own unique brand of gin. Imbued with 'The Spirit Of Nottingham', created in local distilleries, and inspired by Sherwood Forest, Castle Gate Gin was born in 2017. Its sister flavour, No.17 Castle Gate - infused with strawberry and lavender - followed in early 2018. We had the pleasure of visiting Weavers to chat to Mary Trease, a 5th generation member of the family which own Weavers, and the mind behind the Weavers gin brand.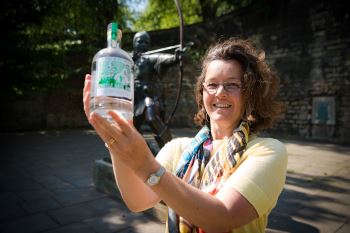 While it is easy to put a label on a ready-made product and create a new brand, Mary wanted to be part of the creative process from the beginning and work closely with a distiller to develop a unique gin with its own recipe.
To flavour the gin with acorns was Mary's own impromptu suggestion, which led to the idea that these could be foraged from Sherwood Forest, home to non-other than local legend Robin Hood himself – making Castle Gate Gin truly one of kind to sample what this wonderful county can produce.
The names of both gins (No.1 and No.17) are a nod to Weavers' business addresses on Nottingham's Castle Gate. No.1 is the street address of the shop, while No.17 is the address of the old Georgian townhouse which is used as the cellars and wine tasting rooms today. The Nottingham inspired branding doesn't just stop there, with the bottle labels paying homage to Robin Hood and Maid Marian, plus smaller details like a squirrel and castle in the design reflect the gin's roots here in Nottingham.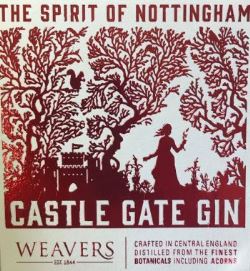 We were lucky enough to taste both gins whilst hearing Mary's expert advice. We tried the classic No.1 first, both with and without tonic, and Mary recommended mixing with cardamom tonic to bring out the flavours. Most striking is the distinctive botanical nose and flavour which Mary explained comes through the process of drying, peeling, grinding and then distilling the acorns. Added to the mix is a hint of juniper and a further 8 or 9 botanicals which complete the gin.
No.17 is Weavers' latest release for 2018. Using same base gin as No.1, strawberries and lavender are later added to create a deliciously fruity gin with a signature soft pink colour. Again botanical in flavour, we tried this with Mary's recommended mix of elderflower tonic which made it beautifully smooth and fruity – an very enjoyable drink for those of us that have a sweet-tooth and perfect for late summer days.
Castle Gate gin is an excellent idea if you want to pick up a Nottingham souvenir and makes an ideal gift for those wanting to take a little treat from Nottingham home with them. Both No.1 Castle Gate and No.17 are available to buy in three different sizes in the store at Weavers, but the company also deliver around the UK and internationally for customers wanting second helpings.
To find out more, pop into Weaver's on Castle Gate, or click here.
To read part one of this blog, please click here.
---
This blog was written by Lydia Jones, Partnerships Co-ordinator at Visit Nottinghamshire
Related
1 Comments