What comes to mind when you hear the word 'brunch'? A laid-back and civilised affair, no doubt. Cheerful chit-chat and a generous serving of sausages, scrambled eggs and strong coffee. Idly flicking through a newspaper as sunlight streams through the window.
Enter Das Kino, whose debut event 'Now That's What I Call Brunch' was poised to shatter all of our prosaic preconceptions forever. Our dazzlingly kaleidoscopic invitation spoke of live entertainment, party bingo, bottomless prosecco and disco cocktails, and unlimited sourdough pizza. Hardly your typical brunch offering – but unlimited and bottomless are our two favourite words, so we were signing up faster than you can say 'eggs benedict'.
Saturday arrives and we're heading into Das Kino, keen to experience this curious interpretation of brunch for ourselves. We're taken downstairs - pausing only to hand our coats into the cloakroom and grab a glass of prosecco – into a large underground room which has been specially jazzed up for the occasion; it's all pink and purple neon lights, flashing signs and sparkly disco balls. There's a bar at one end and a DJ booth at the other, and the exposed brick walls create something of a speakeasy vibe. There's not a poached egg in sight.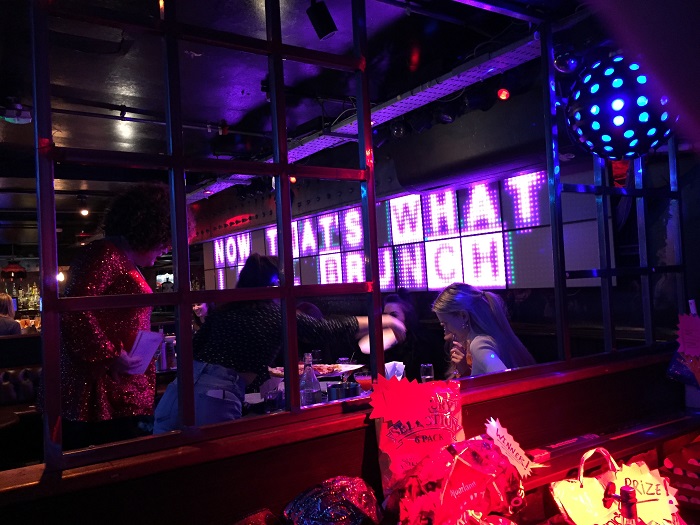 Of course, this is Das Kino, so, naturally, we're seated at a giant ping-pong table. This later turns out to be a blessing in disguise, since we're not sure how well an ordinary table would have coped under the weight of the food loaded on top of it.
We're swiftly presented with large Mediterranean snacking platters: mixed olives and heaps of rosemary and thyme flatbread, accompanied by dainty pots of hummus, tzatziki and carrot and coriander dip. We make a valiant effort to polish it all off, although it's tough when the hyper-attentive staff are diving in to replenish each dish before we even notice it needs replenishing.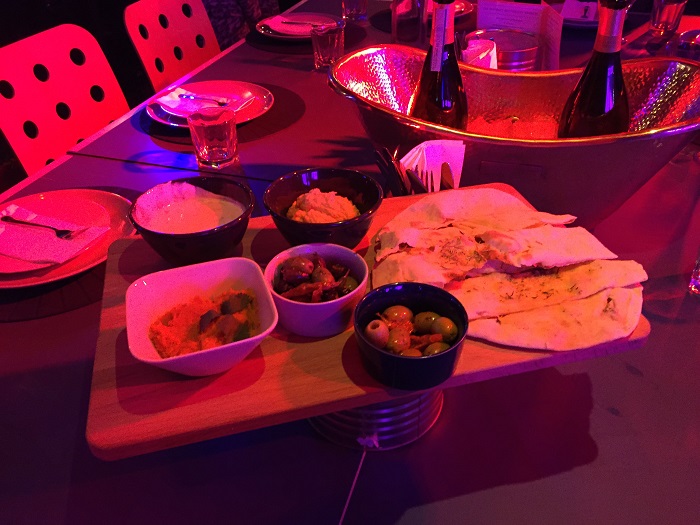 It's much the same story with the prosecco; Das Kino, it seems, do not use phrases like 'free-flowing' lightly. We don't even get chance to use the outrageously indulgent 'Prosecco Bell' on the table. Still, we peruse the cocktail menu anyway, and are utterly spoilt for choice: you can choose from elegant bellinis, classy mimosas, refreshing frozen margaritas and strawberry daquiris, and that hipster-favourite Aperol Spritz.
Once we're finished with the snack platters, our waiters and waitresses produce Das Kino's trademark sourdough pizza with a flourish – a selection of meaty pizzas loaded with bacon, chicken, and pepperoni as well as vegetarian options smothered with garlic, black olives, red onion and spinach. Again, the supply is never-ending.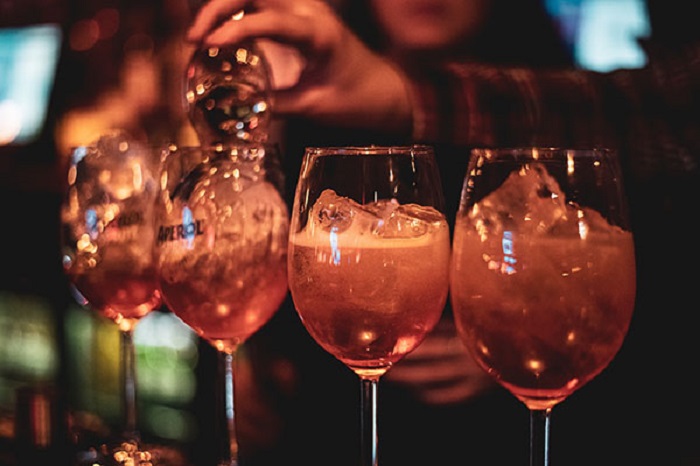 The whole shebang is accompanied by a trolley-load of sequins and sass from glamorous drag queens Kitty Tray and Kitty Litter, whose live entertainment includes an eye-wateringly funny game of party bingo with the most absurd prizes you've ever seen in your life. This is accompanied by a soundtrack of everyone's favourite disco tunes from the DJ and rounded off with a raucous Conga circuit of the room before we're heading up the stairs and back into the real world.
So this what Das Kino call brunch. It's a night out in broad daylight. It's more disco than Danish pastry, more boisterous bash than Belgian waffle, more side-splitting shindig than smoked salmon. It's brunch on steroids. Best to leave the newspaper at home.
This blog was written by Sophie Milne, Communications Executive at Visit Nottinghamshire.
Related
0 Comments