At some point or other – usually after watching the latest zombie film – most people have idly wondered what they would do in the unfortunate event of a zombie apocalypse. The overactive imaginations of the Visit Nottinghamshire team have led us to dedicate considerable time to the formulation of a detailed and fool-proof survival strategy; we'll be barricading ourselves inside a well-stocked supermarket when the time comes (you're welcome to join us). Deep down, however, we know that the chances of this actually happening are relatively slim.
Well, that's what we used to think, before Zero Latency came exploding onto the scene.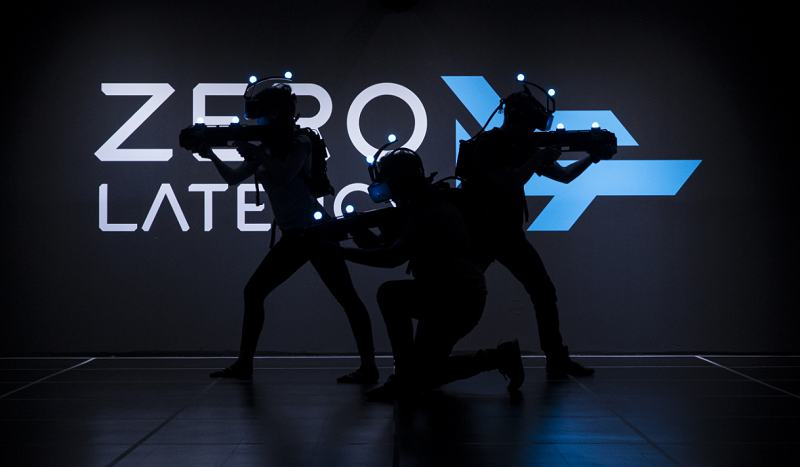 Unless you've been living under a rock, you'll be aware that Nottingham is home to the world's only large-scale, free-roam, multi-player virtual reality gaming arena. Groups of up to 8 people can team up to take down hordes of murderous zombies in a mind-blowingly epic apocalyptic showdown. It's Black Mirror meets The Walking Dead, and when Visit Nottinghamshire received an invitation to try it out for ourselves, we practically ripped their hand off.
We gathered together an elite squad of avid gamers, technology enthusiasts and adrenaline-hungry daredevils – and a handful of nervous novices whose curiosity had simply got the better of them – and raced off to Zero Latency with all guns blazing.
The experience begins with an explanation of the game mechanics, and it's immediately clear that this is lightyears ahead of the basic VR that most of us have dabbled in once or twice. The safety briefing is a little like a warped and twisted version of the one you get on an aeroplane ("In the likely event of your death...") although the more conventional soundtrack of gentle classical music is replaced by the blood-curdling shrieks and squeals from the group ahead of us, which, strangely, does little to soothe our nerves.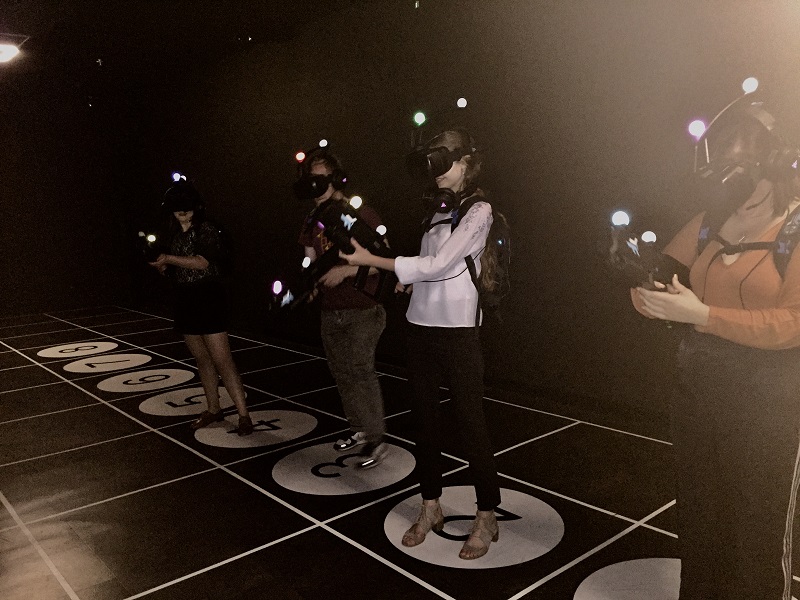 We're loaded up with some seriously futuristic kit: a backpack, headset and headphones. Feeling a little like scuba divers, we venture into the arena and are equipped with colossal laser guns. Next it's headphones up and visors down, and suddenly we're in a dark holding zone lit by pulsating ribbons of electric blue – think The Matrix – before we enter into the game itself.
The virtual world they've built is nothing short of breath-taking. We find ourselves in a dimly lit, shoddily constructed fort, surrounded by rusty shipping containers, crackling fires and metal pipes, with sections of corrugated iron underfoot which you can't help but cautiously step over. There's a lift to the upper floor, and we find ourselves swaying with vertigo when we look down. We're given about thirty precious seconds to get our bearings in this unnerving environment before the inevitable happens: the undead come a-knocking.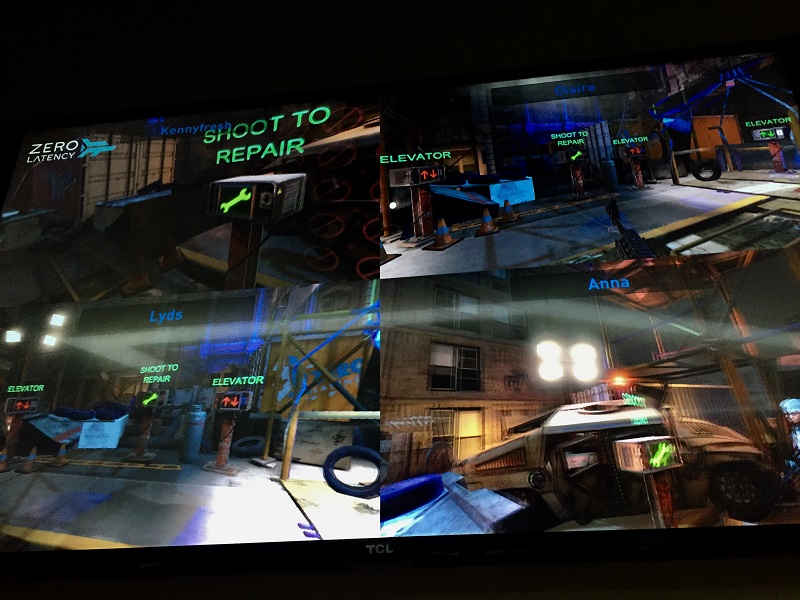 What happens in the next few minutes can only be described as utter chaos. All of our meticulously designed game-plans and tactics go sailing out of the window as we instead shoot wildly and haphazardly at the unrelenting onslaught of zombies, who come clawing and clambering over the barricades despite our team's best efforts to repair them. On several occasions we make the mistake of facing in one direction for too long and find ourselves eye-to-malevolently-glowing-eye with a zombie the next time we turn around; other times we think we've dispatched one only to realise with horror that it's still dragging itself across the floor with what we have to admit is admirably gritty determination.
We frantically alternate our weapons in an attempt to keep the horde at bay, rapidly switching between the highly accurate sniper rifle and the point-blank range shotgun, and frequently resort to desperately spraying bullets from an automatic, closing our eyes and hoping for the best.
The whole experience is utterly mind-blowing; so immersive that we keep taking our headsets off to check it's not actually real, and so intense that we're trembling with exhilaration by the time the game is over. We're stunned at the realisation that this technology is already out there; Zero Latency, it seems, are living in 3021 while we've all been stuck in 2021. And if, like us, you've been fretting that you might one day find yourself in the midst of a real-life zombie outbreak, we suggest you head over to Zero Latency sharpish and get a bit of practice in. It's a no-brainer.
This blog was written by Sophie Milne, Communications Executive at Visit Nottinghamshire.
Related
4 Comments