In today's world of processed, plastic, and pre-packaged food, there's something very appealing about the thought of eating 'wild' ingredients, and it's no wonder that fine dining outlets across the world have alighted on the term as a clever marketing ploy. Keen to get involved in the foraging renaissance and pick up some useful survival skills – but presently unable to tell the difference between a dandelion and a daisy - Visit Nottinghamshire decided to book ourselves onto the trailblazing Foraging and Wild Food Cookery Course at the School of Artisan Food to see if it lived up to the hype.
The School is housed inside the former fire stables of the Welbeck Estate, surrounded by acres of lush grounds; a veritable paradise for would-be foragers. We indulge in a breakfast of freshly baked bread and outrageously buttery croissants, and meet our instructor for the day, Sam Webster, who's been foraging her own food for almost a decade. We begin with a couple of activities to encourage us to look critically and carefully at the plants we'll be finding on the way before venturing into the great outdoors.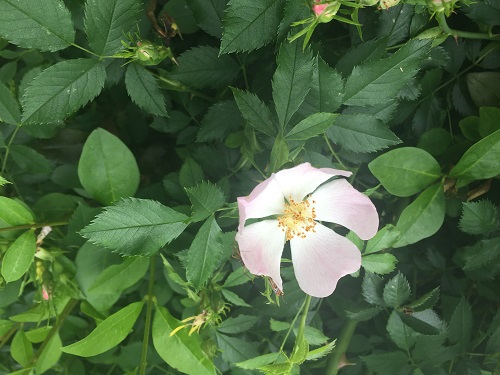 We while away a blissful morning finding, tasting, learning about and filling our baskets with everything from mushrooms to herbs, spring greens to seeds and flowers to nuts, and it often seems like we've barely taken a step before beady-eyed Sam spots something else to show us. Her enthusiasm is endearing and infectious ("Mushrooms get me really excited!" she exclaims at one point) and we begin to understand why she finds it all so addictive. The wealth of free, fresh food out there is genuinely eye-opening - if you know where to look.
Everything we find is studied, smelled, sliced open and sampled. Sam reels off all the ways that we can decide whether something is safe, peppering her descriptions with amusing personal anecdotes and methods of identification, from rhymes ("red and blue will make you spew") to memorable comparisons ("My daughter thinks these look like ballerinas or teddy bears").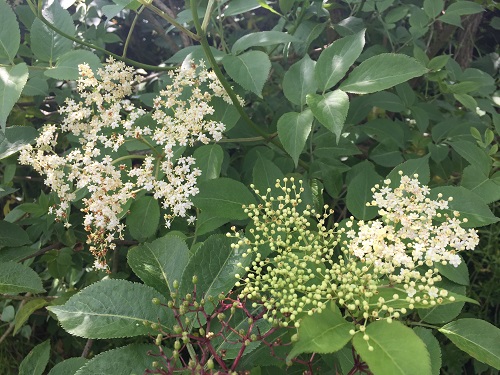 She offers plenty of recipes and tips and tricks on how to how to prepare each ingredient – which items can be chopped up into salads or blended into soups and even infused in alcohol. She pulls endless here's-some-I-made-earlier samples out of her bag; we try syrups and salt pickles, cordials and condiments, each one more delicious than the last.
There are plenty of surprises along the way, too; did you know that dandelion syrup tastes exactly like honey (vegans, take note), that there's a weed that tastes just like pineapple and that there are stems that, once pickled, are almost indistinguishable from gherkins – and, conversely, that whilst buttercups sound and look like they'd be delicious, they'll actually make you ill?
We bring our brimming baskets back into the School and enjoy a snack of artisan sundried tomato bread, cheeses and chutneys before sorting and carefully labelling everything we've found, ready to transform it all into a spectacular seasonal three-course meal in the afternoon session.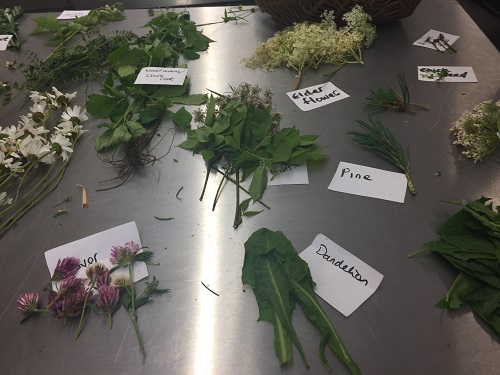 Our starter is a hearty nettle soup, and we discover to our relief that cooked nettles don't sting your mouth when you eat them (they actually taste like spinach). We add leek, potato, onion and wild garlic, finishing with an extravagant swirl of fresh cream and crispy fried nettles on the top. It's a deliciously simple spring or early summer dish that we know we'll be making again and again at home.
Next we make fresh nettle pasta, kneading and rolling out the delicate green sheets ourselves in a time-consuming but intensely satisfying process. While our dough rests, we wash and chop the various leaves, flowers and spring greens we've collected to produce one of the most beautiful salads we've ever seen (if we do say so ourselves), which makes a marvellous accompaniment to our nettle tagliatelle.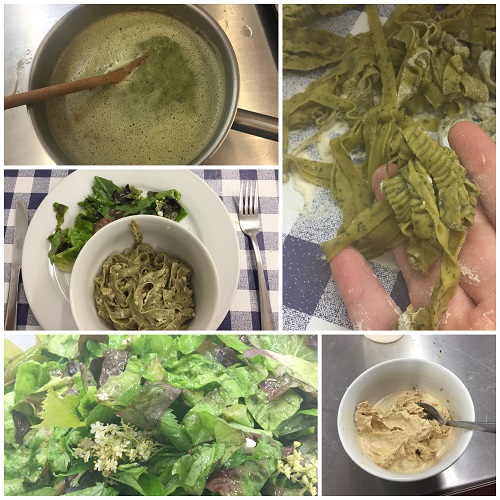 Rounding it all off is dandelion ice cream, flavoured by roasted dandelion roots which taste remarkably like coffee or caramel. We spend fifteen minutes vigorously shaking all of the ingredients inside a Ziplock bag, which itself is inside a bag filled with ice and salt. It's certainly a work-out for your arms, but the resulting velvety, nutty ice cream is worth every second.
The Foraging and Wild Food Cookery Course has certainly given us some food for thought, and we can't help but feel smugly virtuous as we reflect on all of the ways that wild ingredients are superior. Foraging is sustainable, it's free, it's better for you – what's not to love? There's also a certain satisfaction to be had in cooking and eating ingredients you've found yourself; no doubt it appeals to the primal hunter-gatherer instincts we've tried to suppress since the dawn of the hyper-convenient microwave-meals-on-supermarket-shelves era. Perhaps it's time we all went back to our roots…
This blog was written by Sophie Milne, Communications Executive at Visit Nottinghamshire
Related
0 Comments