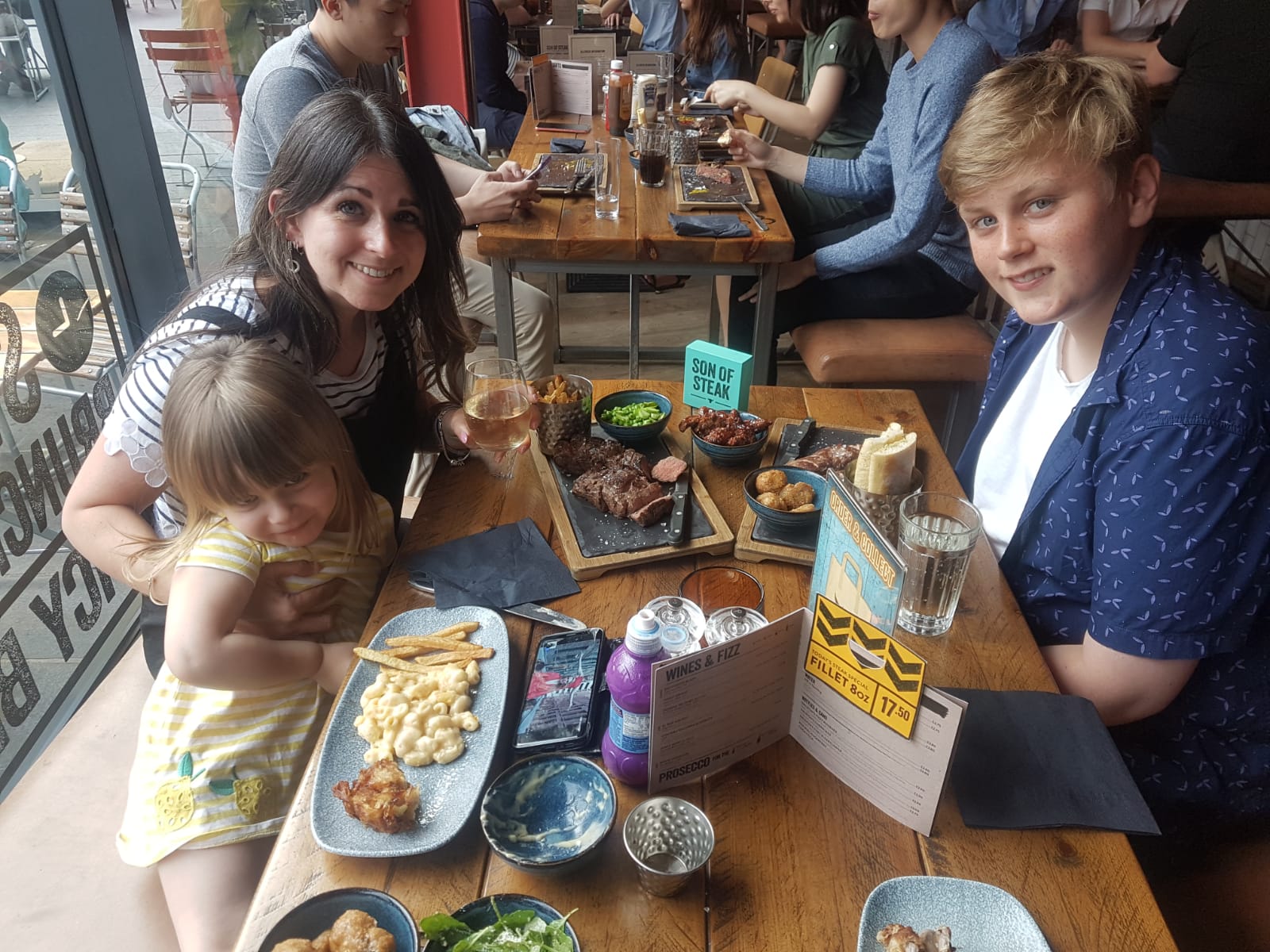 Family time at a weekend is something we all look forward to after a long week at work and school, it's a great chance to catch up with everyone's news. We tend to gravitate towards dining at family friendly offerings in the city centre but more often than not descend into chaos as my tribe try to decide on just what they want to eat, everyone's different after all. We also have quite a large age gap between our eldest at 13 and our youngest at 3, so again palettes vary considerably as do attitudes! My normal go to question in situations like this is 'do they serve wine?', so to find somewhere with a menu that looks to entice everyone in the family and provide wine for mummy is somewhat of a rarity.
As it says on their strapline, 'Steak and more' is very apt. You might be fooled into thinking that this is purely a steak house catering solely for the meat eaters, but you would be wrong.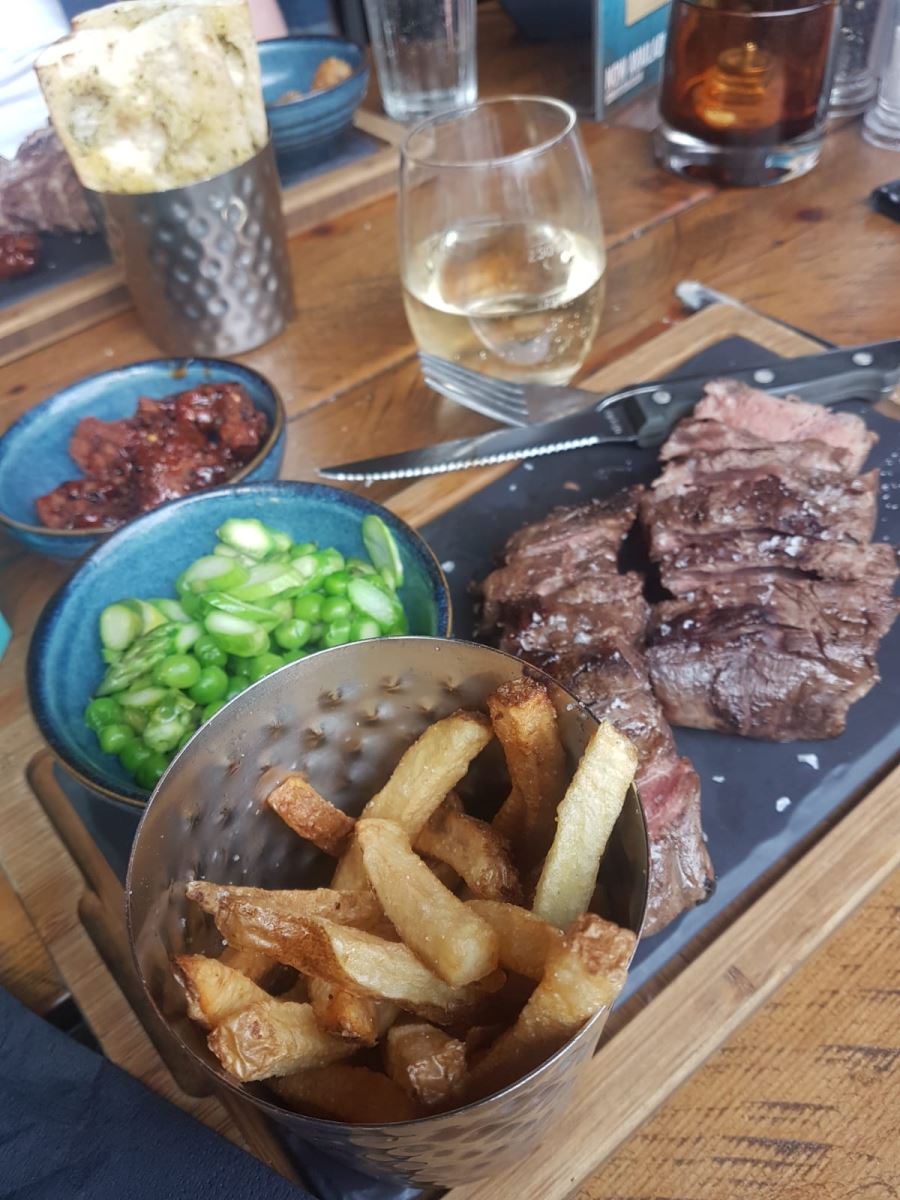 I was surprised and heartened to find that there were many choices across the menu of appealing and not dull at all vegetarian and vegan options. I'm not a vegetarian or a vegan and whilst I eat meat, I am conscious as to how much of it I eat in a week and on a monthly basis. Call it being health conscious, call it being environmentally aware but us flexitarians (it's a real term, I kid you not) are an emerging group in society and crave an offer like this, rejecting the sad 'leaves on a plate' veggie options of the past. I for one embrace the notion that life doesn't need to be boring without meat which is something that Son of Steak have got right and that many restaurants could learn a thing or two from. Of course, this is primarily a meat lovers haven as the name on the doors denotes but it does not exclude its veggie friends which is refreshing.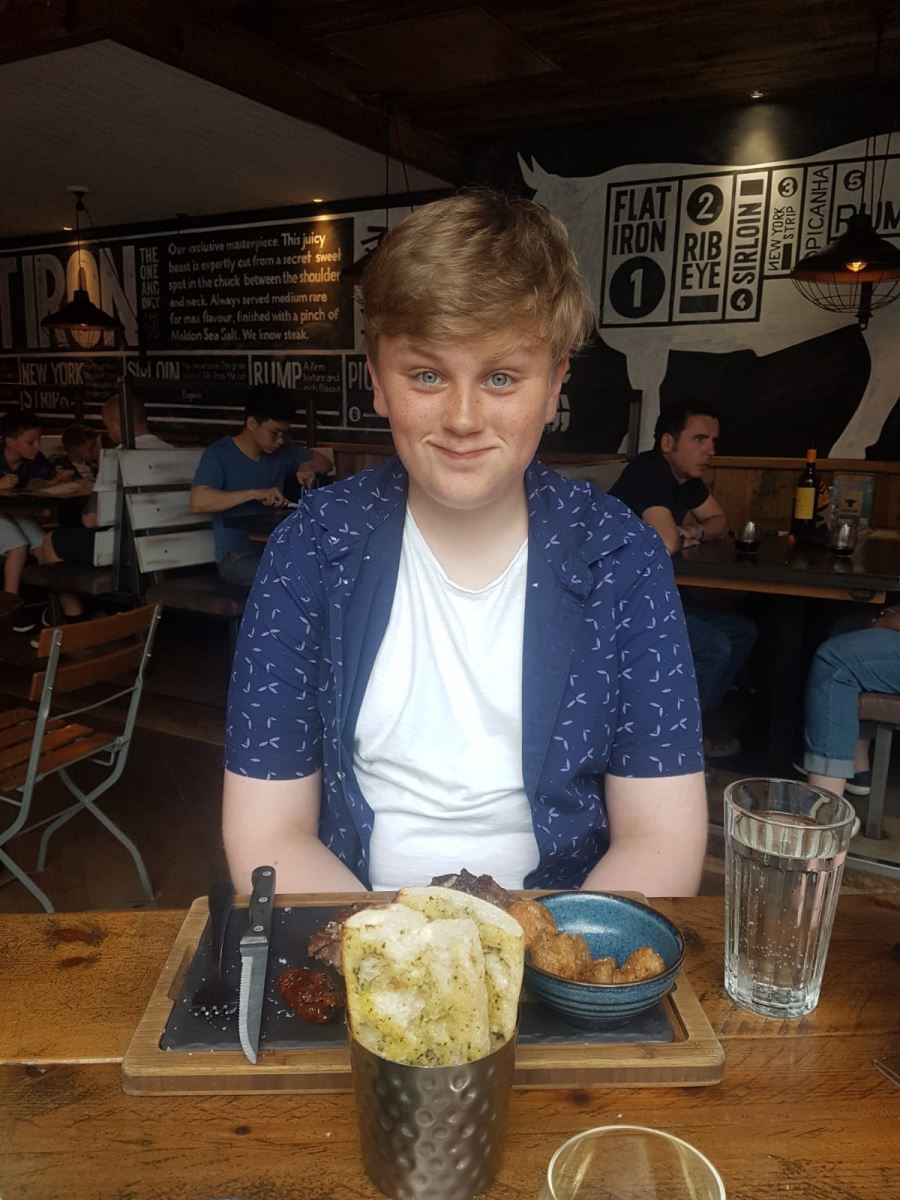 Having said that, my husband and eldest were most definitely ravenous, cue the drooling, when they spied the steaks and burgers on the menu. Again, what a choice and for once I found that I sat back, sipped my wine and relaxed whilst they decided fuss free for the first time in ages! Even the little one was catered for. She's not got a huge appetite, but I do like to make sure that whatever she is eating is good quality. Most of the time kids' menus you see out there bring me out in hives, yes, I can be one of those annoying fussy mums but for good reason. The 3 course £5.95 menu at Son of Steak however made a really good impression on me. It's designed for under 10s and it empowered our littlest to make her own decision, gave a good choice of food with one mini main, one carb side and a veggie side to choose plus with a kid's activity attached kept her quiet, if only just for a little bit, whilst mummy sipped some more wine.
Ordering is very easy with a quick visit to the counter to place your order when you are ready meaning that you can determine just how long you spend in the restaurant. When we arrived at 6pm on a busy Saturday evening there were many families eating either with very young children or late teens. There were also those on a night out, feasting before the night's revelry. Definitely a broad cross section of society could be seen, making it clear to see that Son of Steak is well placed, with a great atmosphere which appeals to everyone. You don't need to book a table here either, bookings can be made for tables of 7 or more but the turnaround means that everyone is catered for ultimately without feeling rushed.
To start with, we went for padron peppers with maldon sea salt, vegan chicken bites with spiked maple glaze and Korean BBQ crispy chicken wings. Wow…not disappointing at all! The padron peppers were devoured by us all, tasty and cooked perfectly. The chicken wings packed a punch which went down well with the boys, but the biggest hit and shocker came with the vegan chicken bites…I could not tell that they weren't actually meat! Delicious was an understatement with even the boys diving in for more. I could have happily had a main course of these…maybe that's one to add to the Autumn menu?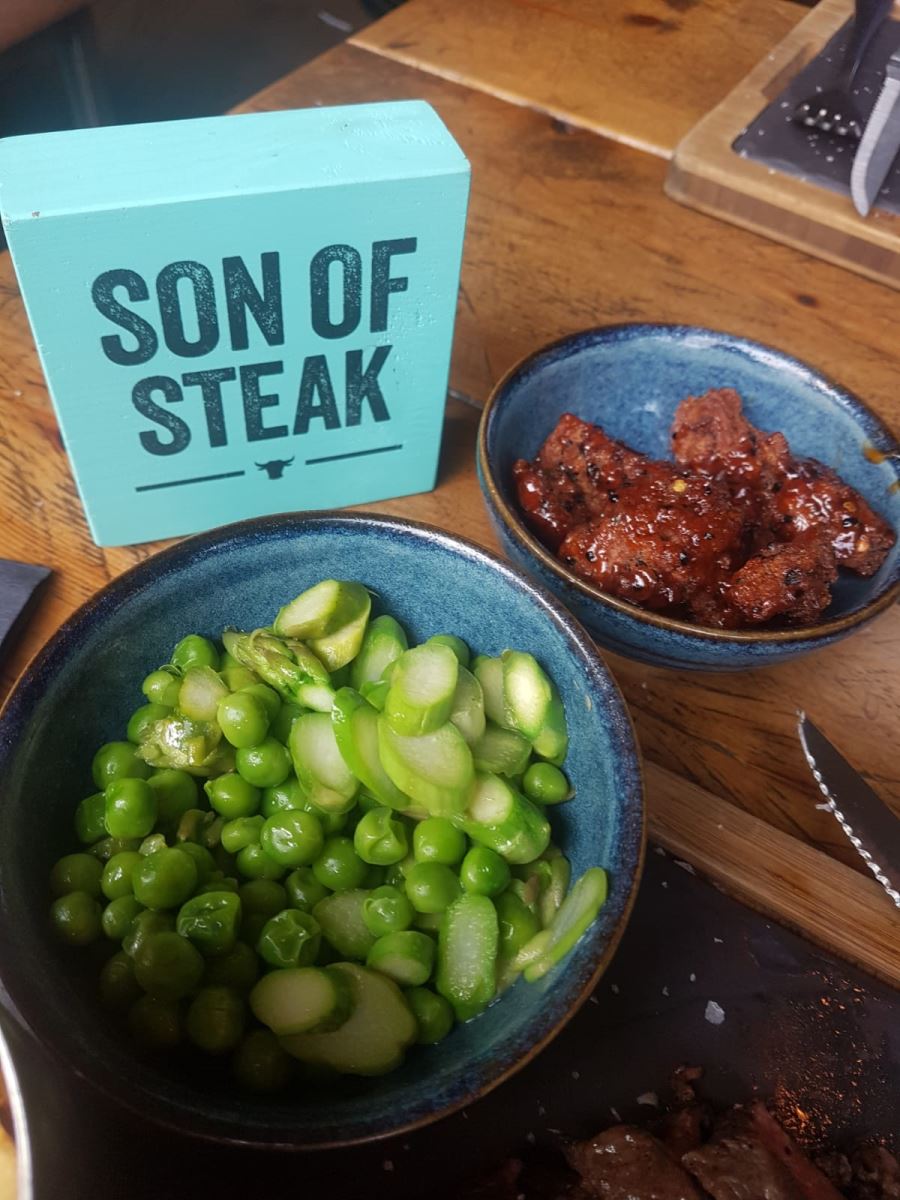 For main course we all turned our attention to the meat, what Son of Steak is famous for after all. Three double flat iron steak combos were ordered along with 2 sides each, which saw the juiciest crispy garlic mushrooms, garlic bread, rocket and parmesan salad, hand cut chips and asparagus and peas oozing with butter flood our table. Our littlest went for the creamy, moreish mac 'n' cheese along with a side of onion loaf and salad but of course stole most of mummy's chips, duly forgiven because I had wine. The sides that came are a new addition to the menu and really well worth trying. There are standard and gourmet sides to choose from but when 2 standard sides are on offer for £3.50 or 2 gourmet sides for £5.00 what's not to love!
When the food arrives and the chatter stops, I always know we have hit the home run. Eyes down, the feast had begun, and the tribe only came up for air with noises of appreciation. The steak was succulent and cooked well, I like my steak rare and invariably even though you are always asked how you would like your steak I am always presented with a medium; not here though as the perfect rare steak was served, as were a medium rare and well done steak for the boys. The side dishes we had chosen were shared between us and complemented our meal beautifully. The taste was key with everything. No bland food on offer and a great mix of traditional steak house fayre with healthy, veggie and vegan combos.
I also love an open kitchen, anyone else? It's always nice in a fast-paced restaurant to see for yourself the chefs, the cleanliness of the kitchen, and your food being cooked. The kitchen also captivated the little one, turning her attention from YouTube to the chefs, duly cooking away, flames and all. NOTHING can take her away from a certain pink pig and friends so well done Son of Steak on this achievement!
With the main event over, the adults were stuffed but as it says on the menu 'there's always room' and as expected the younger, more hard core members of the family were willing to take on the challenge of dessert in the form of a New York style cheesecake drizzled with salted caramel sauce and bottomless vanilla ice cream with loads of 'yummy' sauce options as the littlest put it. Time for mum and Dad to sit back, drink the remaining wine and reflect on an hour and a half well spent. Family time achieved with minimal fuss, good food, great atmosphere and the right fit for everyone from the littlest to the eldest.
We will definitely be coming back to dine again soon!
---
Blog written by Anna Scott - Partnerships Executive at Visit Nottinghamshire
Related
0 Comments