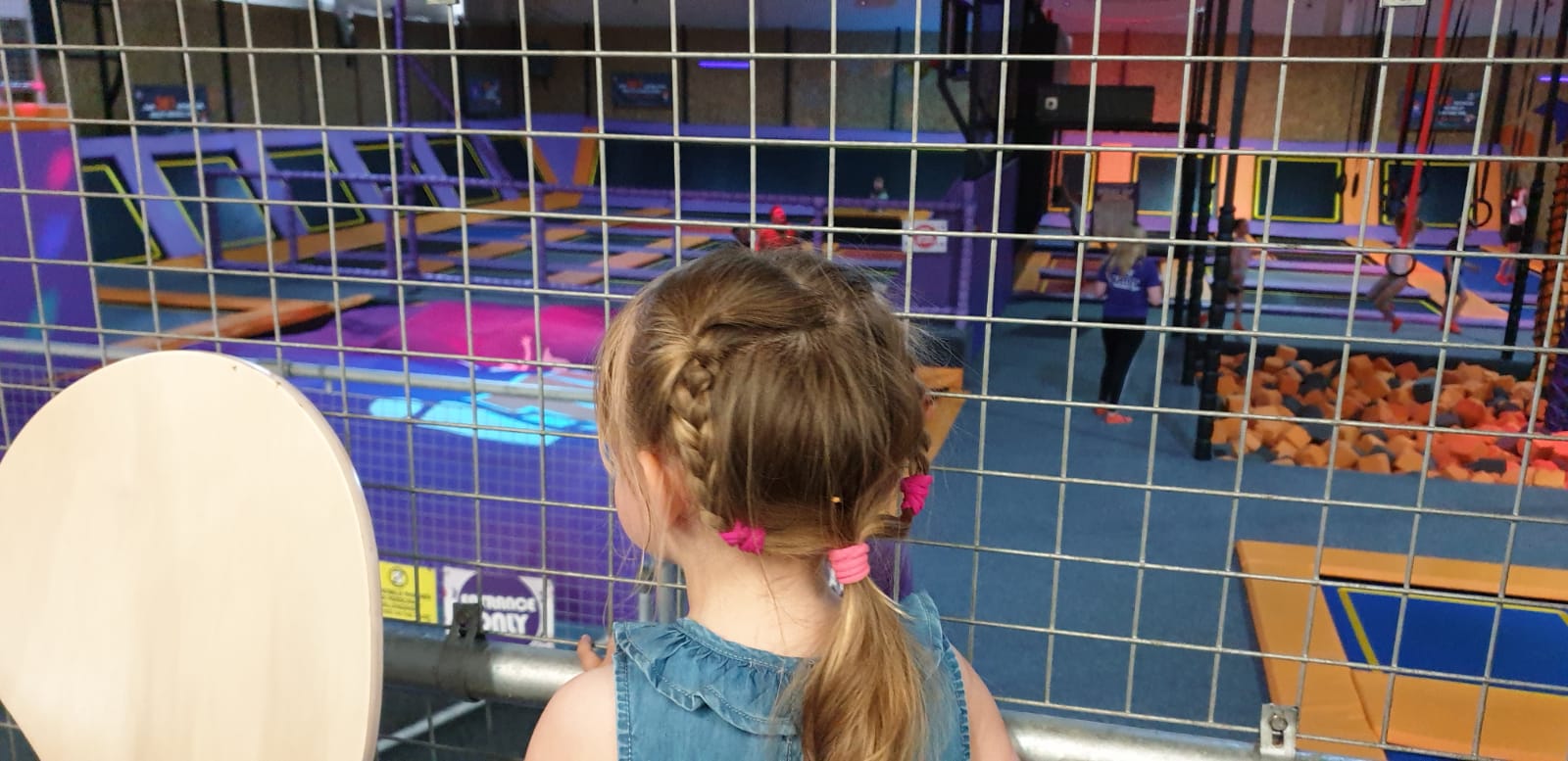 Let's face it, school holidays are exhausting. You need just the right mix of activities on a daily basis, not just to keep the little darlings happy but more importantly to tire them out! Yes, be honest, if you've been up since the crack of dawn all we as parents want to do is ensure sleepiness takes hold and prompts an early bedtime.
My little girl is 3 and likes nothing better than to bounce around, a child full of beans all the time. One of the days out I had planned for my mini mentalist this school holiday was therefore a first ever visit to a trampoline park. So, when my daughter and I were invited to try out i-Jump's i-Tots session we literally jumped at the chance.
i-Jump is Mansfield's very own trampoline park featuring 55 interconnected trampolines on the walls and floors plus climbing walls, an obstacle course, and interactive playing walls. There are different sessions to suit everyone throughout the week but today we were taking part in the i-Tots session - an hour solely dedicated to the little ones and supervised by their grownups. All I heard from the moment she opened her eyes, at 5am, was 'trampoline' on repeat. It was a long 5 hours until 10am and the start of the bounce.
Upon arrival we were checked in, signed a disclaimer form, and collected our fetching orange i-Jump socks. We then were asked to watch a short safety video so that all who were going to jump knew exactly what to expect and how to stay safe during the session. From a mum's point of view, it was good to see that safety was paramount. Once this ended the i-Tots were released!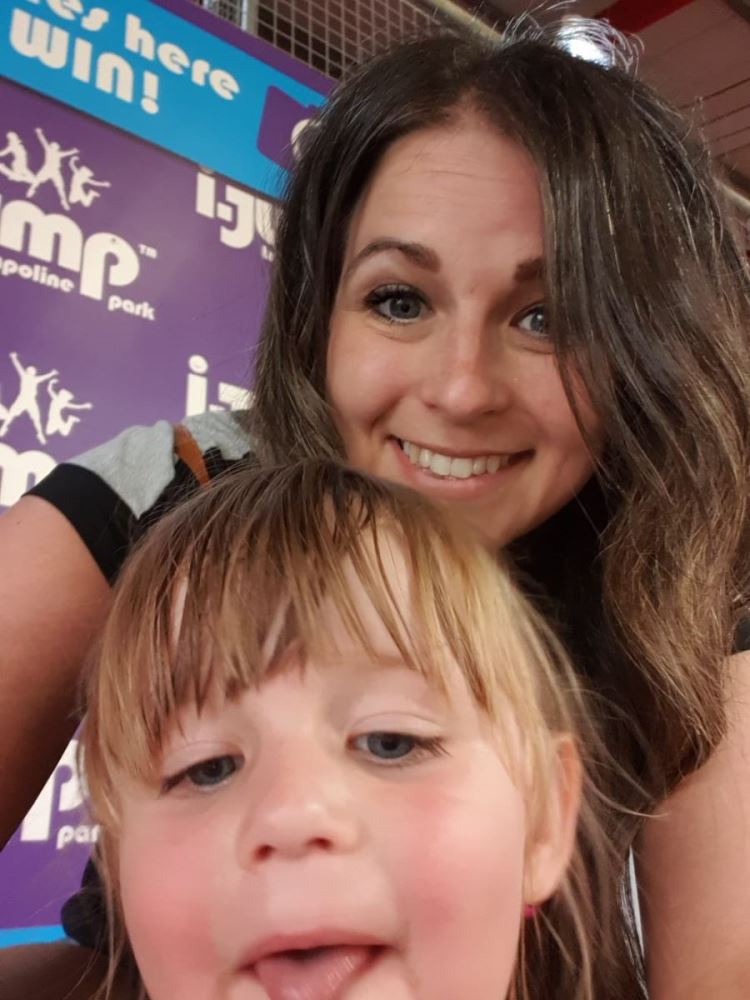 Que toddlers running in all directions of the park with mothers and fathers attempting to keep up. Ever tried running on a trampoline? I did, it's not easy! Having caught up, we headed straight to the giant obstacle course complete with a gladiator battle beam, pugil sticks, cargo nets suspended over a foam sea, and monkey bars. There's even a slam dunk to try your skills on, and best of all a huge air bag to launch yourself onto!
The whole place is one big adrenaline rush for kids and adults alike. There might have been kids bouncing everywhere but there was still enough room for all to have fun and not impede each other. This mummy was suitably impressed and by the look of my daughter's beaming face she was too!
I'm guilty of over relying on soft play to keep my little one entertained, anything for an easy life, but sometimes there is nothing better than to get involved and release the inner child. At i-Jump we were able to play freely and with abandon together, exhausting one another and laughing until we cried. Mummy's Fitbit was on fire, I don't think it's seen that much activity since...who am I kidding...probably never. Sure, bouncing around seems like a laugh but this high intensity and low impact cardio workout is extremely good for you, so much so that regular i-fitness sessions run on a Monday and Thursday evening each week.
A cafe sits above the park and makes for a great viewing platform for those who are not bouncing. It's a tempting place to retreat to for a break or a welcoming finale to anyone's bounce. At the end of the i-Tots session there is always free juice served in the cafe, plus a great menu to choose from, including hot and cold food, slushes, teas and coffees. A small soft play area also makes for an ideal place to keep the tiniest members of the family happy and occupied.
In August, make sure not to miss the i-Tots Teddy Bear's picnic, running every day from 10am to 11am. Get the kids to bounce with their favourite teddy and then enjoy craft time followed by sandwiches, biscuits and juice in the cafe afterwards. It's all included in the normal entry fee!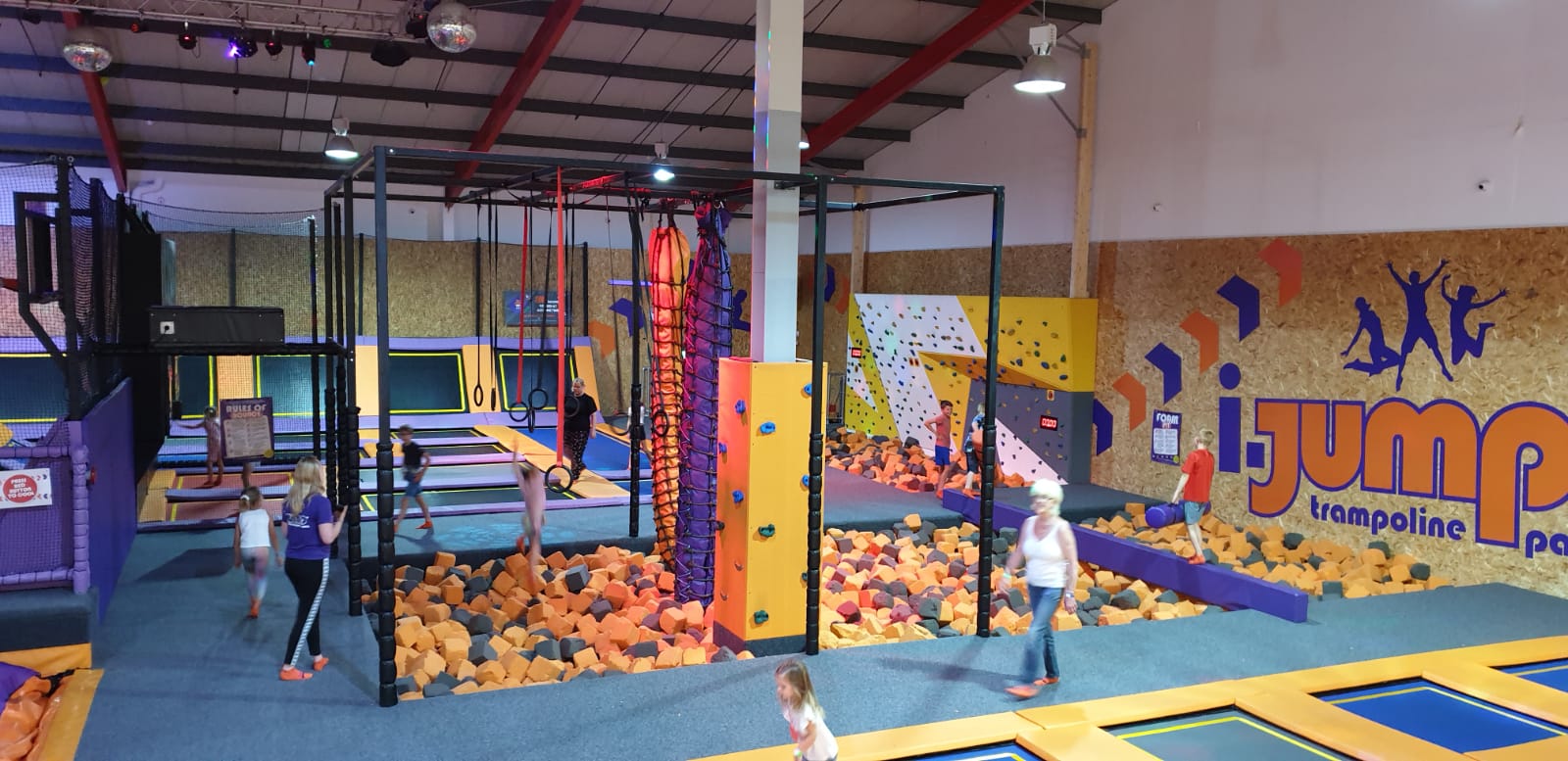 If your kids are older then you can join in one of the open jump or family jump sessions. There are even 'neon' party nights where the lights are dimmed, and the music is pumped up high. Adaptive sessions, where music is kept low and lights are kept bright, also provide an autism friendly experience allowing inclusivity for all.
i-Jump proved to be so much fun, not just for my mini mentalist but also for me. On reflection I haven't felt that exhilarated nor as involved in an activity with my little girl for a long time. She chattered all afternoon about what fun she'd had and best of all...she had an early night! My advice...grab the family and each find your thrill at i-Jump this summer!
To make the school holidays bounce, why not buy a 30 day pass for just £35 - great fun for as little as £1.20 a day! For more information about i-Jump please click here.
---
This blog was written by Anna Scott Partnerships Executive at Visit Nottinghamshire
Related
0 Comments