Always up for a challenge, I agreed to take on the Notts Maze... the question - would I escape?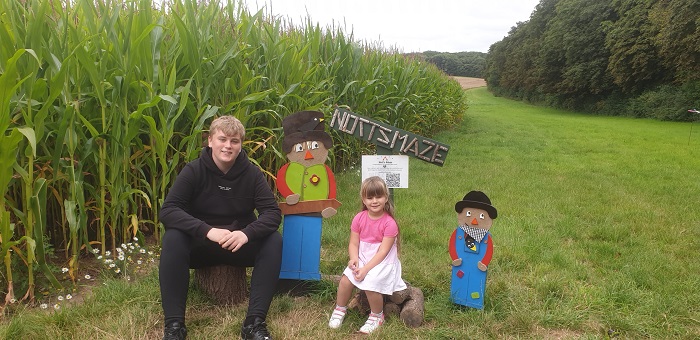 Nott's Maze has returned for its third year at Lime Lane Woods, Arnold. Set within 12 acres of land and with pathways spanning over 2.5 miles, I'd been told to expect to spend hours getting lost within this maize maze.
Not convinced I'd ever make it out on my own, I took my family with me; a mixed bag with children aged 15 and 5 and 2 over the hill adults.
The first thing to mention is that it's a well-priced attraction for a family. We booked 24 hours in advance (for 2 adults and 2 children) and paid just £20.
On arrival, we were given our challenge sheets. Dotted around the maze were wooden crows to spot and count as well as riddles to solve. After a few photo opportunities with the resident scarecrows, we entered the maze and were off!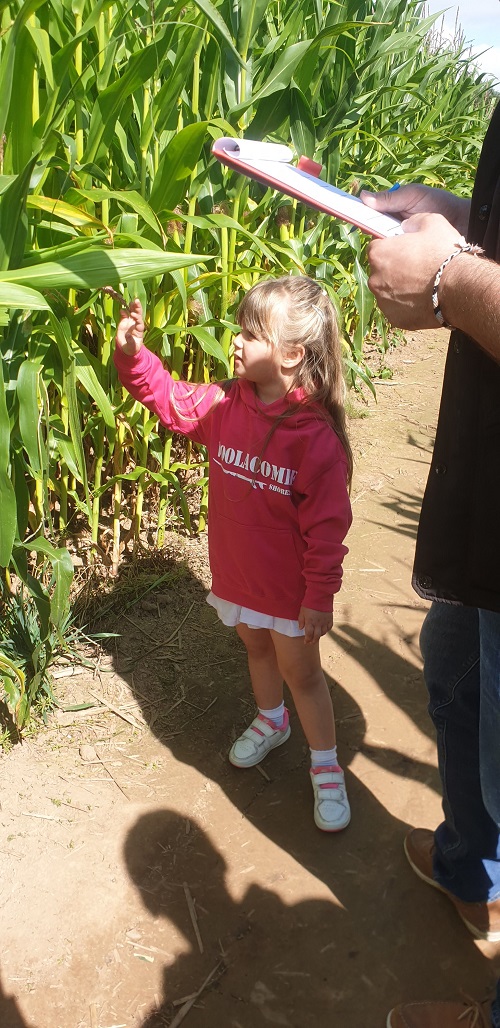 I don't think I realised the sheer scale of the maze until we were in and dwarfed by the huge maize crop. Paths everywhere, some leading to the riddles, some just dead ends. After going round in circles for quite a while, I was convinced that we may need rescuing or that we may have to feast on the sweetcorn that was swaying around us! However, a bit of lateral thinking - and putting the little one on our shoulders to see over the crop - led us to the viewing platform and we were able to get our bearings, mapping our escape route.
I might add that there are maps to buy but, as my husband said, 'where would be the fun in that?'. 'My sense of direction is excellent' he said. I am still puzzled by his bold statements as it took us 2 hours to emerge!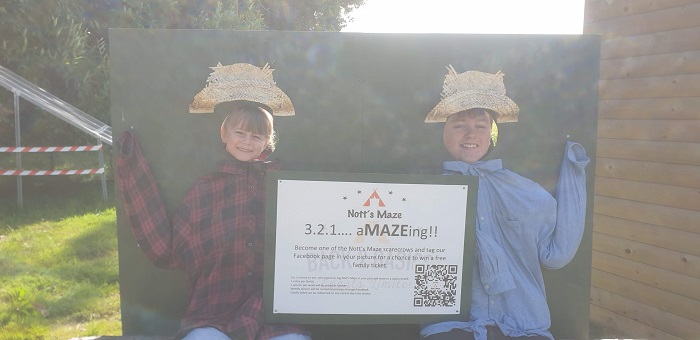 When we did emerge we were into the next challenge which the boys loved; axe throwing and archery. Run by 'Into the Forest', these have a go sessions and again priced brilliantly (£2 per person for either 6 axes or 6 bows) so, hard to resist. Even the little one was expertly taught how to safely throw a tomahawk. I think this Mum should be wary of the kids from now on!
There is plenty of space to have your own picnic at the Maze but why bother when there is a wood-fired oven creating mouth-watering pizzas in minutes. The smell was delicious and hovered enticingly in the air. How could anyone resist - we certainly didn't!
A refreshment van also serves up all manner of hot drinks including the kids' favourite, hot chocolate with all the trimmings! For the adults, you'll even find beer and more importantly (for me) prosecco on tap.
Be warned though, possibly the most delicious brownies known to man are also served up. With such delicious food, you'll definitely be thankful that you worked up an appetite in the maze first!
It's often hard for us to find things to do as a family that we will all enjoy, but, the Notts Maze, with the addition of axe throwing and archery, made for a great day out for us all. I don't think we've laughed like that in a very long time, or argued so much about what direction we should go in I might add. So, the verdict on the maze was a resounding thumbs up!
Today we'd experienced the Maze in all its glory but it is worth mentioning that this attraction offers far more than you might think… The maze can be taken on at night on one of the Torch Night evenings until the end of October plus also doubles as an adrenalin fuelled battle ground where teams enter the maze to play laser tag.
Closed to the general public during this time (5pm – 7pm) the maze is yours to run around and go full Terminator, if you wish. You don't need to make up a team yourself as you can join in the action solo, however, this is great for parties and corporate bookings too. Or why not kick back and relax at one of the Sunset Cinema Club's film screenings in the unique setting of the Lime Lane woods?
The maze will also play host to Halloween in a spectacular fashion this year. With a family orientated Trick or Treater maze, pumpkin carving, crafts and activities, not to mention the terrifying Corn Evil or Village experiences, it truly is not for the faint-hearted!
Watch this space too for Bonfire night fun and Christmas festivities. This place seems to have it all and we will be back.
To book and for more information about Notts Maze please click here.
This blog was written by Anna Scott, Commercial Partnerships Executive at Visit Nottinghamshire
Related
12 Comments