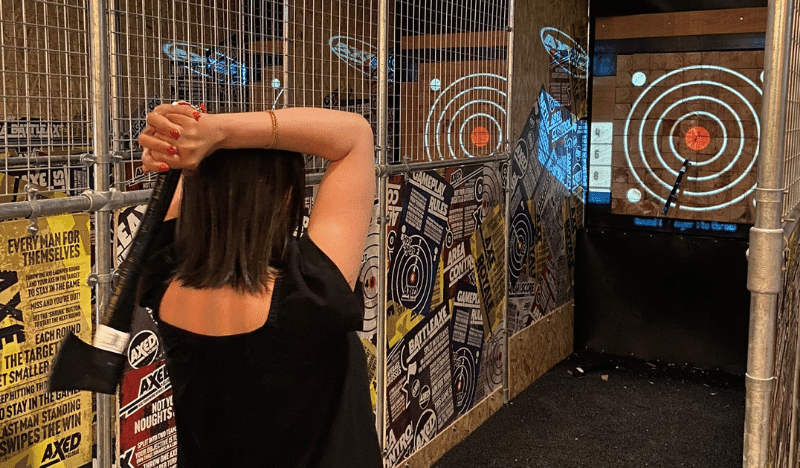 What's your aim like? Think you could throw an axe Last of the Mohicans style? Well now you have your chance to find out! Axed recently opened within the fabulous Cornerhouse in Nottingham City Centre, adding a unique element to the City's many attractions.
Did you know that axe throwing is a recognised target sport, with its own world championships, and can be traced back to the early 1800's? And it's now on the rise in the UK and growing in popularity with venues springing up around the UK. Thereofre, it was only right for us to see what all the fuss was about and give it a go for ourselves in Nottingham!
When the end of the week approaches, after work drinks usually beckon, however I never envisaged that I would be going Axe throwing instead. Having never even held an axe let alone being entrusted to throw one, I was curious what to expect! Not the most co-ordinated of ladies, I faced this challenge with a little trepidation too!
We were shown to our own lane for our team of three to play. This was caged off from other groups playing, which was reassuring for someone with limited coordination like me! There are many games to choose from, with each player competing against the other. An electronic pad at the end of the lane lets the team keep score at the end of each throw. We chose the 'Highest Score' game, a simple concept and one we thought best suited to us novices although there are plenty of other games to choose from including the aptly named 'Battle Axe', 'Area Control' and 'Axe Royale' to name but a few.
There would be a total of 10 rounds and we each would be throwing 3 axes per round. The wooden target board at the end of the lane is what we'd be aiming for. Different areas of the board denote what the player has scored. For those with a good eye it's easy to score highly, for other's it's an achievement to just throw the axe and get it to stick in the target!
We did have some expert tuition before we began our competition from the team at Axed. The team are always on hand to make sure you feel comfortable and that you are shown how to throw an Axe if you haven't done so before. None of us in the group had ever been axe throwing, so we were shown how to stand, how to hold the axe handle, extending the arms, drawing them back over the head and then, most importantly - how to release effectively. There's certainly a rush when that axe leaves your hands and spins through the air. That 'thud' as it makes contact with the board is exhilarating (if it hits the target and stays in the board, that is). Equally, the clatter it makes if it misses the target and hits one of the metal side walls is slightly less thrilling. The technical term for throwing the axe, if you fancy yourself as an aficionado, is 'sinking steel'.
We each went for it with absolute gusto, attacking the target, in my case quite literally, taking chunks of wood from it! My advice is don't be shy, just go for it! We weren't the best but this is for everyone from the beginner to the more advanced out there. We watched a neighbouring lane in awe as one young man threw an axe with no effort one handed striking the bullseye! Be warned though, as your competitive side will emerge. Each one of us, it seemed, had something to prove!
Rest assured there are no axes and alcohol, well not until after you've thrown your last axe anyway, as safety is paramount at Axed to make sure that you have the best experience. Whilst we were engaged in our 'axe off' we supped on thick iced milkshake floats instead, quirky but cool. You can enjoy a stronger drink after the action though as there is a bar on site.
Axed branded merchandise can be bought too, including skater style beanies t-shirts and hoodies which enhance the notion that you are in a cool, unique club.
Our verdict? A resounding yes to the centuries old sport of Axe throwing! It's competitive, fast, thrilling, great fun, and a great stress reliever it seems. Perfect for a couple to get stuck into on an alternative date night, or great fun as part of a group of friends or colleagues.
I have no doubt that Axed is on target to become a firm favourite in Nottingham! For more information about Axed please click here.
---
This blog was written by Anna Scott, Commercial Partnerships Executive at Visit Nottinghamshire.
Related
1 Comments