Visit Nottinghamshire headed to the Nottingham Tourism Centre for the opening of the Bands FC exhibition (open from 1 - 14 December). Bands FC is a stunning and innovative art project celebrating two of the world's favourite things – football and music. They've designed over 400 badges incorporating the world's most popular bands into football's most iconic club crests, and have gained over 42,000 followers on Twitter since summer 2018. We went to meet the creators of the concept – Nick Fraser and Mark Liptrott – as they were setting up.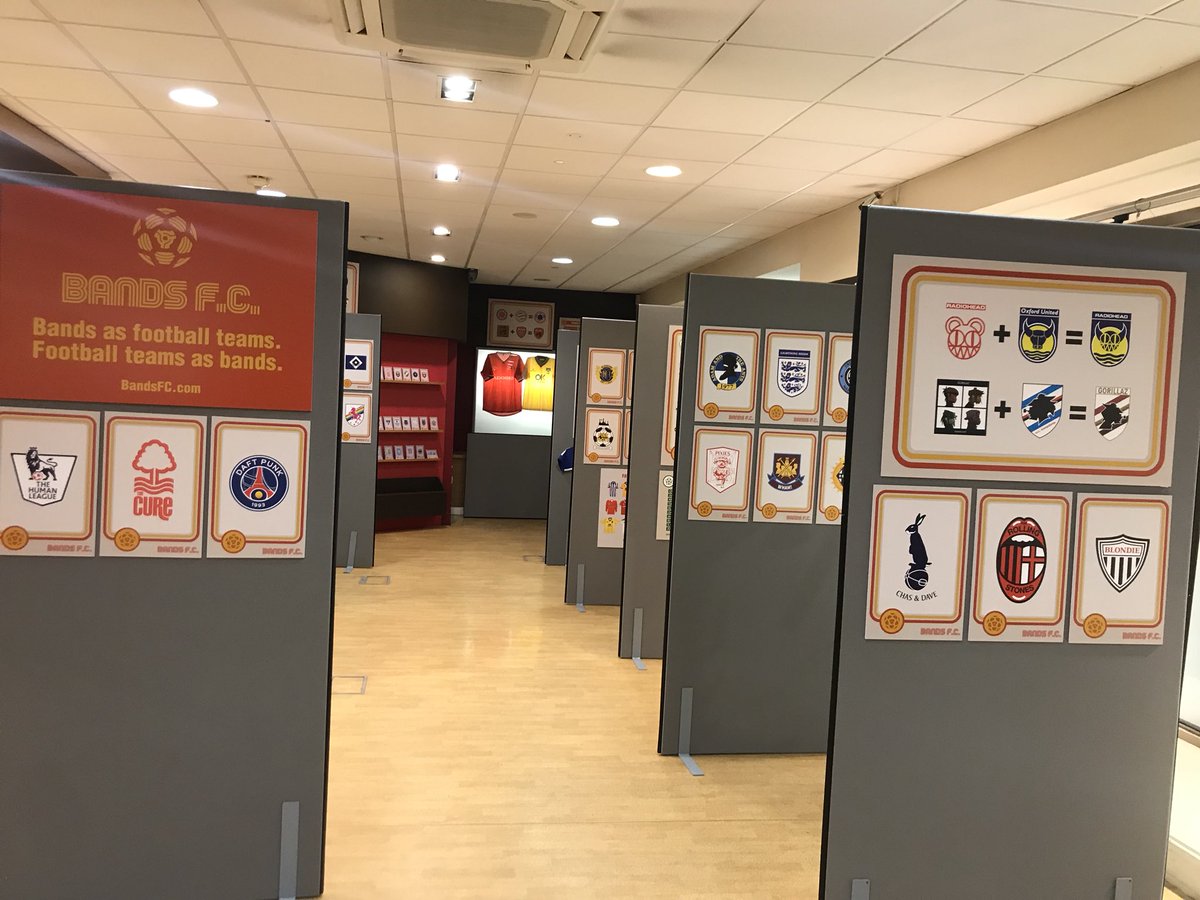 You've said that the idea for Bands FC came to you one evening back in July. How did you come up with it? Was there a particular lightbulb moment?
Nick: Yeah. We were having a conversation at the end of a festival that the Charlatans were doing, and we were talking to Tim Burgess, the singer. It was just before the World Cup, and we were saying that if bands don't get a bit more 'football-y', they might get overlooked - and it sort of triggered from there, really. We didn't know where it would go and then within a few hours we'd made a design for Echo and the Bunnymen, then Wu-Tang Clan - and it took off from there.
Mark: Another thing we looked at was the past, and childhood – where you'd collect stickers, where you'd draw logos of teams and bands on your schoolbooks - so design was an important factor. It's not just football, its not just music - it's also graphic design.

How easy was it to make the connection between music, sport and graphic design?
Nick: Well, once we'd started, it was impossible not to! You can do it with just about anything.
Mark: I was seeing potential badge designs in my washing up!
Nick: We'd looked at those logos of bands and they were nothing compared to the designs of football teams. You'd have thought music would be more closely linked with art but in this instance it's not, really.
Mark: We also looked at history of the badges, the crest of a team, we really dug into the history and the changes that have been made based on the town crests and how it developed.
Nick: You've got that whole 70's design thing that broke out - that was related to pop art, and traditionally it was how teams represented themselves.
Mark: And then you see that it's come back again now to become simplified - just look at the Juventus which we used for Joy Division. So simple.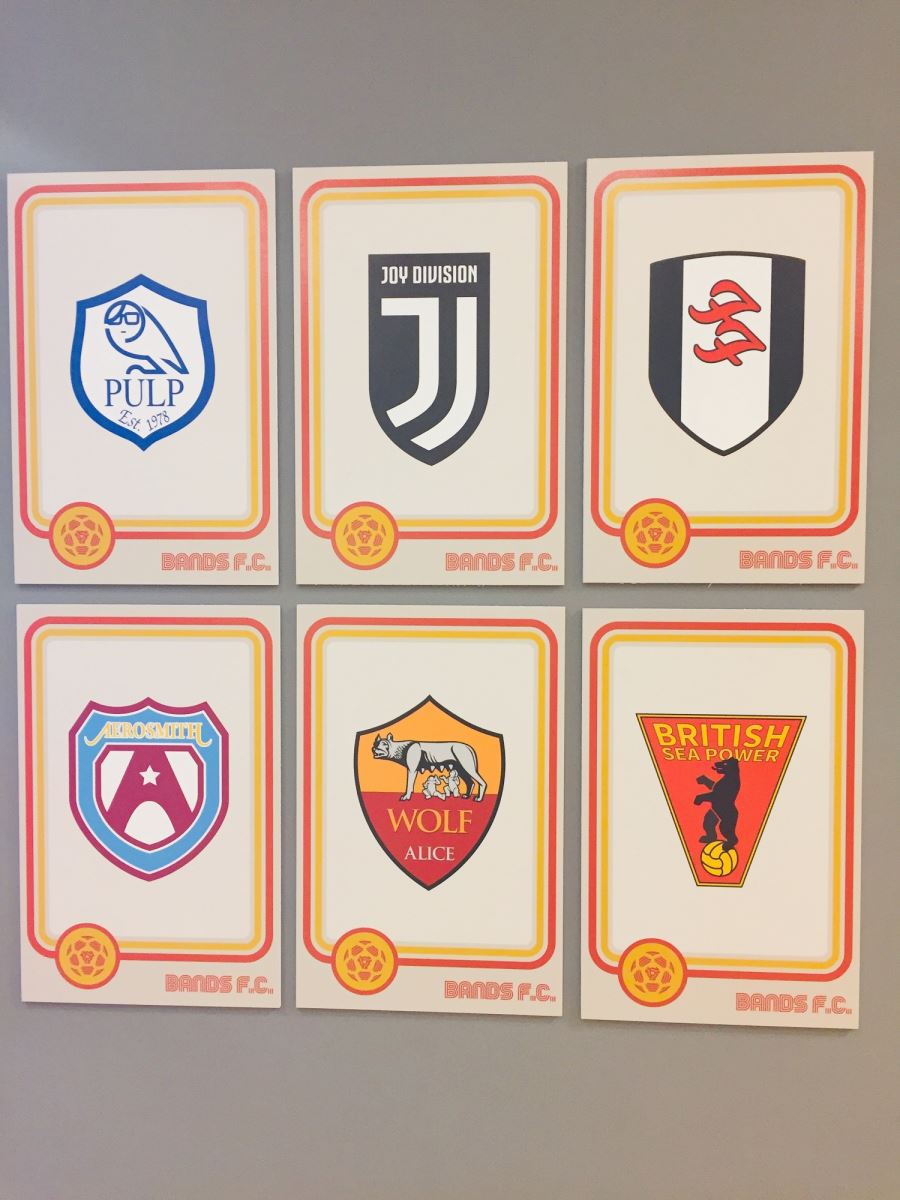 What has been the most exciting moment in your journey so far?
Nick: It's got to be to do with Pulp really, because Nick Banks, the drummer, is the nephew of Gordon Banks, the World Cup-winning goalkeeper. And they loved their design, which took the recognisable face of Jarvis Cocker and mixed it with their owl imagery. We did a shirt with them, with the band, and we took orders for them. We raised over £30,000 in 24 hours for Sheffield Children's Hospital.
Mark: Yeah, I think the best moments are when the bands and the teams all come together.

Have any bands requested to be involved in the design process?
Nick: Loads. The Cribs, Franz Ferdinand – Alex Kapranos got in touch with us – we showed him a couple of potential colour designs and he said, "The one on the top right.". Quite a few bands have asked us to meet them and asked whether we've done them a print.

Have you faced any challenges along the way?
Nick: Finding the time to do them all! Because it was all, "Where's Johnny Cash? Surely Primal Scream! What about Pink Floyd, one of the biggest bands ever?" And it wasn't just from the people that loved the music, we'd get things like, "Scunthorpe United, where are they?"
And we never said no to anything – we just did them all quickly, so it was just a case of keeping up. That's the biggest challenge.

You've recently been to New York. Are you going to any other international destinations?
Mark: There was Mexico City recently - a mini-exhibition in the Auditorio subway station. The British Embassy contacted us; they were looking for something that showed off British creativity, football and music.
Nick: We weren't able to go in person but just seeing the pictures was amazing.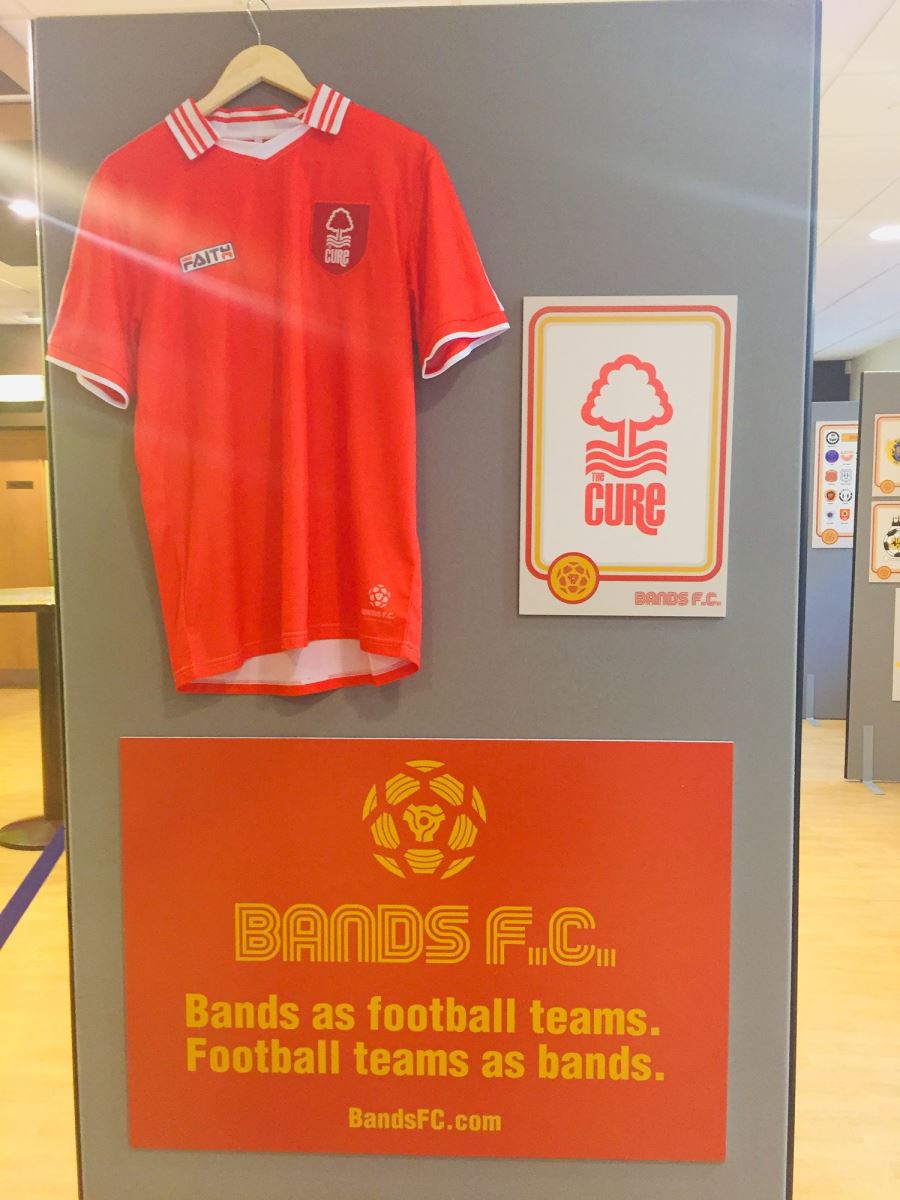 Do you have a favourite design?
Nick: Mine changes, actually, but today it's Aztec Camera – one of my favourite bands, one of my favourite time periods of football – the 70's, US Soccer.
Mark: I've got absolutely tons. I like the Air one because I learnt something when I was doing it – the French band, we based it on Ayr United in Scotland. There's a different slogan on the original band crest, but this: Amour, Imagination, Rêve [Love, Imagination, Dream] that is where they got the name from, so we've got the colours of the French flag in there, too.

It must be good to bring that international element into it. Does it get more people interested?
Mark: Yeah, and we're discovering new bands as well!
Nick: A massive team from Ecuador got in touch with us and asked us to do one for them. We figured it made sense to use a band from there, so we spent a day listening to bands from Quito in Ecuador and found one that we really liked, hooked it up together - and it was amazing.
Mark: Introducing people to new bands is definitely something that we enjoy.

Which of your designs do you think has been the most popular?
Mark: Daft Punk's been very popular.
Nick: A couple of my mates didn't realise that it's actually got the band on it! People liked it anyway, though.

What are your plans for the future of Bands FC? Where are you going from here?
Nick: We're just trying to keep up, really! We've got a list of about 100 that need doing. We've done some merchandise - we made these red card/ yellow card and whistle keyrings. It makes me think back to my childhood self, remembering my teacher saying 'You're useless' – I'd love to be able to send a message back, saying that actually I'll be working in the world of whistles and badges! It's taken a while but it's quite a revolutionary thing to have achieved.

The Bands FC exhibition is at Nottingham Tourism Centre from 1 - 14 December, with a closing down party on Friday 14 December from 5:30pm. Mark and Nick will be in attendance and freebies and refreshments will be offered to the first arrivals.

Find out more about Bands FC by following their Twitter feed: @_Bands_FC.
Related
0 Comments