If you're a regular visitor to Nottingham city centre, chances are you've walked past The Malt Cross. At first glance you might have thought it was just the same as all the other bars in that area, but that couldn't be more wrong. The Malt Cross has a rich and diverse history as one of the last remaining Victorian Music Halls in the country and this is presented by a specially devised Heritage team. This commitment to the building's history is undoubtedly articulated in the way that they do business today. Team member Milly might have been forgiven for leading a traditional historical tour - she certainly has the knowledge and skills to do so - but she's full of passion and humour and delivers her historical insights in novel and accessible ways.
When we arrived at the Malt Cross for their Gin Tasting we were struck by the Victorian architecture interlaced with fairy lights and hanging vinyl discs. If there is any place in Nottingham that is certifiably 'Instagrammable' this is it. Avid budgeters we are, we also noted that the main bar offers 10% student discount with a valid student ID. Soon we were taken down to the cellar for the Historical Gin Tasting, in a small, intimate group.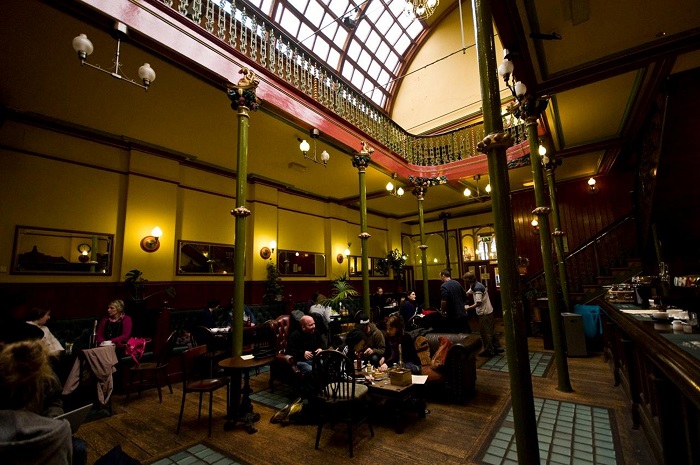 It was clear from the beginning that Milly and her colleague Hannah were passionate about their jobs. They both come from history backgrounds, Hannah having held a position at the National Crime and Punishment Museum. This being said, we were not being given any old lecture, we were in for a journey through history, aided by the accompanying gins.
The first gin was Bol's, which introduced us to 'genever' (as it was known). This was originally used during the period of the Black death as juniper was considered to have curing properties. We were encouraged to initially drink it neat to appreciate the flavour before having a selection of tonics and garnishes to add in and sample. We were talked through how gin first came onto the market in the Netherlands.
The second was Bobby's gin, which was undoubtedly different from its predecessor with increasing botanical notes and a rich history that only presented itself in 2012 when the original 'Bobby's' family were able to decipher the recipe. As an economist, I found this period of history particularly interesting as Milly described the way that the British market adjusted during the Georgian period. Due to trade restrictions of the Eighty Years' War and the rule of William of Orange (a Dutchman), there was a period where a pint of gin became cheaper than a pint of beer. This led to propaganda campaigns to try and discourage the consumption of gin; Milly showed us large posters and described in great detail all of the important points of the art.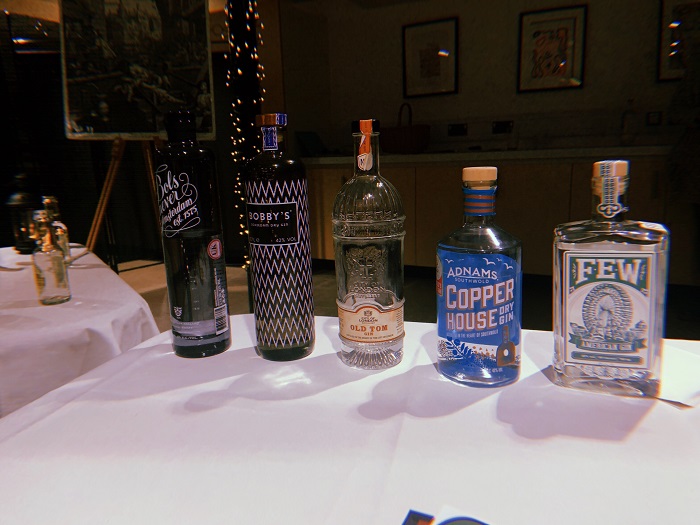 The third gin was the City of London Old Tom, which was more familiar to us as the traditional dry gin we have today was emerging during the 19th century. I didn't know that 'London Gin' is a style rather than a location. Importantly, many of these gins originated in a time where consumers were trying to avoid new regulation. At this stage Milly revealed another area of expertise; Victorian music hall music which included many gin-related tunes. One of my favourite lines (which we were still chuckling at hours after) was 'too many gins gives the ladies double chins'. If this was true we were practically twice the women we were by the time we reached…
The fourth gin was Adnam's Copper House. This had a remarkable 13 botanicals, which was surprising as this was the first era to mix their gin with tonic. The 1920s Prohibition era also brought the rise of cocktails which arrived in the UK during the war due to the movement of American soldiers. The American influence continued as we arrived at…
The fifth gin; an American gin named 'FEW', a tongue-in-cheek nod to prominent prohibition speaker Francis Elisabeth Willard. Once we had finished sampling the generous helping of the final gin, we were asked which was our favourite and invited to choose one to take upstairs to the main bar.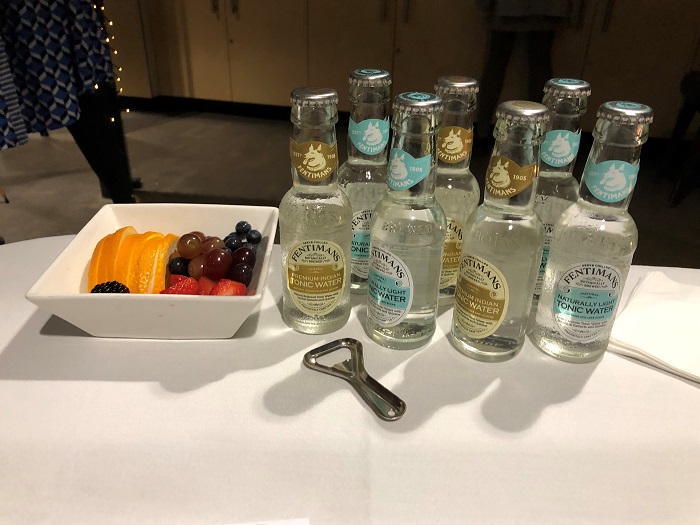 I absolutely loved this evening, and for less than the price of a normal night out, we were given a flurry of fascinating facts that will absolutely be used to impress people in the future. This would be an incredible birthday present, date night idea or just an excuse to do something different. I will 100% be back and would even do the whole evening again.
This blog was written by Emily Dormer, guest writer for Visit Nottinghamshire.
Related
1 Comments