If you haven't yet visited the Engine Yard at Belvoir Castle, you're denying yourself a real treat. This tastefully restored rural retail village at the foot of the stunning Belvoir Castle was once home to a Victorian sawmill, wagon making shop and wheelwright's shop, and today houses a distinctive selection of artisan, creative outlets, all in the heart of the beautiful Belvoir countryside.
For many of us, shopping means shoving your way through jam-packed streets and getting soaked by passing drivers, but the Engine Yard is a very different vibe. It's more countryside than crowds, more birdsong than bus lanes: an altogether more peaceful retail experience.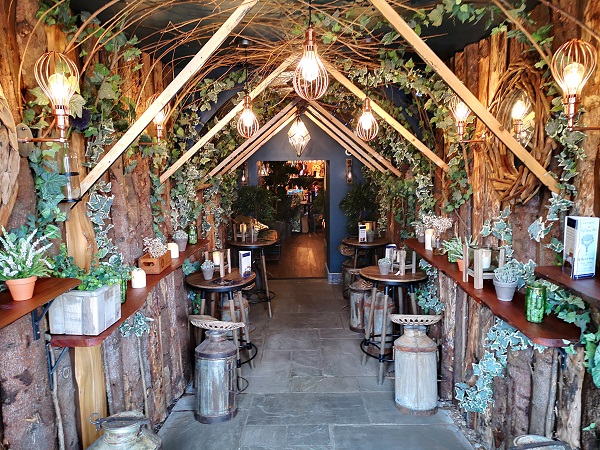 It's one of our favourite places to go for a bit of fresh air, so when Visit Nottinghamshire started hearing stories about the latest addition to the village – the intriguingly named Balloon Bar – we couldn't resist dropping by to find out whether the hype was deserved or whether it was all just a load of hot air. Burning with curiosity, we head down a mysterious-looking passage, and step inside the venue.
It's truly a sight to behold. From the brightly coloured hot air balloons dangling from the ceiling to the hot-air-balloon-basket booths to sit in, the travel-inspired décor is utterly enchanting, and it's all we can do not to stop in our tracks and simply gaze around at it all with childlike awe. The bar area has something of a steampunk vibe, with huge metal cogs on the back wall and hanging copper lights.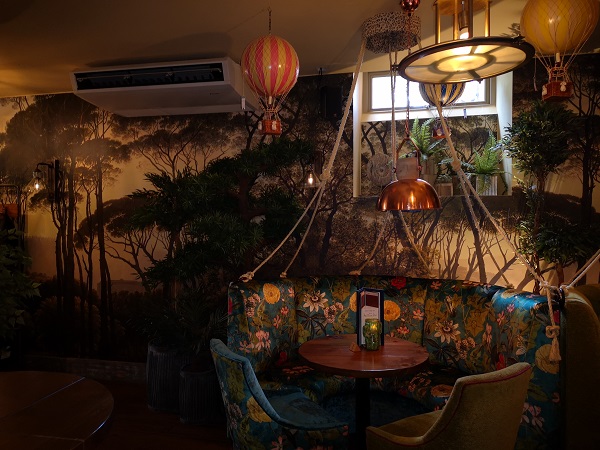 We take our seats in a velvety booth and peruse the various menus. It's hard not to get distracted by the décor; our table is surrounded by leafy plants, the walls behind us are adorned with a forest of painted trees, and we keep noticing quirky details from tiny parrots to cactus-shaped candles. It feels like we've been transported to some magical faraway land that we can't quite put our finger on, the way your subconscious might conjure up a tropical holiday in a dream.
Our cocktails, when they arrive, are a work of art; a sweet and tangy Peach Spritz laced with locally made elderflower cordial, peach essence and raspberry lemonade and decorated with delicate flowers, and a Japanese Blossom, with softly harmonious notes of thyme, peach, rose and elderflower. Both taste every bit as exquisite as they look.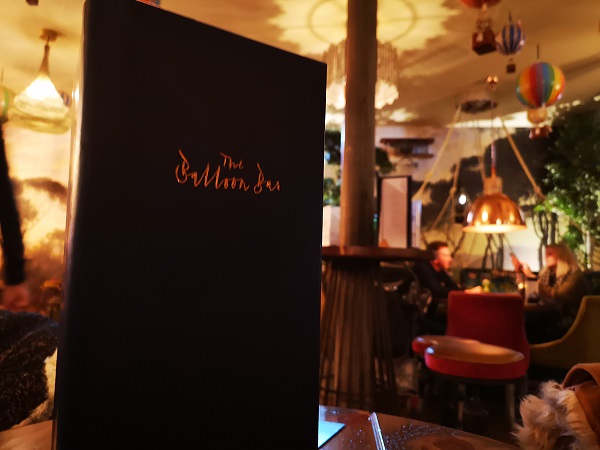 This sets the bar pretty high for the food, and we're certainly not disappointed. The rustic style Steak and cheddar sandwich arrives piping hot and laden with tender, thinly sliced steak and tangy cheddar on a soft bloomer loaf. It's accompanied by seriously good chips (crispy on the outside, fluffy on the inside: they know what they're doing) and a tangy dressed salad. We also try the vegan vegetable curry: a richly fragrant, lightly spiced curry with creamy coconut sauce, mint, chickpeas and seasonal vegetables atop a generous bed of fluffy rice.
We're so stuffed by this point that we make the executive decision not to have dessert, although we have a change of heart after reading the menu and guiltily order a slice of vegan chocolate cake each. This turns out to be one of the most absurdly decadent chocolate cakes we've ever tasted: a rich, velvety sponge, drowning in a hot chocolate ganache so deliciously chewy and sticky that it has to be scraped off the plate with a substantial amount of force – which, of course, we have no shame in doing.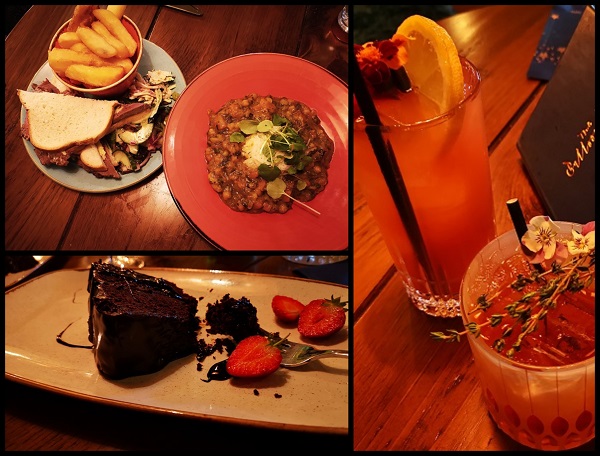 Dragging ourselves out from the cosy booth and away from this magical world of colourful cocktails and vibrant hot air balloons is no mean feat. We console ourselves later by reading about the latest new delights you can experience at the Engine Yard – the lovely Fuel Tank next door has just launched their early bird breakfasts and Sunday roasts, both of which sound utterly divine – all of which gives us plenty of excuses to book a return visit soon!
This blog was written by Sophie Milne, Communications Executive at Visit Nottinghamshire.
Related
0 Comments