I was vaguely regretting arranging to go ice skating, or rather TELLING the children that we would be going ice skating when they woke up at the crack of dawn to remind us that we were going. Next time I won't be so silly! There will be a next time because to say the Tots Zone was a success, would be an understatement!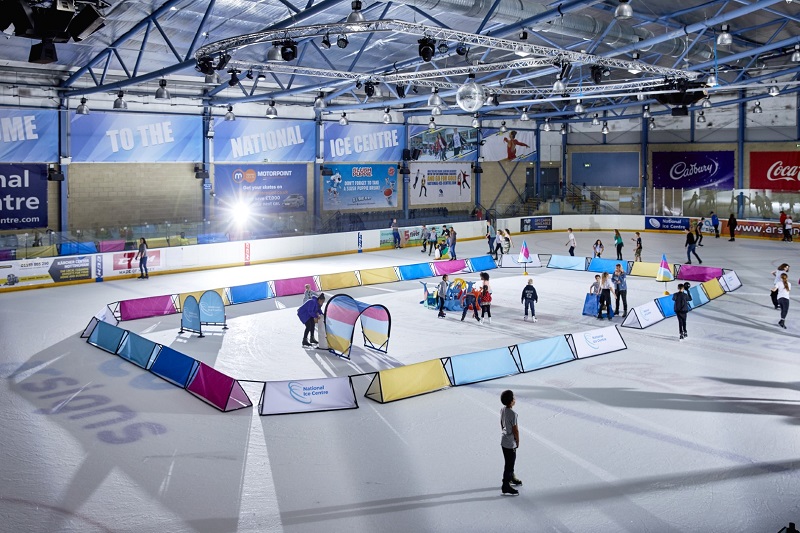 It didn't seem like your usual activity to do when the sun is shining, and it is a casual 24 degrees in September, but we managed to find some hats and gloves for the little ones (a 4-years-old and a 2-year-old) and while they did their 'excited faces' (this is genuinely a thing), we parked up at The Motorpoint Arena car park.
Inside it was calm and controlled and we assumed that we were the first to arrive, but as we travelled down in the lift we realised that we were far from the first. Plenty of people were on the ice and it was a hive of activity, but there weren't any queues for skate hire and we had absolutely no difficulty getting a locker for our (humongous) bag. The lady at the skate hire desk was so helpful, she reassured my 4-year-old that she would indeed return his shoes at the end of the session and she stored our pushchair for us. We took out 2 pieces of equipment, a seal and a penguin, which we could swap for something different if we wanted to during the session.
Once we had on our skates we checked out the handy tips video, which ever so helpfully went through everything from how to tie skates, to how to skate and crucially - how to get up after falling over!
The children thought it was hilarious the moment they stepped out onto the ice, and the 4-year-old was doing some sort of slap-stick comedy running man while clinging onto a penguin. A couple of topples and the nerves were gone. The novelty was real, and they were both asking to keep trying different pieces of equipment - snowman, sleigh seat, reindeer. For those who can't imagine what these are, they are essentially props to help the children (not us adults.......or are they?!) be either steady on their skates, or to provide a seat while they are scooted across the ice. The seated equipment was the most suitable for our 2-year-old we found, and it turns out she has a thirst for speed as she was willing us to push her faster and faster. We definitely clocked up some steps!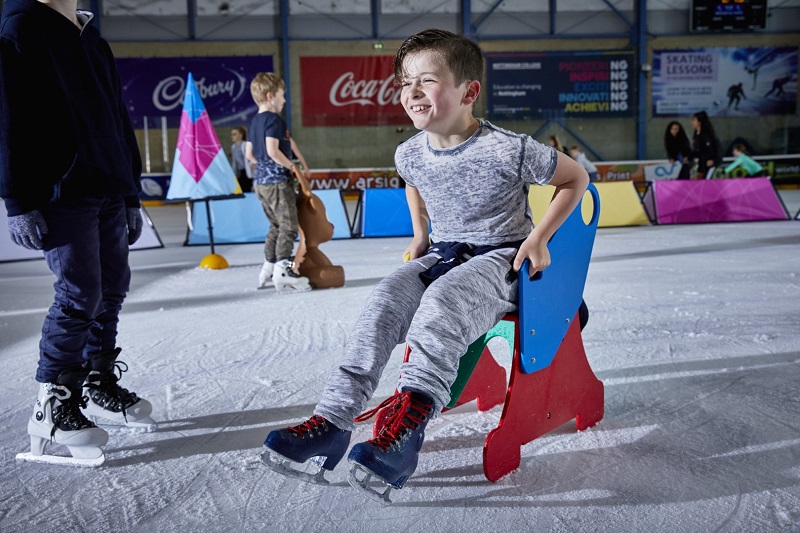 The Tots Zone is a cordoned off area in the centre of the rink, dedicated to under 5s, to allow them the confidence to move around without the risk of someone whizzing past. The equipment within the Tots Zone is free to use, but only equipment that has been hired can go on the bigger rink. Our guys were very happy in the Tots Zone and it also gave them a great viewing spot for watching people skate backwards and twirl. Minds blown. We were very impressed with the staff, some teenagers descended upon the Tots Zone and started to use the equipment (I mean, who wouldn't?), and they were quick to remind them that the area was more suitable for under 5s than them.
We had been largely helping the 4-year-old steady himself with the equipment but it didn't take long before he didn't want our help, and was happily moving about by himself. He was still often sliding into his comedy routine, which was frankly very funny, but we could tell he was gaining confidence and absolutely loving it. After probably an hour and 20 minutes I took the little one off to the benches for a rest and a cuddle while the other 2 stayed on. We basically had to drag him away eventually when it was time to go. In the end it was the promise of food that did it - he had worked up quite an appetite!
We have promised that we will go back again. Next time we may also time it so that they can be at the session when they can draw on the Tots Zone ice with special pens and stencils! We are actually excited to see how their confidence grows, you never know, we may have a new Torvill and Dean on our hands!
---
The Tots Zone is an area in the centre of the ice dedicated to under 5s and their parents.
It's available on Fridays 5:30pm-7pm, Saturdays 11am-5pm and Sundays 10am-12pm or 1:45pm-5pm on a first come first serve basis.
On Saturdays from 2:45pm, art on ice is also available so little ones can use paint pens to draw on the ice!
The ice equipment is free to use in the Tots Zone and benches are around for parents when it's time for a break!
For more information on the National Ice Centre, click here.
---
This blog was written by Emma Smith, Marketing Intelligence & Strategy Development Manager at Invest in Nottingham.
Related
0 Comments