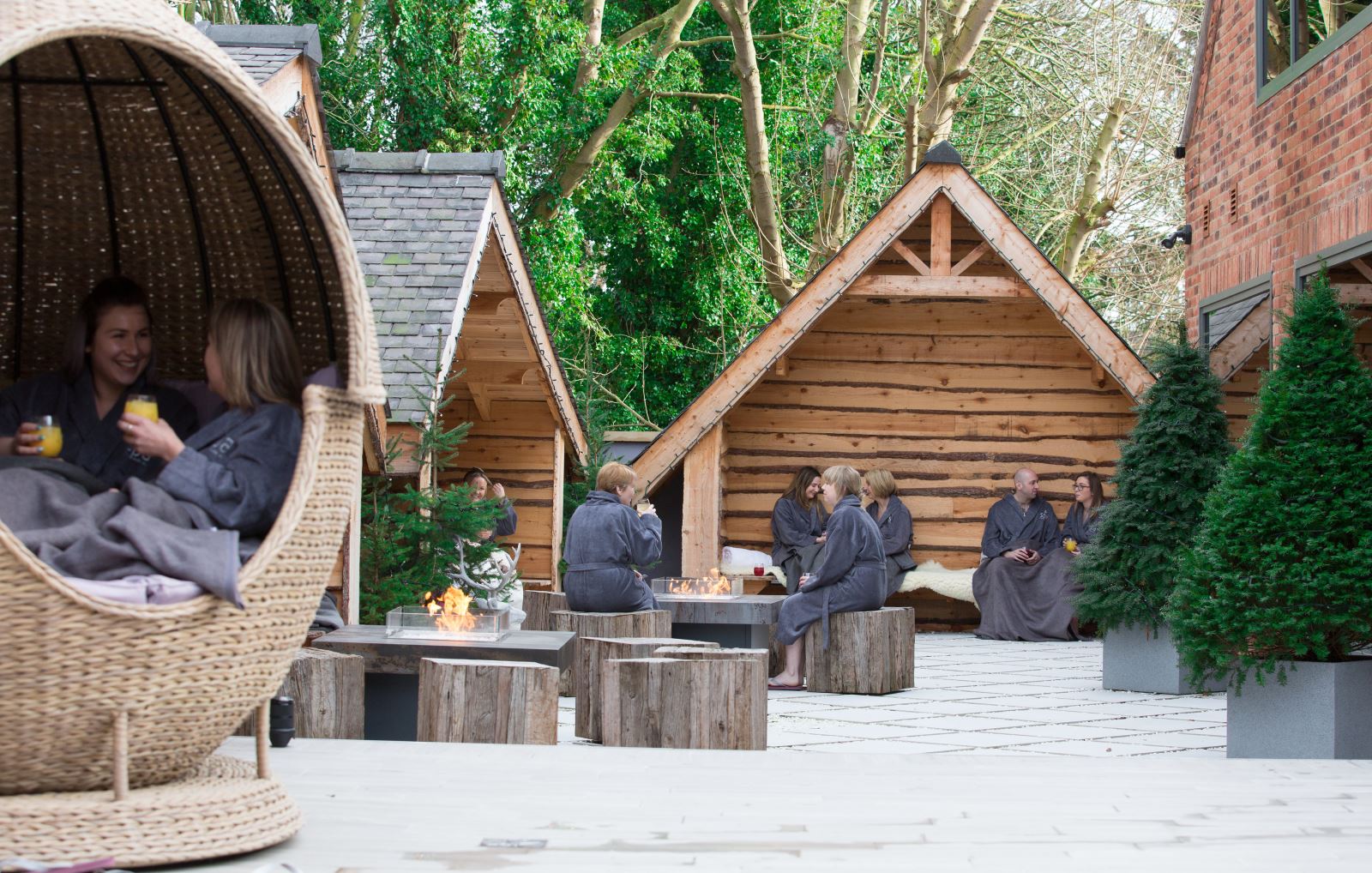 Between work and everyday stresses, I rarely give myself time to indulge in a beauty treat. When I do, it usually consists of the occasional 15-minute face mask on a Sunday night. Admittingly, I'm a total spa novice but my Mum has me beat having never indulged before in a spa day.
Very excited to share a Mother-Daughter day out we ventured over to the Spa at Ye Olde Bell, just north of Sherwood Forest and close to Retford in Nottinghamshire. The Spa itself is a newly built addition next to Ye Olde Bell Hotel, originally a 17th century coaching inn, that opened its doors in June last year. With two floors consisting of an indoor and outdoor Spa area and six treatment rooms upstairs, the Spa also has its own Herb Garden Brasserie where guests can wine and dine while relaxing in their robes and slippers.
We arrived just after the Spa opened to really make the most of our day there. The reception and lounge are beautiful. Walking in you can expect to be greeted with a refreshing herbal tea and a friendly team of professionals who walk and talk you through the facilities and their recommendations on the thermal experiences you can enjoy throughout the day.
Bathing-suited up and ready to embrace a full day of rest, therapies and doing nothing at all, we started with the first of the Spa's collection of ten unique thermal experiences. We wandered into the Herbal Laconium, which we were advised is the best place to start since the temperature is the mildest of the steam rooms, with periodic bursts of gentle steam to warm and relax your muscles. The scent of natural herbs drifting through the room was divine, so much so we decided to go back for a second visit later in the day.

A winner for sheer theatricality, the Stonebath had a slightly more intense, drier heat with steam released every few minutes as hot stones are lowered into a water bath. The recommended time spent in every room gradually decreases as you go along since each has a higher temperature and humidity than the last. After around 25 minutes in both we drifted over to the vitality pool, no longer able to resist the water and bubbling massage jets dotted along the edges of the pool.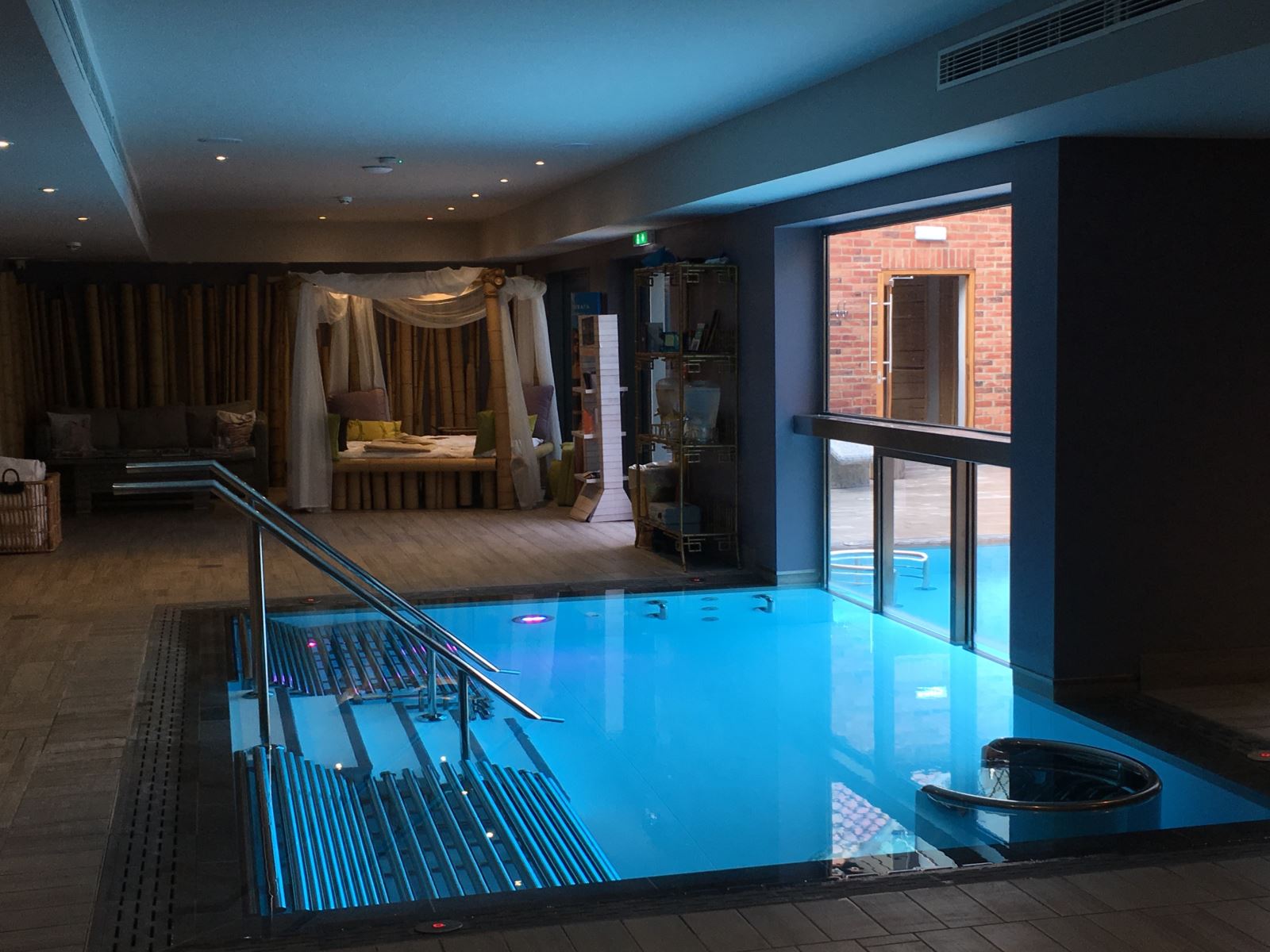 Surrounded by comfy recliners, a canopy relaxation area and soft bamboo theming, the main room is a picture of tranquillity. Then the attentive staff came around with a selection of sliced fruits to nibble on, along with a glass of lemongrass, orange and ginger lemonade brought to us fresh from the bar. Sipping on a fruity cocktail with the water lapping around, I've never been so pampered and spoilt silly. Sitting back, I thought I could quite easily get used to this!
Next was lunch in the garden brasserie which is just a few steps away from the thermal room. Guests are brought through to dine at separate intervals which makes the service truly personal, so we were able to sit back with a drink in hand and watch as the chefs cooked our meal. I plumped for butternut squash soup to start with, which arrived with freshly baked onion loaf still warm from the oven. Mum chose a lighter smoked salmon starter, which came with chive and goat's cheese mousse, pickled beetroot with balsamic pearls. The presentation was beautiful, a world away from your average work-week office lunch and wouldn't look out of place in a fine dining restaurant. I went for pan-fried seabass for my main which arrived delicately cooked, while Mum picked a heartier chicken dish plated with lemon thyme dauphine potato, vegetables and red wine jus - both were equally delicious. The Spa's menu comes with three option types from more light bites to hearty dishes which you can tailor on the day.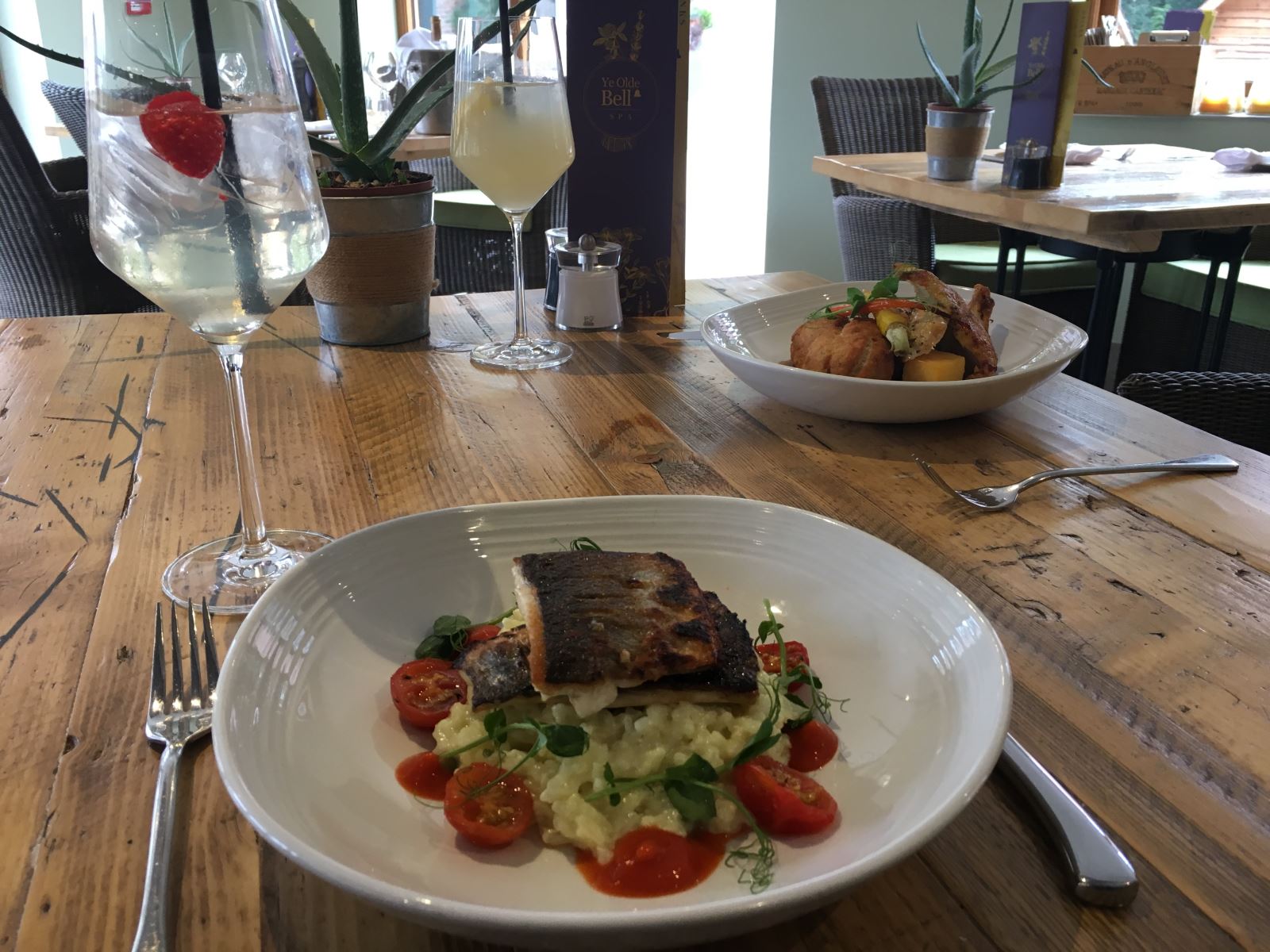 After a reviving lunch, we headed back to the Spa area where we both felt brave and decided to try the Alpine Sauna. The temperature is the hottest of the Spa's thermal experiences set at 80-95°C and promises to improve circulation, flush out toxins and open pores. The heat hits you as soon as you walk in and it takes some time for your body to readjust, but once you do, you can enjoy the lovely pine aroma and outside view that looks onto the outdoor timber chalets; a little piece of Switzerland in the Robin Hood country.
We both had facials booked in the afternoon and were treated to a full hour of tailored skincare plus a relaxing massage. All the Spa's facials are prescriptive to your skin type and combine bespoke ingredients with massage therapies. I was given the Hydracure Intense Hydration facial which included a blend of ingredients like Hyaluronic acid and thermal spring water from Japan, leaving me with moisturised skin and feeling so relaxed I almost fell asleep!
We ended our day in the lap of luxury with a post-treatment lie down in the Salt Inhalation room and visit to the foot spa - both me and Mum agreed that we'd have a good night's sleep! Whatever you hope to experience from a day spent at the Spa, Ye Olde Bell has it in spades, from a stunning thermal room to serene therapies and unique experiences - I can't wait to book my next visit.
~Blog written by Lydia Jones - Partnerships Coordinator at Visit Nottinghamshire
Related
0 Comments