When Visit Nottinghamshire were invited to trial the new Cherries and Berries Spa Day at Eden Hall - recently crowned the UK's Day Spa of the Year - we practically bit their (manicured and moisturised) hand off.
A Grade II listed manor with gloriously ornate turrets and conservatories around a courtyard, set in acres of landscaped gardens, you'd be hard pressed to find a more gorgeous setting in which to while away a lazy day.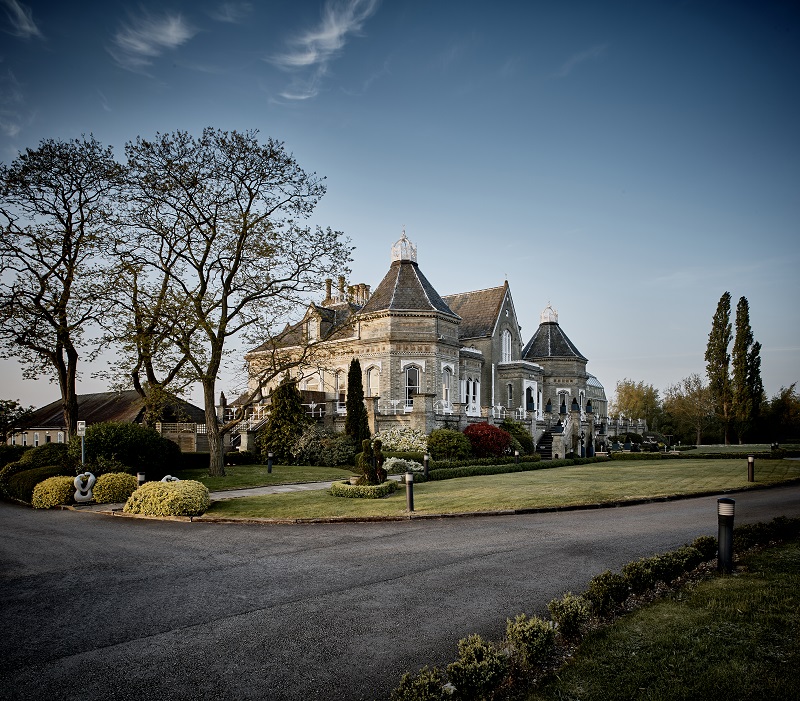 Even the changing rooms are so ridiculously palatial that we initially mistake them for the spa itself. There are complimentary Elemis products to slather yourself in everywhere you look, as well as fluffy bathrobes and, thoughtfully, two towels folded in your locker, just in case one gets wet.
We find the sheer range of experiences on offer in the thermal spa suite a little overwhelming at first and a whirlwind of activity ensues as we rush from one to another in our eagerness to try everything, though eventually it dawns on us that the spa isn't going anywhere and we begin to take our time.
From the purifying lavender aromas of the herbal caldarium to the congestion-clearing salt inhalation room to the uplifting essences of the rose infused steam room, we've never felt quite so serene and healthy in all our lives. We love the walk-through water therapies; from the tropical rainforest to the volcanic warmth of the heat therapy, and even the invigorating arctic cold mist. The experiences are enhanced with colours and lights, which also provide a helpful indicator of what temperature to expect to avoid any not-so-relaxing surprises.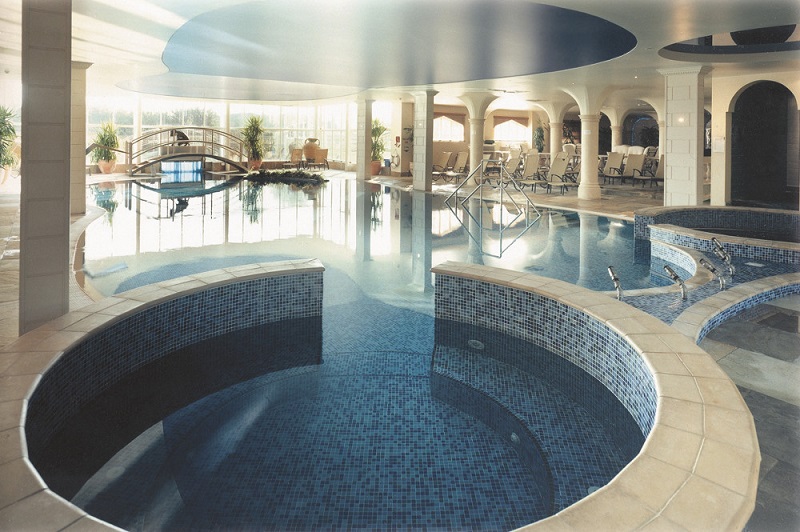 At some point we drift upstairs for a late morning coffee in the bright and airy conservatory, snuggling blissfully up amidst a pile of cushions whilst the sunlight streams through the glass, before heading for a gentle float in the vitality pool, complete with an impressive variety of fountains and specialist massage jets.
Next it's on to the Slumber Lounge, a dimly lit haven of tranquillity filled with seriously comfy day beds (single, curved ones that mould to the shape of your body and double ones for couples or people who like to starfish) soft pillows and throws and a gently flickering fire. We make a beeline for the hanging dome chairs, wrap ourselves in an indulgent cocoon of blankets, and doze off.
After a well-deserved snooze (it's been an exhausting day, after all) we're ready for lunch, so we head up to Taste of Eden, which is composed of small and intimate rooms. We're seated inside one of the turrets, and are awed by the elegant wood panelling all the way up the spire. Astonishingly, the Cherries and Berries spa package includes not only a 3-course meal but also unlimited access to the buffet, which has exquisite and vibrant dishes such as carrot, mouli and pine nuts, poached salmon in dill olive oil and orzo, cucumber and mint. There's charcuterie and even an artisan bakery section – and not a limp, languishing lettuce leaf in sight.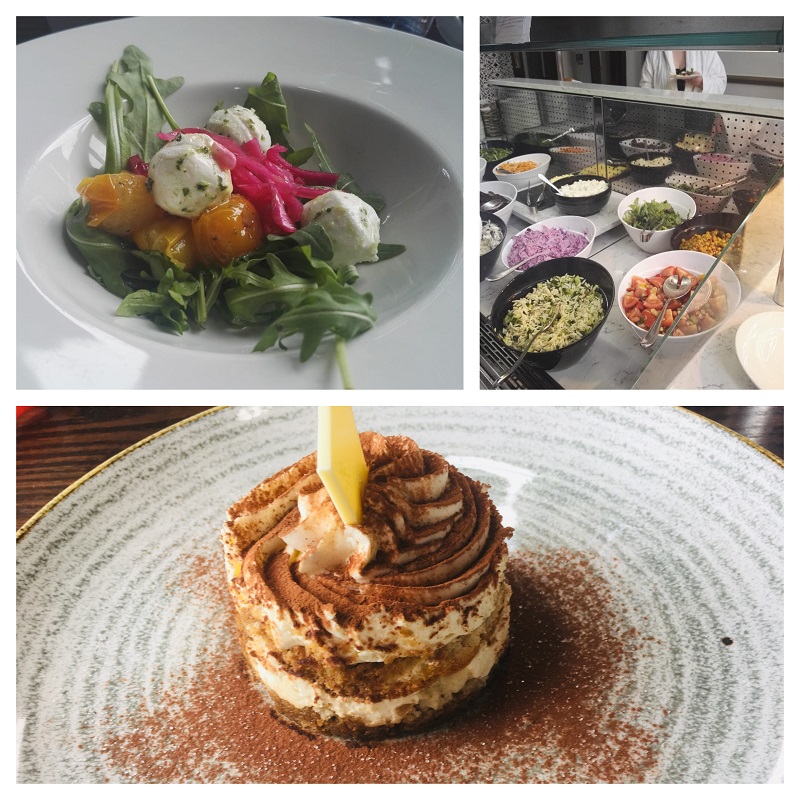 The three-course meal is a masterpiece; we start with creamy goats cheese pearls infused with basil and garlic, and rich duck and chicken liver parfait with red onion marmalade and crisp bread. The mains are superb: roasted loin of pork drizzled with wholegrain mustard cream sauce, braised cabbage and herb mash, and pan-fried sea bass with roasted peppers, red onion and a rich red pepper coulis. We engage briefly in the obligatory umm-ing and ahh-ing about whether to order dessert, before going for treacle tart (served, brilliantly, with fresh custard and Chantilly cream, saving you from a stressful choice), and deliciously velvety tiramisu.
After lunch it's time for our 'Cherries and Berries' treatment; the cherry on the cake, as far as we're concerned. If we thought we were calm and relaxed before, it's nothing compared to how we feel in the treatment room, as the warm dim lights and cosy décor sends us into a blissfully dreamy state. Our therapist explains the treatment and takes the time to understand our personal preferences before inviting us to lay down on a heated treatment bed and covering us with warm towels to ensure we're cosy and comfortable.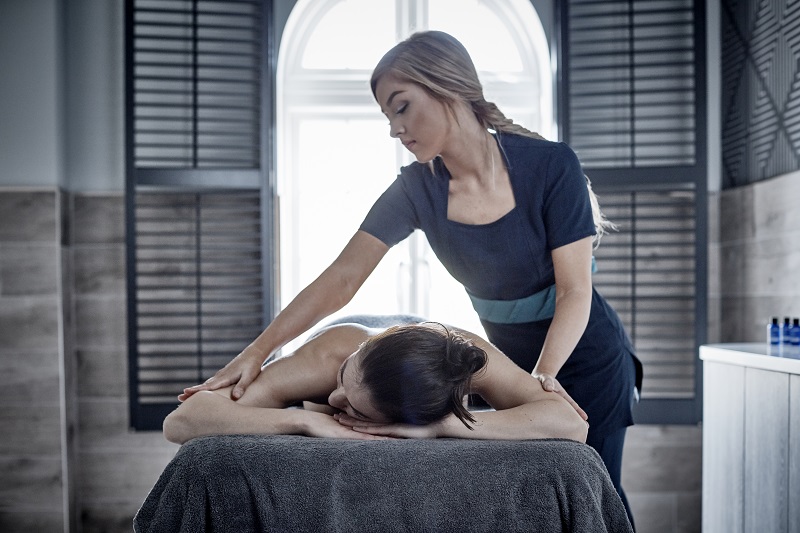 The treatment begins with a relaxing cleanse and tone and a youth boosting facial and neck massage. Next is a fruit facial polish enriched with cranberries and Vitamin C, followed by an anti-ageing cherry mask to stimulate collagen, which smells so divine that we're half tempted to taste it. We unwind with a gentle arm massage while the active ingredients in the mask do their magic.
It all lasts approximately 55 minutes, though we'd have happily lain there for hours. Afterwards we're led to a sun room to relax, drink some water and read the therapist's recommendations. We can't stop touching our skin, which feels unbelievably soft, fresh and rejuvenated.
We round off the day with a dip in the heated outdoor hot tubs, watching tendrils of steam rising into the dusky evening air, enjoying the soothing bubbles and trying to pretend we don't have to get dressed and leave soon. We can't help but feel a twinge of jealousy towards Eden Hall's members, who have the luxury of coming and going as they wish. At only £135 a month for membership, we can't help but wonder if they're on to something…
Exclusive and limited availability spa membership at Eden Hall includes unlimited access to the spa facilities, gym and fitness classes, as well as exclusive discounts on treatments, spa days, food and drink, and retail items.
This blog was written by Sophie Milne and Kinga Kapias from Visit Nottinghamshire.
Related
0 Comments