The Spotlight Bar & Restaurant at the Motorpoint Arena is Nottingham's newest and arguably trendiest drinking and dining experience to hit the city for a long time. Elevated on the 4th floor of the arena and only accessible to VIP and hospitality clientele for pre/post drinks and dining, Spotlight exudes the class you'd expect from a swanky London bar with beautiful views of the Nottingham skyline to boot. Whether you're attending a show with friends and family, or if you're entertaining corporate clients, Spotlight will ensure your visit is memorable.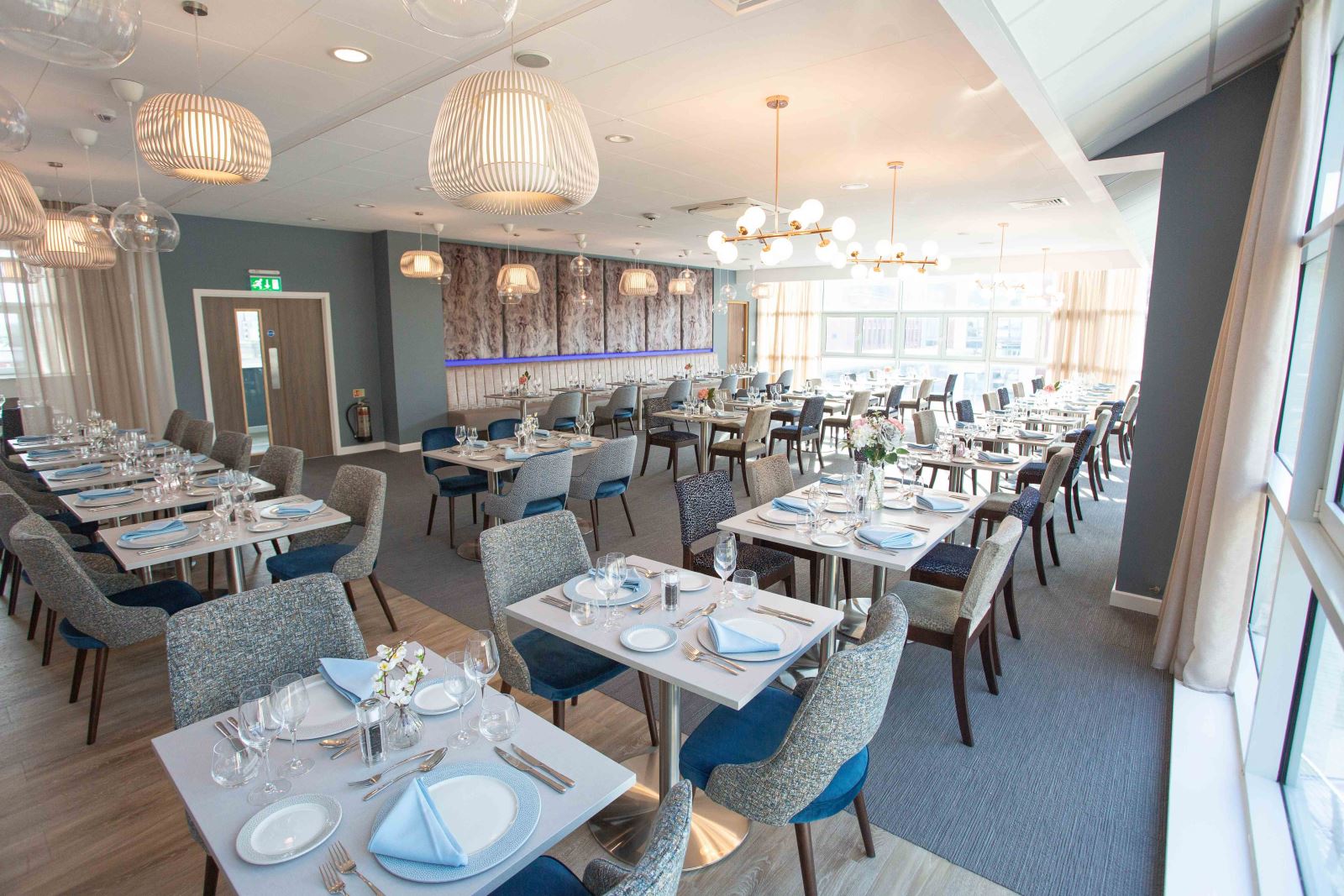 We'd been lucky enough to be invited to the Spotlight Bar's opening night and then on to watch cheeky chappie Russell Howard for an evening of comedy. Led over to our table by our hostess, our drinks order was swiftly taken and with a glass of wine in hand I could sit back and take in the marvellous job done of redesigning the bar and dining area.
Spotlight is a great name for the bar and restaurant, with the focus very much on its new era as a swanky place to entertain and be entertained! New life has been breathed into the very bones of the room; anyone who can remember the previous bar could not fail to be impressed with its reimagining.
The colour palette incorporates muted peachy pastel tones throughout, with plush yet comfortable seating, giving a sense that no expense has been spared to create the right impression. The restaurant filled up very quickly as you would expect for a pre-show dinner. With a small window of opportunity to get 3 courses out to guests, the bar was a buzz with waitresses constantly fetching and carrying drinks and orders being taken deftly at each table. Looking around there was a great cross section of guests enjoying the VIP experience from couples and large groups of mates, through to the more corporate of guests wining and dining clients.



We'd been given a set menu to choose from which was beautifully varied, with starters complimenting main course options very well - there most certainly seemed to be something for everyone to enjoy. It was nice to see that vegetarians and vegans weren't forgotten here also, not having to compromise on their menu choices either.
I opted for a duck egg starter nestled on a slice of black pudding and toasted brioche - absolutely delicious and a good sized portion. For the main course I couldn't have resisted the steak , served in a herby butter sauce with triple cooked chips. I added to this a side of heritage carrots (yellow and purple they were, very posh indeed!). I tend to mark a restaurant on its ability to cook a steak well and I have to say that it's not often that I get my 'rare' steak delivered to me as rare, however, this is what I got. Beautifully cooked and presented and once again a fantastic portion size.
There are simply no small measures here it seems. The restaurant was crazy busy by now, smoke literally burning off the soles of the waitresses' shoes as they weaved between tables… Ok so I exaggerate, but it was busy as the show was due to start in less than 30 minutes. With this in mind our waitress took our desert orders and one crème brulee and sticky toffee pudding later we were on our way out of Spotlight and into the VIP hospitality area and our box for the evening's entertainment.



The hospitality area has its own bar and team of waiting staff who will attend to each box's requirements throughout the evening. Literally as soon as we took our seats for the show, set high up in the rafters of the arena, we were asked if we would like a drink. The service was nice and certainly made us feel like this was a special night and that we were VIPs (if only for one evening anyway!).
The show was great, as was expected. Having seen Russell Howard on the small screen at home we expected something special and he didn't disappoint. Funny, hyper, conversational humour, quirky and eclectic are all ways to describe this firebrand of the comedy circuit. He's certainly one to see live and hugely entertaining, staying on stage for nearly two hours takes some stamina so hats off to Russell! All the while, we were plied with drinks by the lovely staff on hand constantly; sounds great, although on this occasion I had to be captain sensible and drinking cokes as I was on chauffeur duties!
Overall, the whole evening's experience was fantastic. Spotlight made us feel like we were a million miles away from the masses flooding into the arena to watch the same show, yet a mere 4 floors lower! What a treat to have a box with amazing seats to watch the very best the Motorpoint Arena has to offer, and boy do they attract some great acts throughout the year, from concerts and comedians to ice hockey and family shows, there is absolutely something for all the family! The whole VIP package, from tasty dinner and drinks in a fabulous setting to fantastic seating and hospitality makes this one of the best nights out you can have in the city.
More information about Spotlight Bar & Restaurant can be found by clicking here.
---
This blog was written by Anna Scott and Rachel Stewart of Visit Nottinghamshire
Related
0 Comments