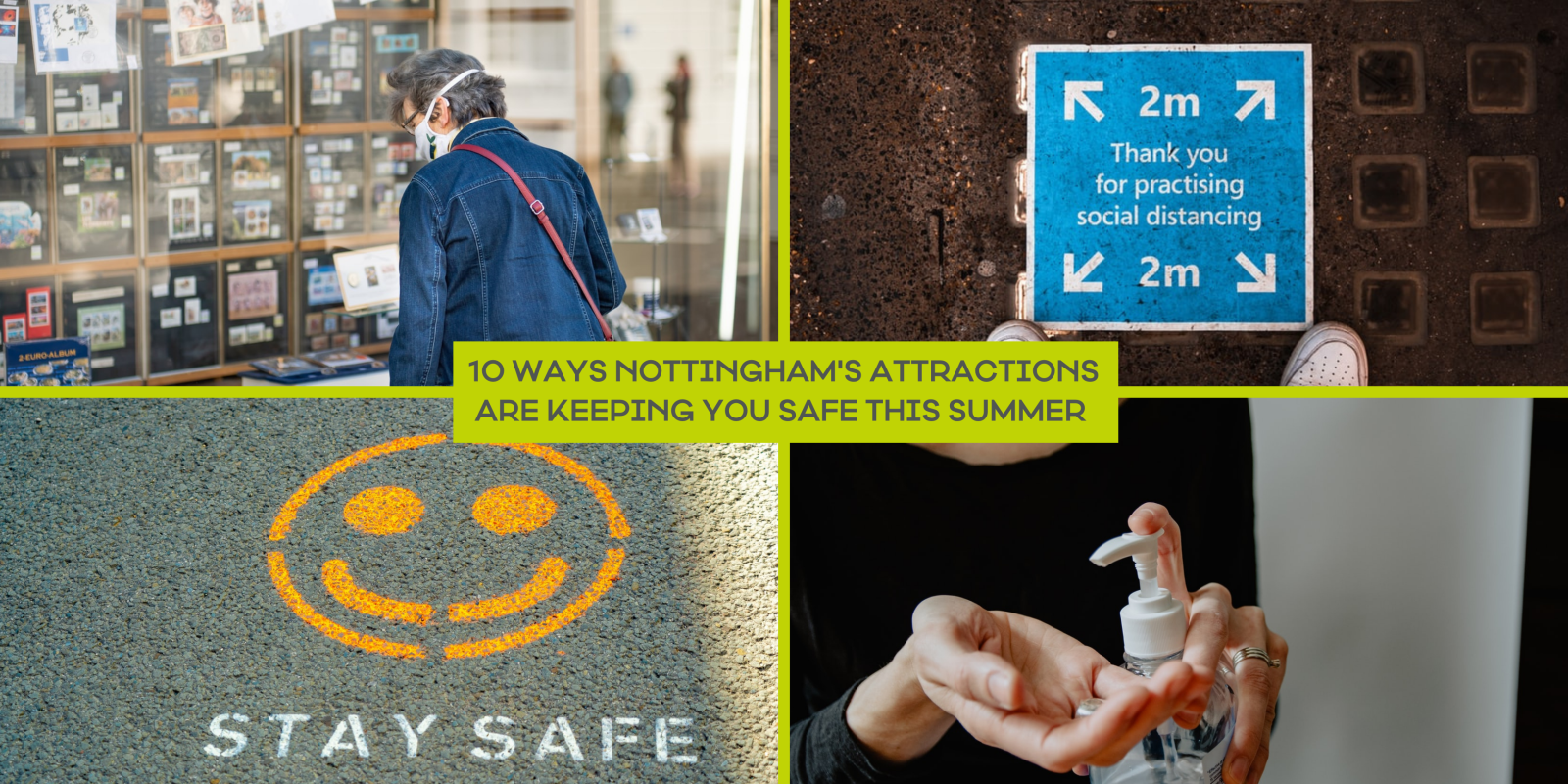 It's been a long old winter, but now that spring has well and truly sprung, we're looking forward to an exciting summer here in Nottingham. And after a long wait our much-loved local attractions can finally throw open their doors once again, welcoming back the visiting public.
From this week onwards you can visit galleries, museums and attractions alone, or with members of your own household or support bubble, in line with the latest guidelines set out by the government. This has been a uniquely challenging period for so many people, and it's fantastic to see the county starting to open up again. Many of our venues and attractions have been closed since last year - and they're all super excited to see you. Of course, your safety remains the number one priority. So each attraction has its own rigorous Covid-secure policy in place. Things aren't quite fully back to normal just yet, and our venues are asking you to follow some simple safety guidelines to help make sure everyone feels safe and comfortable exploring outdoors a little more.
By now, you know the drill - but here are the top-ten safety guidelines to keep in mind:
1. Social distancing
At this point in the pandemic, we're all experts when it comes to social distancing. These rules will remain in place for the foreseeable future, so take a step back and feel free to enjoy your own space as you explore! Look out for one-way systems, and signs reminding you to keep your distance from others - especially at places where queues are likely to form or crowds congregate. You might prefer to wait for smaller or busy areas to clear before entering.
2. Face coverings
Keys, phone, wallet... mask. By now, we're all used to grabbing a mask or two before we head out, and you'll need to pop yours on before entering our venues and attractions. Face coverings are compulsory when visiting museums and visitor attractions, so be sure to keep yours on throughout your visit. Masks and face coverings are another easy way to protect those around you. Don't worry if you forget yours though - many of our venues have a stock of disposable masks ready.
3. Hand-sanitiser
Again, you know the drill when it comes to keeping those hands clean and slapping on hand sanitiser regularly. You'll see lots of hand-sanitising stations dotted around our venues, so please help yourself and wash your hands often.
4. Test and Trace
As the country aims to contain the virus as much as possible, our venues are helping out by supporting NHS Test and Trace. So you may be asked for your details when you arrive. These will be stored for 21 days in line with government requirements.
5. Enhanced cleaning
If you notice our venues looking even more shiny and sparkly than usual - that's because they are taking extra care to keep everywhere safe and sterile. With surfaces and touchpoints being regularly cleaned and disinfected, you can relax knowing our venues are as clean as possible.
6. Contactless payments
Don't forget to bring your card along with you. Our venues are encouraging contactless payments whenever possible. Contactless is a quick, easy and secure way to pay.
7. Secure working
Our venues are also taking extra steps to keep workers and staff members safe and secure - so we'd ask you to have a little extra patience and understanding should things feel slightly different at times. Some exhibitions, areas and facilities might not be available, or might be limited due to staffing or practicalities. You'll probably notice the clear protective screens at cafes, shops and information desks too.
8. Keep left
When in doubt, step left! You will have seen signs and floor markers across the city, and our venues will also have plenty of signage reminding you to keep to the left. Again, this just helps to avoid a bit of extra contact and keeps things flowing smoothly.
9. Advanced bookings and timed access
To prevent any overcrowding, some exhibitions and smaller attractions might ask you to book a timed slot for your visit in advance. This will help to ensure there is plenty of room for everybody, and lots of space to fully enjoy your visit.
10. Limited capacity
Don't worry, there will be no packing you in like sardines. Our venues will be limiting their capacities to ensure that everyone can spread out and make the most of their time and their visit. Just be aware that at busy times there might be a need to queue up for a few minutes before entering.
All of these steps are based on the latest guidelines, and they're being taken to so everybody can feel safe and secure when returning to our fantastic visitor attractions and venues. And don't forget, other people may be more cautious than you are, so it's always worth erring on the side of caution and being extra careful and respectful to those around you. If you do have any concerns before your visit, you can contact the teams at the attractions - they will be more than happy to help you plan out your visit. We also recommend heading to the Covid-19 policy pages of your chosen attractions for full information about the rules and guidelines they'll be adhering to.

Don't forget to take a look at our Know Before You Go page to find out more about the current restrictions and to see what venues have reopened. We hope you're excited to get back out there and start enjoying everything that Nottinghamshire has to offer once more!
---
This blog was written by Alistair Webster
Related
2 Comments