A good beer garden is one of our favourite places to be when the sun is shining, and luckily for us Nottingham has a great selection in its midst. Tucked behind our bars and pubs there are yards, rooftops, canal banks and terraces which have been cleverly transformed into lovely spaces, perfect for whiling away summer days, meeting friends, and of course enjoying a pint with the sun on your skin.
Out in the county there are also plenty of rural retreats with gorgeous countryside views to gaze out over on a long summer's afternoon.
Have a look at some of our favourites below.
---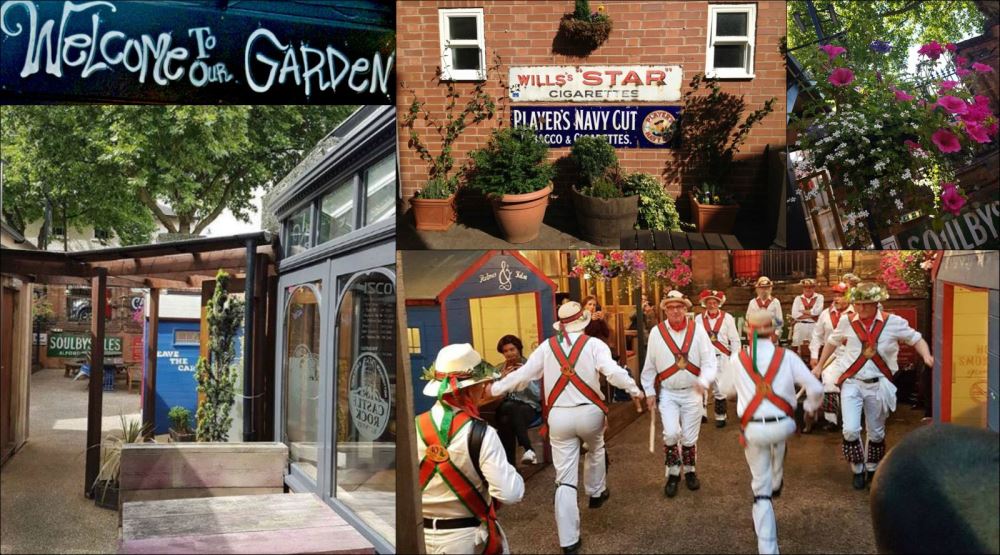 If you're not a fan of loud music, slot machines and sports channels and want a traditional well-stocked boozer complete with a good range of ales and whiskey, the Lincolnshire Poacher is well worth a little trip up Mansfield Road. This gem of a pub from Castle Rock Brewery has garnered a staunch reputation with locals as the place around to meet, relax, eat and drink. The brick walls of the rear garden are dotted with vintage enamel signage, there are regular outdoor food events, a number of cosy booths to sit in, a motley crew of lovely regulars if you fancy striking up a conversation, and quite often a friendly dog - so you'll be sure of a warm welcome!
Extra Tip! - The Arboretum is just behind the Poacher and a must if you want to admire the greenery in Nottingham's beautiful city park which is said to have inspired J.M. Barrie's Neverland!
---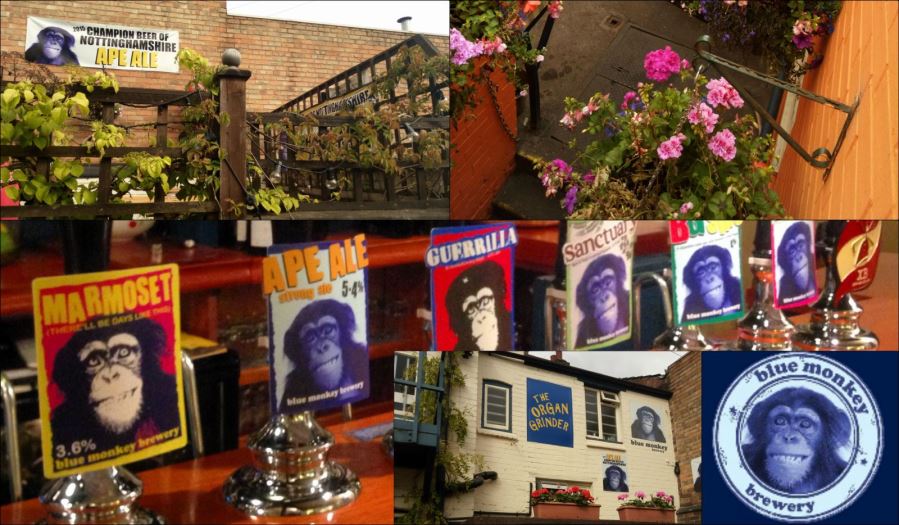 Another quality, classic pub with a great atmosphere, cosy fire blazing in the winter and lush garden for the summer months! Split between two levels, part of the garden sits on the rooftop and is dotted with hanging baskets and benches, making this garden a delightfully chilled out suntrap to enjoy one of the many fine ales served. As a Blue Monkey Brewery pub, the selection of drinks is second to none and classic pub snacks like pork pies and scotch eggs are served, making it the perfect place to while away a long and relaxing afternoon.
Extra Tip - Nip across Alfreton Road and within seconds you'll find yourself on Raleigh Street where the famous bicycles were first created in 1886.
---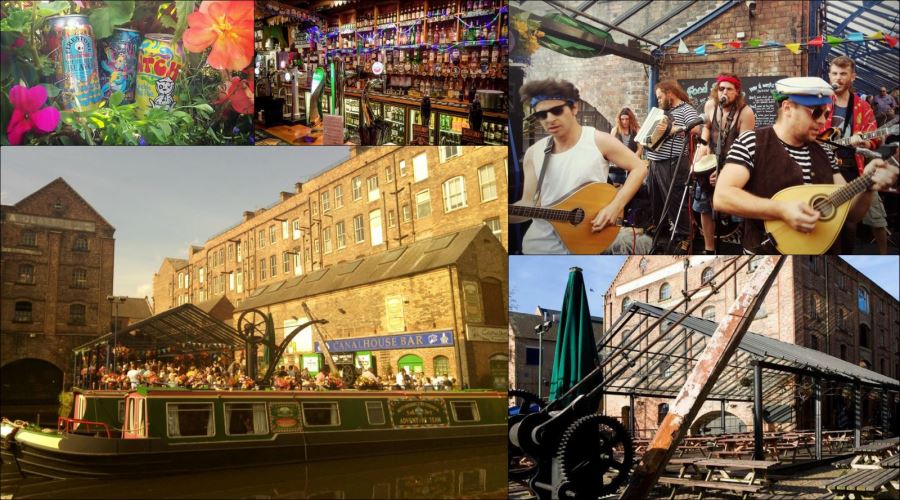 There's something about waterfront drinking and dining that really gives us those summer holiday vibes, so next on our list is The Canalhouse, another Castle Rock venue. A stone's throw from Nottingham Station and a short walk from The Lace Market and Nottingham Castle, The Canal House's beer garden is a great place for sunny days and drinks by the water. The unique building was once Nottingham's canal museum, so the water actually flows into the pub with moored canal boats sitting outside. The garden is probably largest covered outdoor area in the city, bright with flowers and the gentle bustle of the boats going by, and lit by fairy lights as the evening draws in.
Extra tip - Once you've had a refreshment, why not enjoy a scenic walk along the canalside? Perfect for a summer's day!
---



For rural charm and stunning views this traditional country pub in the charmingly named Blidworth Bottoms is hard to beat. Well known for its home-cooked British food, real ales and excellent wine, there's always a warm welcome inside and sunny days draw visitors to the huge beer garden and terraces, which brim with brightly blooming floral displays.

Extra tip - This charming pub is just a short drive from the glorious Newstead Abbey and the prefect place to stop off for a spot of lunch after a refreshing walk in the countryside.

---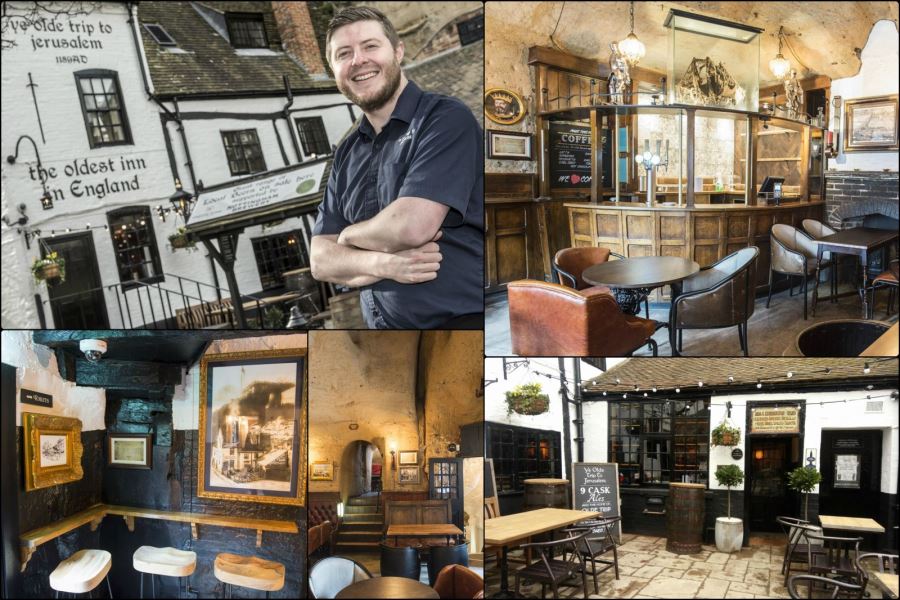 A pub that almost needs no introduction, Ye Olde Trip to Jerusalem plays one of the starring roles in Nottingham's rich history, and not least because it is carved out of the rock on which the castle stands. Dating back to 1189, inside the building is brimming with character, with each of the features and objects on display telling a fascinating tale. Sit outside and you can get a unique view of the castle's cliffs while relaxing in the large leafy garden and imagining the dramatic events which would have taken place around the pub over the past 800 years.
Extra Tip - Ye Olde Trip is built into the same rock as Nottingham Castle, and just around the corner from the Robin Hood Statue! After your visit, why not get a picture with Robin and then stop by the Castle for a visit. You can even pre-book a Cave Tour or their Robin Hood Experience.
---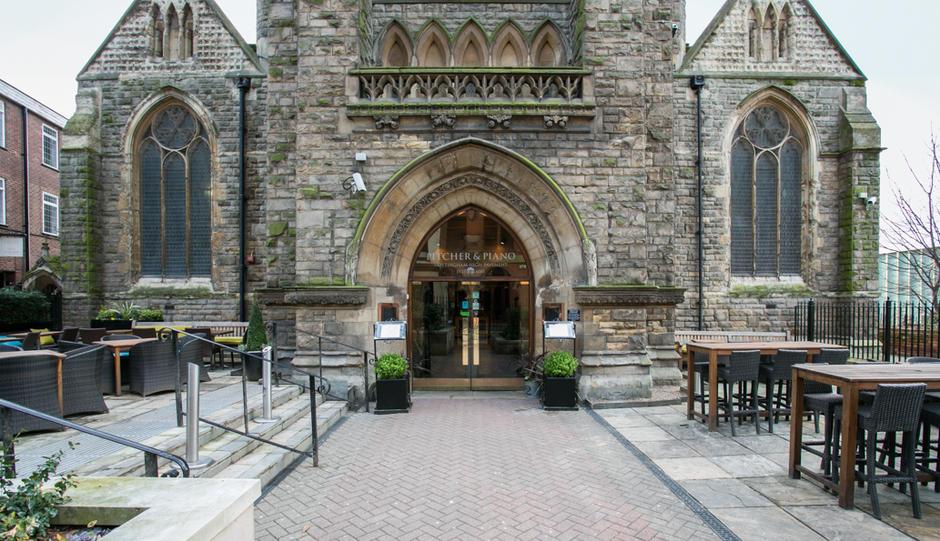 We couldn't make a list of our favourite outdoor spaces without including Pitcher and Piano, which is housed inside a striking Grade II-listed church in the heart of the Lace Market. Beautifully restored, the church setting provides a stunning backdrop to dining and drinking on their lovely outdoor terrace (don't worry, there's not a gravestone in sight). Complete with stained glass windows, exposed brick archways and beautiful new interiors, the Pitcher and Piano is a stylish space for socialising with friends, and their new all-day food menu makes it the perfect place to refuel.
Extra Tip - If you're feeling cultured, why not nip next door to Nottingham Contemporary - one of the largest galleries of contemporary art in the UK - to experience one of their ever-changing exhibitions? And it is free to look around!
---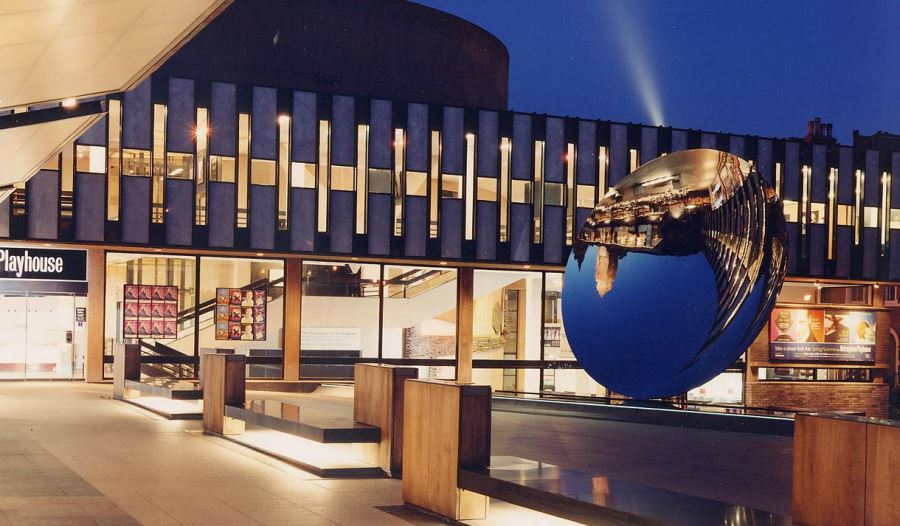 Whether you're catching a show, looking for a place to eat, or wanting to spend a few hours in a sunny outdoor area, Nottingham Playhouse might be just the ticket. Situated in the beautiful Park Estate, just off Derby Road, this modern theatre is surrounded by grand Victorian architecture and features Anish Kapoor's dazzling Sky Mirror as a centrepiece for the courtyard. You can even see Nottingham Cathedral on the same square, designed and built by renowned architect A.W.N. Pugin! Enjoy locally brewed real ales, continental lagers and ciders, wine and prosecco and a selection of crisps, nuts and olives.
Extra Tip: Just around the corner see if you can find The Park Tunnel, a beautiful carved thoroughfare built in 1855 to allow horsedrawn carriages access to The Park Estate from Derby Road in Nottingham.
---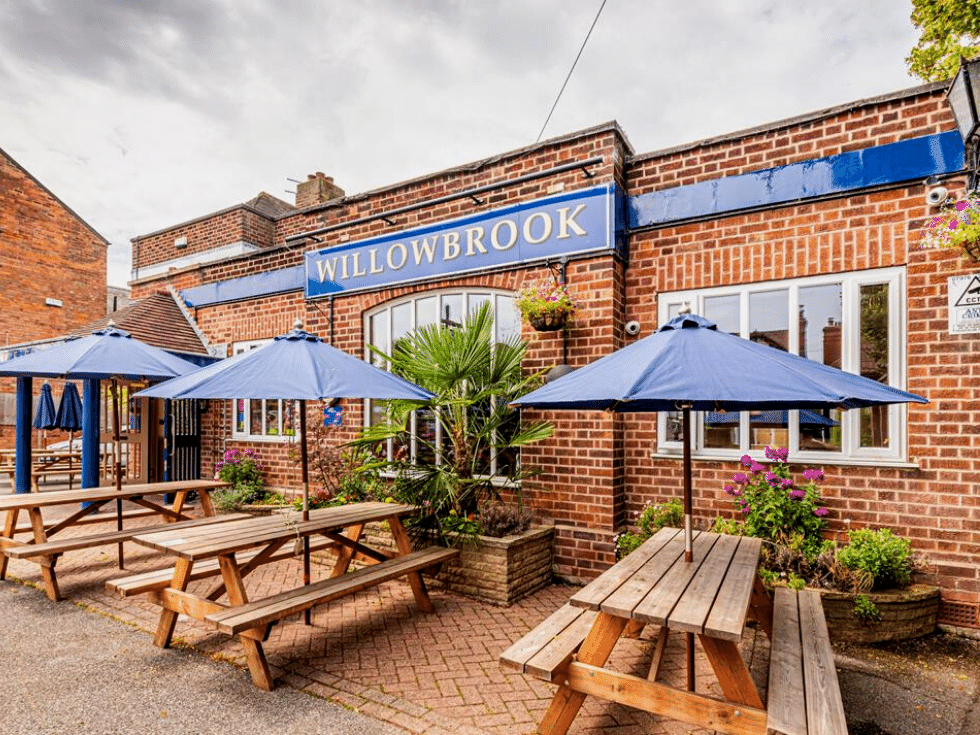 The Willowbrook is a community pub in the suburb of Gedling. This spacious and contemporary pub is made up of large open-plan spaces, with the rear housing a dining area and walled beer garden. A function room is also available for events or larger dining parties. On the bar, you'll find a welcoming line of 12 real ales, with two permanent Castle Rock beers and a range of guests. An excellent selection of premium lagers, ciders, wines, spirits and soft drinks is also available.
Extra Tip: While you're in the area, stop by Gedling Country Park for a walk on this gorgeous 230 acre site. The site commands spectacular views of Gedling, and from its highest point there are impressive views across Nottinghamshire and into neighbouring Lincolnshire and Leicestershire. On a clear day you'll be able to see as far as Belvoir Castle and Lincoln Cathedral.
---
This blog was written by Sophie Gargett. It was originally published in 2018.
This blog was updated in 2022 by Katherine Taylor, Marketing Executive at Visit Nottinghamshire.
Related
0 Comments