With just under a month to go until the Dinosaurs of China depart Nottingham, a few of us from the Visit Nottinghamshire team thought it was high time we took a trip to finally meet these wondrous prehistoric beasts. On a blustery, autumnal Tuesday morning we met on the steps under the great Wollaton Hall ready for an encounter which we had been anticipating all summer.
Described as a 'once-in-a-lifetime opportunity' by New Scientist, an exhibition of this importance deserves a stunning setting, and there are few finer than Wollaton Hall.
Wollaton Hall almost needs no introduction, but for those unfamiliar with this 16th century Elizabethan mansion, it is quite a wonder in itself. Other than spotlighting as Wayne Manor in the 2011 Batman production The Dark Knight Rises, the building houses Nottingham's natural history collection, with fossils, taxidermy and other natural wonders to behold throughout. Next door, in the 17th century stable block, you will find Nottingham Industrial Museum, sharing the city's rich manufacturing heritage, from Raleigh bicycles to dainty local lace. The lush green grounds surrounding are vast; strewn with avenues of timeworn trees and herds of grazing deer, a post exhibition stroll is highly recommended.
The exhibition
A unique world exclusive exhibition of dinosaur bones and fossils, Dinosaurs of China features specimens never before seen outside of China where the collection was unearthed. Some of the bones have only been discovered in the past twenty years and have shed much light on the connection between dinosaurs and birds.
The sheer scale of the Mamenchisaurus is hard to take in, and walking into the exhibition below this rearing giant is a real 'wow' moment. But the exhibition also has subtler wonders to share, with an astonishing collection of small but extraordinarily detailed fossils.
Seeing the tiny 'sleeping dragon,' which curled into a ball with its head tucked under its wing before a layer of volcanic ash rained down is heart-wrenching, while seeing soft tissue preserved on the dinosaur bones, and the remnants of butterflies in a dinosaur's stomach is truly amazing.
In addition to the Wollaton Hall exhibition, nearby Nottingham Lakeside Arts is running a free satellite exhibition. We wandered over through the beautiful parkland, past deer and the park's golf club, and through the University of Nottingham's green campus to the museum in approximately 25 minutes.
Lakeside Museum gave a fascinating and thorough timeline of our modern understanding of dinosaurs. From the days when their bones were thought to be those of dragons, to how dinosaurs have been captured in the public imagination in literature such as Arthur Conan Doyle's
The Lost World
to movies like
Jurassic Park.
If you're visiting with little ones there are some great activities both at Lakeside and Wollaton Hall to entertain them. They can transform into a dinosaur by wearing one of the adorable costumes available to choose from or play on the artificial mock-up island with a volcano and toy dinosaurs roaring around. There are also various quizzes for the older children along with colouring books and riddles. Just enough to keep them busy while you're exploring the exhibition.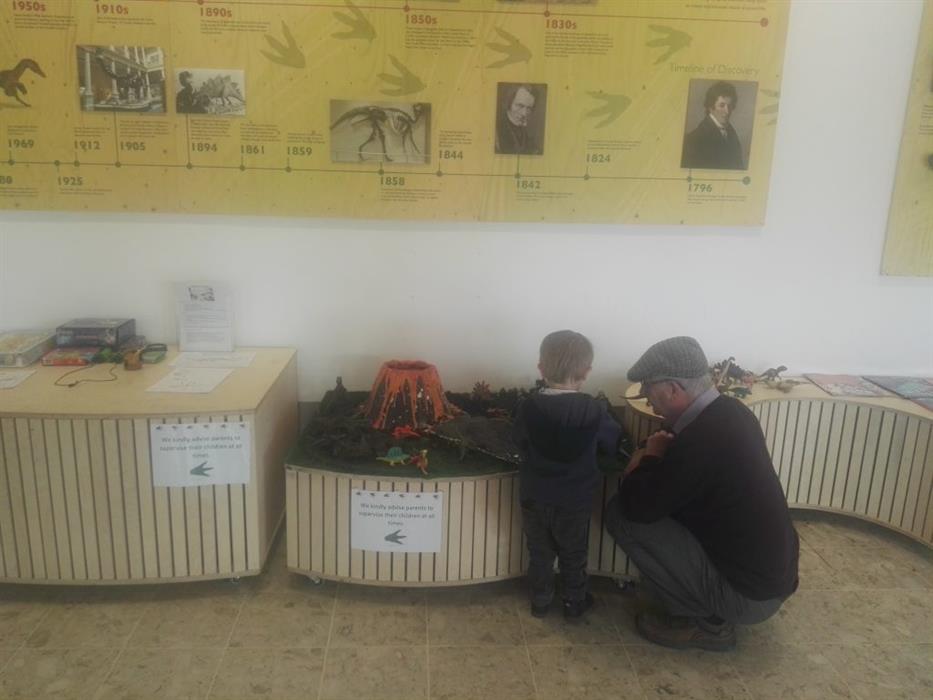 After having taken in both exhibitions we stopped off in Lakeside's delicious cafe for some refreshments and a cup of coffee. Our morning exploring both exhibitions couldn't be better, it was a perfect educational excursion as well as a one time opportunity to see Chinasaurs with our own eyes before they depart back to their homeland. Dinosaurs of China is a collaboration between the University of Nottingham, Nottingham City Council and the Institute of Vertebrate Paleontology and Paleoanthropology in Beijing. The exhibition runs until 29th October 2017 so make sure you don't miss it before it leaves!
Tickets are priced as follows:
Children £5 | Adults £7 | Family Ticket £20 and you can get them online. Entry to Nottingham Lakeside Arts is free.
---
This blog was collaboratively written by Kinga, Alistair and Sophie
Related
0 Comments