What better way to spend one of our sunny days during this summer's heatwave than at Robin Hood's Wheelgate Park. Like little keen beans, my children and I headed over to be there for the doors opening at 10am to make the most of the day.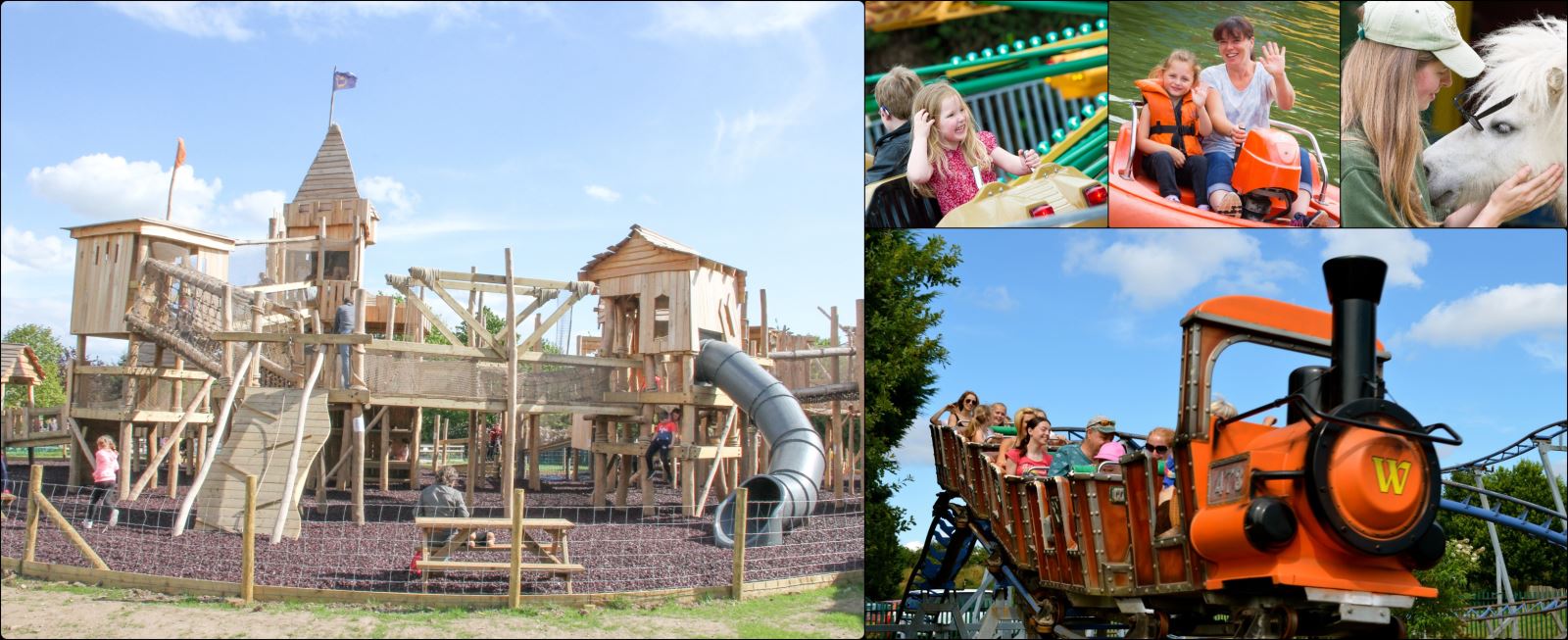 From the look of the car park and all the people lingering to apply sun cream, it was going to be absolutely chocka. But the moment we walked through the gates people spread out and almost disappeared and the children dashed off and without any delay were jumping high on a bouncy castle. Next they went to the Pirate Ship which appeared to be closed, however no sooner had I explained that it wasn't open, had one of the park's staff members come straight over and opened it for us. It was a very good start, and we were spoilt for choice with what to use. There is everything from mechanical rides with height restrictions, to a huge inflatable pillow for jumping, simple fun with a sand pit, and a giant wooden adventure play structure which entertained them for nearly an hour, and would have been longer if I hadn't moved them to explore further.
As it was a scorcher of a day we were really desperate to try the splash area. It was much bigger than I thought it would be and I can imagine spending a whole morning or afternoon just there on a day like that. A point to note is that with small children it is definitely worth taking your own swimwear as mine needed some support to go up on the structure. There was a very loud squeal (mine!) when the enormous bucket of water tipped at a timely moment, it was so refreshing to be cool after even sleeping in what has felt like a sauna for a bedroom, but I would have been content just paddling while they played!

There were plenty of toilet facilities, some of which are designed specifically for children, and we didn't have to wait once to use them. There are food and drink outlets and drinking water fountains. We took our own picnic with us for lunch and the park caters so well for this with plenty of spots for picnicking, with both tables and benches (some with parasols), and tree shaded grassy areas. The park's staff were doing a fantastic job of picking litter and emptying bins regularly – all spaces were very noticeably clean and tidy.
After lunch we queued (the only time we queued all day) for a go on the motorised rafts. They are like round donut bumper cars on a small lake. Really good fun, simple to operate and the children loved them. There is a height restriction and both mine were not tall enough to go on alone, and one adult can only take one child on at a time. Worth noting if venturing with multiple children as a solo adult.
The heat got the better of us at one point so we went indoors to the Egyptian themed HUGE pseudo-soft play area. It was absolutely brilliant, there were rope bridges, cargo nets, ball pits, and some slides for the bravest riders. There was a flying swing ride that my 2 year old daughter loved and plenty of tables and chairs for the grown-ups.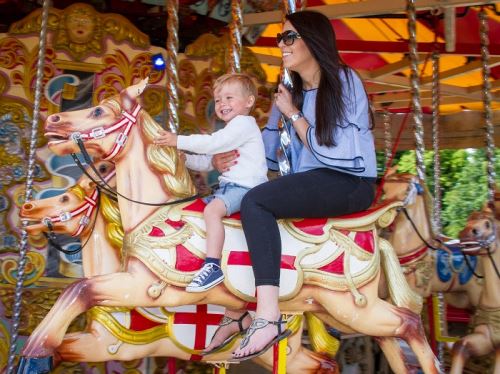 Of course it would not have been right if we didn't go on the Carousel. Smiles all round. It was great that where height restrictions existed, that adults could accompany the children on some of the attractions (not all of them but enough for the little ones not to feel left out). The huge slide(s) was another example of this, and when approaching the stairs I was so relieved that there were mats to sit on as an unfortunate previous incident with a friction burn had scarred me for life! Again, the staff showed how responsive and available they were when riders were stalling mid-way down. They immediately spoke to the parents and then ensured that the slides were lubricated slightly to make a smoother ride. We were really impressed.
We rounded up our day with ice creams and a chat about what we would like to do next time we go as we didn't get around everything on the park. We can't wait to go back again!
Robin Hood's Wheelgate Park have lots of events to check out this summer, from Superslam Wrestling and an Extreme BMX Bike Stunt Show to Grandparents Weekend and visits from Paw Patrol! For all events taking place, please click here.
---
This blog was a guest blog written by Emma Smith, Market Intelligence and Strategy Development at Invest In Nottingham
Related
0 Comments