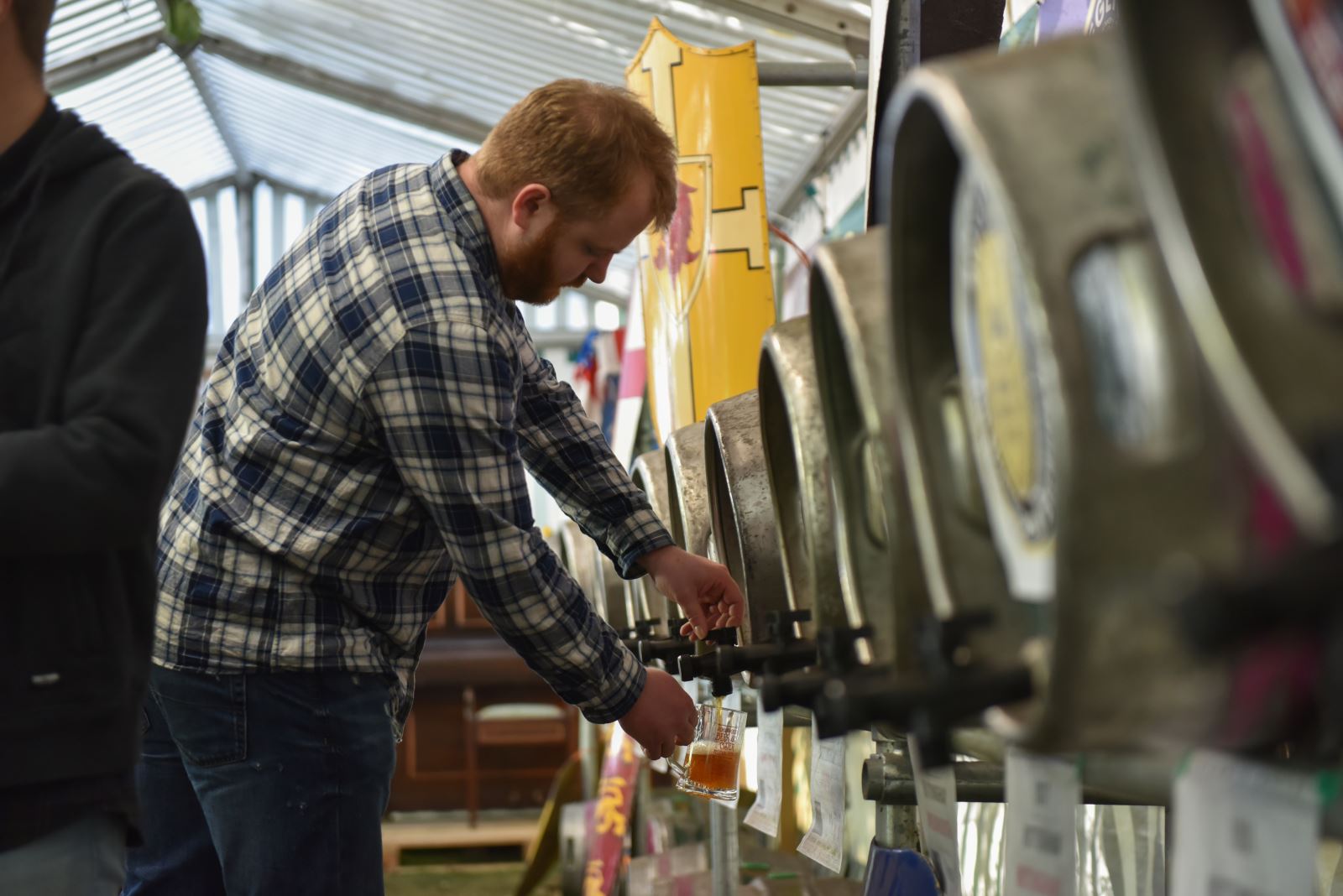 Ahead of the Robin Hood Beer and Cider Festival opening on Wednesday (17 October), we grabbed five minutes with the festival organiser, Steve for some quick fire questions – he's a busy man!
Is there any outdoor space for festival-goers to enjoy?
Yes – there are two large outdoor party areas: Bolero Square and the Backstage Village. The two areas have a live music stage (the impressive live music and entertainment schedule can be downloaded on this page), brewery bars serving real ales and ciders and there's a fantastic variety of street food stands.
If there is one beer and one cider that everyone at the festival should try, which are they and why?
That is a tough one as there's just so many brilliant beers and ciders! From the 1,050 draft real ales on offer (the biggest selection of real ales in the world might I add!), this year we do have ten American beers, which have been matured in wooden casks that previously held spirits – I would definitely recommend people try at least one or two of those as they're just so unique.
Last year Nottingham's own Magpie Brewery brought a really unusual pale ale to the festival: Cake and Egret, which was raspberry jam Victoria sponge flavoured. It went down an absolute storm and is therefore back again this year, along with Magpie's latest creation – a lemon meringue pale ale, which considering the popularity of the Cake and Egret, should be equally as enjoyable!
Now when it comes to cider, I would recommend Dry Cideh by Urban Farm Fermentory, from Portland in the USA. It's aged in and then imported in a wooden cask, which in itself is very unusual, but the casks have previously held rum. The rum contained in the wood flavours the cider making for a pretty special-flavoured drink. We've also never had a cider from America at the festival before.
Another first for the festival is a mead, which also comes from the Urban Farm Fermentory and is aged in a rum cask. It's semi-sweet and quite strong at 10%.
What food will be on offer this year?
We're welcoming back many of the food vendors who have been part of the festival for a good few years now, consistently serving excellent food. The ever-popular MemSaab are back, dishing out delicious curries and wraps, Romano's tasty hog roast and gourmet burgers will be on offer, and revelers can grab a real Cornish pasty from the Hand Made Pasty co. – all in the Backstage Village party area.
The Old Granary Pierogi return after last year's success, with their traditional hearty Polish pierogi (handmade dough cases, hand rolled and stuffed with a variety of meaty and veggie fillings – they're kind of like Italian ravioli when boiled or the traditional Cornish pasty when baked).
Vegetarian and vegans can take advantage of the brilliant vegetarian van that we have this year, ran by Veggies of Nottingham, and if you're looking to satisfy your sweet tooth, head over to the Love Crepes stall.
If all that isn't enough, there's even more great grub on offer in Bolero Square: German sausages, breakfast rolls, pie and peas, pulled pork and brisket, duck fat roasties, cheese toasties, fish and chips, pork pies and loads more!
And if you fancy a break from beer and cider at any point, we've a brilliant range of gin and tonics from across the East Midlands available too.
The crazy hats have become somewhat of a tradition at the festival – tell us they'll be on sale this year?!
Of course! Smart T's will be selling t-shirts and whacky hats in the main arena. I love seeing everyone in their daft hats – they seem to get more bonkers each year! Viking Drinking Horns will be available on the concourse too.
The Robin Hood Beer and Cider Festival runs from Wednesday 17 – Saturday 20 October at Motorpoint Arena. Tickets are still available – click here to find out more and purchase tickets.
Related
1 Comments