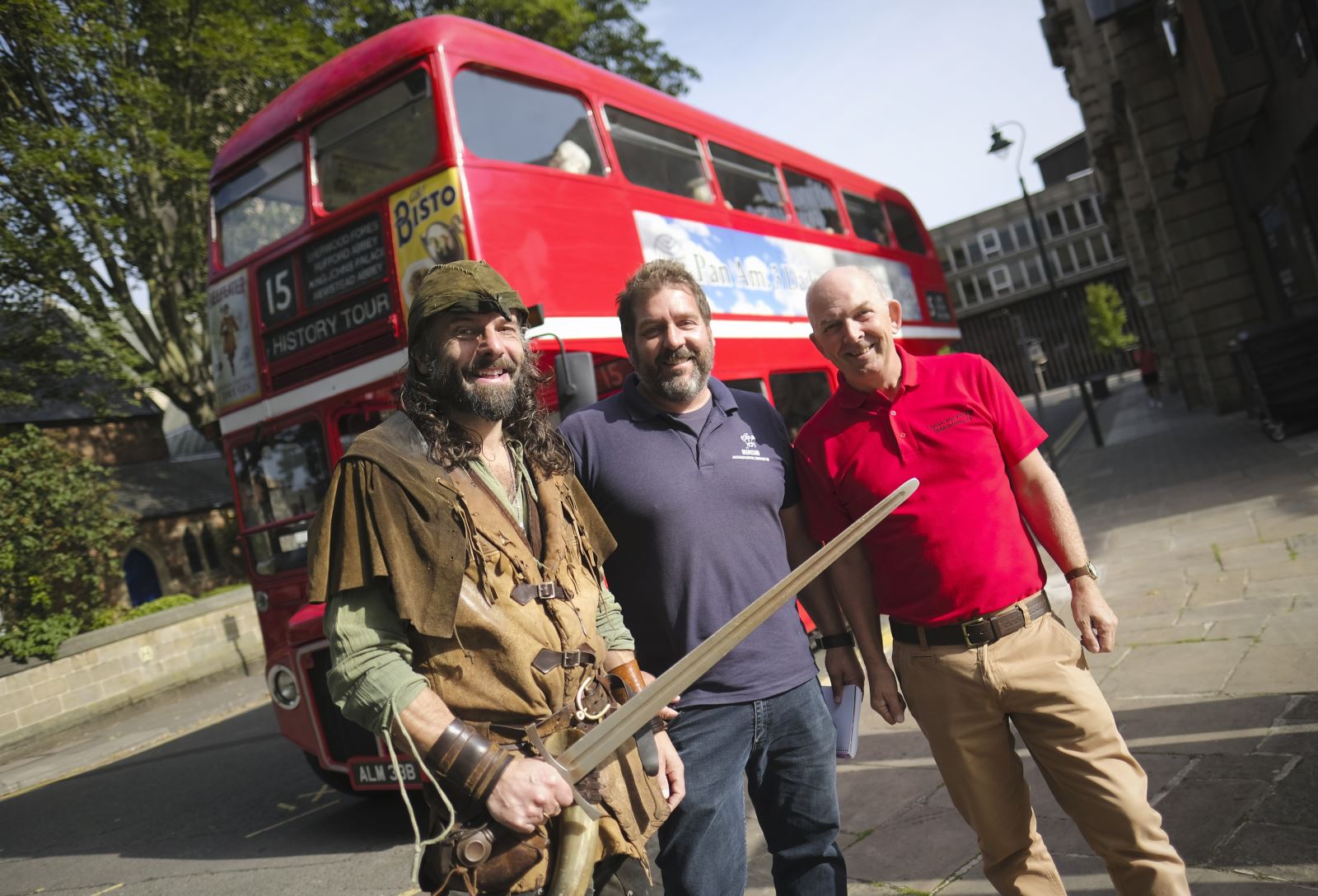 Coinciding with the week Lionsgate release the latest Hollywood adaptation of Robin Hood, Visit Nottinghamshire announce two new Robin Hood products to meet increased demand from visitors to explore the story of the folklore hero
In partnership with England's Literary Greats project, Visit Nottinghamshire has launched a new itinerary and two new travel trade friendly products, which will for the first time see a tour joining both the city of Nottingham with Sherwood Forest to tell the tale of Robin Hood.
Legendary folklore and modern charm collide in Nottingham; a destination known throughout the world as the home of outlaw hero Robin Hood – a character whose world-renowned tale has been retold over 800 years through medieval ballads, literature, television, film and theatre. The new itinerary will help tour operators plan trips to England, which explore the legend and other literary greats associated with Nottingham.
The itinerary also suggests a trip to Newstead Abbey, a former home of one of Britain's greatest poets, the 'mad, bad and dangerous to know' Lord Byron. Visitors are invited to wander the grand gardens and romantic ruins of this 300-acre estate and meet the rebel Lord himself exploring his life story on a character-led guided tour of the 12th century abbey.
The two new guided walking tours; The Robin Hood Town Tour with Lunch at England's Oldest Inn and The Legend of Robin Hood and Sherwood Forest Tours both invite visitors to join award-winning character-led guide - Ezekial Bone. Ezekial Bone presents in the guise of Robin Hood, explaining the history of the legend and exploring historic Nottingham before passing over to expert guides, Cultural Heritage Tours, for an onward adventure to explore the historic landscapes of Sherwood Forest.
Ade Andrews, a.k.a. Ezekial Bone, said, "All the main sites of interest linked with the Robin Hood legend and Sherwood Forest will be brought together into a package for those with a thirst for adventure, knowledge and good times."
The experiences have been created following extensive international research which identified that more than a third of overseas visitors want to see places from film and literature, and that almost half of them visited museums, art galleries, castles or historic houses on previous trips.
Alexandra Broughton, Visit Nottinghamshire comments, "We are very excited about launching these tours as they have so much to offer for international visitors. From stepping into the landscapes that inspired these authors and following in the footsteps of much-loved characters, to getting immersed in the scenery that became the settings for film and TV adaptations, the new Robin Hood experiences will educate and inspire cultural tourists."
The bookable products can be bought independently or incorporated into wider itineraries and tours and can be purchased 'off the shelf' or tailored as required. The itineraries also recommend accommodation, with a focus on trade or group-friendly properties and those that relate to the theme or are quintessentially English. Also recommended are complementary experiences including food experiences, landscapes famous for film locations or other local sites of interest.
Details of the Robin Hood itinerary and new bookable products can be found on www.visit-nottinghamshire.co.uk/plan-a-visit/travel/group-travel
The itinerary is one of a number developed across England as part of the 'Creating England's Literary Greats' project, one of several successful bids to secure funding from the UK Government's £40 million Discover England Fund. The Fund is administered by VisitEngland and involves a programme of activity to ensure that England stays competitive in the rapidly growing tourism industry, by offering world–class English tourism products to the right customer at the right time. The Fund is a central government funded programme of activity supported by match funding by partners in the public and private sectors. The project is based on research which identified a demand for increased literary-themed visits to England, focusing on the US travel trade.
-Ends-
Notes to editors
For further information, contact Sophie Milne, Communications Executive at Marketing NG, on +44 (0) 115 962 8304 44 / +44 (0) 7701311787 / sophie.milne@marketingng.co.uk.
About England's Literary Greats, led by Visit Nottinghamshire:
The 'England's Literary Greats' project will fine tune itineraries based around literary figures, adding associated film locations and deepening trade engagement. To find out more visit www.visit-nottinghamshire.co.uk/things-to-do/tours-and-trails/nottinghamshire-literary-tours
About Visit Nottinghamshire
Part of Marketing NG, Visit Nottinghamshire is the official tourism body responsible for driving leisure and business visitors to the city and county. Nottinghamshire is a leading tourism destination with a world-class reputation for its legends, local traditions, culture, sport and heritage.
About Ezekial Bone
Ezekial Bone is a multi-award winning tour guide who specialises in educational entertainment and character-led heritage tours in Nottinghamshire. Details on his tours can be found on www.ezekialbone.com To book the Robin Hood Town Tour and Lunch at England's Oldest Inn, please email contact@ezekialbone.com
About Cultural Heritage Ltd.
Cultural Heritage Ltd specialise in promoting the history, heritage and culture of Sherwood Forest and its surroundings through exclusive tourism and tour packages, which provide guests with interactive, experiential, cultural and informative breaks led by experts. Details can be found on www.culturalheritageuk.com To book The Legend of Robin Hood and Sherwood Forest, please email info@culturalheritage.com
About the Discover England Fund
In November 2015, the Government announced a £40 million Discover England Fund; an unprecedented opportunity for English tourism. The Fund aims to deliver world-class bookable tourism products joined up across geographies and/or themes; including integrated transport solutions to provide an end-to-end customer experience.
The Fund supports the growth of one of England's most successful export industries, inbound tourism. Tourism is an industry that delivers jobs and economic growth across the English regions – contributing some £106bn each year to the economy and supporting 2.6 million jobs.
The Fund supported a number of pilot projects in year one (2016/17) that tested product development approaches. In years two and three, 2017-19, the fund will support:

A number of large-scale collaborative projects to be delivered over the two year period 2017-2019 that will create a step-change in bookable English tourism product for international consumers,
A smaller funding pot for new one year pilot projects (in year two), and
Continuation funding for existing year one projects that demonstrated early learnings (in year two).
About VisitBritain/VisitEngland
As a national tourism agency – a non-departmental public body funded by the Department for Digital, Culture, Media & Sport (DCMS) – VisitBritain / VisitEngland plays a unique role in building England's tourism product, raising Britain's profile world wide, increasing the volume and value of tourism exports and developing England and Britain's visitor economy.
Working with a wide range of partners in both the UK and overseas, their mission is to grow the volume and value of inbound tourism across the nations and regions of Britain and to develop world-class English tourism product to support growth aspirations. For further information and to access the latest in-depth market intelligence and statistics visit www.visitbritain.org
Related
1 Comments