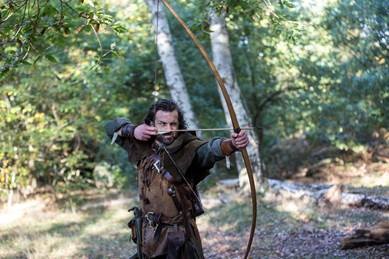 A brand-new Robin Hood itinerary and two bookable Robin Hood products have been launched by Visit Nottinghamshire to coincide with the release of Otto Bathurst's Robin Hood on the 21st November.
These itineraries will be promoted around the world through the international travel trade, encouraging international tourists to visit Nottinghamshire and immerse themselves in the rich history, legends and literature of the region, taking advantage of the increased interest generated by the latest film.
The itinerary is one of a number developed across England as part of the 'Creating England's Literary Greats' project, one of several successful bids to secure funding from the UK Government's £40 million Discover England Fund. The Fund is administered by VisitEngland and involves a programme of activity to ensure that England stays competitive in the rapidly growing tourism industry, by offering world–class English tourism products to the right customer at the right time. The Fund is a central government funded programme of activity supported by match funding by partners in the public and private sectors.
The project is based on research which identified a demand for increased literary-themed visits to England, focusing on the US travel trade.
Brendan Moffett, Chief Executive at Visit Nottinghamshire, said, "We're launching these new products at a time of increased interest in Nottingham thanks to the release of the latest Robin Hood film. They are specifically designed to appeal to international visitors with an interest in experiencing the legend for themselves, and we anticipate that they will provide a major boost to our thriving tourism economy."
The two-day Robin Hood itinerary includes the multi-award-winning Robin Hood Town Tour with the character tour guide Ezekial Bone, Nottingham Castle (set to be an even bigger tourist attraction when it reopens in 2020 following a fantastic £29.8m Heritage Lottery Funded transformation), Sherwood Forest and the Major Oak and Newstead Abbey, the ancestral home of Lord Byron.
The two new bookable products will see tourists exploring culturally and historically significant sites in Nottinghamshire with Ezekial Bone and Cultural Heritage Tours for an immersive and hands-on experience. For the first time ever, The Legend of Robin Hood and Sherwood Forest offers a joined-up tour of both Nottingham city centre with Robin Hood and a visit to the historic landscapes of Sherwood Forest, whilst the Robin Hood Town Tour and Lunch will have tourists exploring the historic city centre followed by a meal in England's oldest pub.
Ezekial Bone said, "These new products break down the glass wall between the city and the county, providing a fully comprehensive Nottinghamshire experience. All the main sites of interest linked with the Robin Hood legend will be brought together into a package for those with a thirst for adventure, knowledge and good times. With masterful storytelling, Robin Hood will bring the legend and the history of the City of Nottingham to life."
Karl Gibson, the landlord of Ye Olde Trip to Jerusalem, said, "It creates a real sense of community that we as a city can collaborate together to develop these great experiences. The Literary Greats project provides a fantastic gateway to help visitors learn and discover the great significance and the impact that Nottinghamshire has had on the country and further afield."
The bookable products can be bought independently or incorporated into wider itineraries and tours, and can be purchased 'off the shelf' or tailored as required. The itineraries also recommend accommodation, with a focus on trade or group-friendly properties and those that relate to the theme or are quintessentially English. Also included are suggested complimentary experiences including food experiences, landscapes famous for film locations or other local sites of interest.
Research has revealed an increasing recognition of the importance of culture and heritage for tourist motivation, behaviour and experiences, with more than a third of overseas visitors looking to see places from film and literature, and almost half of them having visited museums, art galleries, castles or historic houses on previous trips. Cultural tourists are thought to spend more, stay longer, travel more frequently, and participate in more activities than other tourists.
These itineraries and activities have therefore been designed in line with these market trends and in response to consumer demands, using the legend and character of Robin Hood as a hook. They are expected to benefit Nottinghamshire's tourism economy – attracting more international visitors and strengthening the region's cultural identity.
Andy Mercian, from Cultural Heritage Ltd, said: "This tour package offers people the chance to meet Robin Hood himself, and expert historians, and to uncover the real story behind the legends. It's a chance to soak up the culture of the vibrant city of Nottingham, before wandering through the ancient oak trees of the Forest, helping to link the county and city together for the greater good."
Ends
Notes to Editors:
For further information, contact Sophie Milne, Communications Executive at Marketing NG, on +44 (0) 115 962 8304 44 / +44 (0) 7701311787 / sophie.milne@marketingng.co.uk.
Details of the Robin Hood itinerary can be found on https://www.visit-nottinghamshire.co.uk/things-to-do/tours-and-trails/nottinghamshire-literary-tours
About Marketing NG: Marketing NG is the official Place Marketing Organisation (PMO) for Nottingham and Nottinghamshire. The organisation is responsible for growing the local economy through encouraging inward investment, attracting business and leisure visitors, student retention and aligning with the local business community. It is made up of three divisions: Visit Nottinghamshire, Invest in Nottingham and Nottingham Partners.
About the Discover England Fund
In November 2015, the Government announced a £40 million Discover England Fund; an unprecedented opportunity for English tourism. The Fund aims to deliver world-class bookable tourism products joined up across geographies and/or themes; including integrated transport solutions to provide an end-to-end customer experience.
The Fund supports the growth of one of England's most successful export industries, inbound tourism. Tourism is an industry that delivers jobs and economic growth across the English regions – contributing some £106bn each year to the economy and supporting 2.6 million jobs.
The Fund supported a number of pilot projects in year one (2016/17) that tested product development approaches. In years two and three, 2017-19, the fund will support:

A number of large-scale collaborative projects to be delivered over the two year period 2017-2019 that will create a step-change in bookable English tourism product for international consumers,
A smaller funding pot for new one year pilot projects (in year two), and
Continuation funding for existing year one projects that demonstrated early learnings (in year two).
About VisitEngland:
VisitEngland is the national tourism agency – a non-departmental public body funded by the Department for Digital, Culture, Media & Sport (DCMS).
Working with a wide range of partners in both the UK and overseas, our mission is to grow the volume and value of inbound tourism across the nations and regions of Britain and to develop world-class English tourism product to support our growth aspirations. For further information and to access the latest in-depth market intelligence and statistics visit www.visitbritain.org or www.visitbritain.com and www.visitengland.com for consumer information.
Related
0 Comments