With bats and black cats, tricks and treats and the saints of All Hallows' Eve right around the corner, it's time to embrace the wicked ways of Nottinghamhsire. But Halloween is more than spine-chilling scares and supernatural creatures, it's also loads of fun for chirldren and the perfect time of year to go on monster hunts, carve up some pumpkins, and get your fancy dress on. To help you through the month of bogeymen and broomsticks we've compiled a list of family-fun events for little monsters and their grown ups to enjoy.
For a full list of all things halloween in Nottinghamshire, head to our Halloween what's on guide.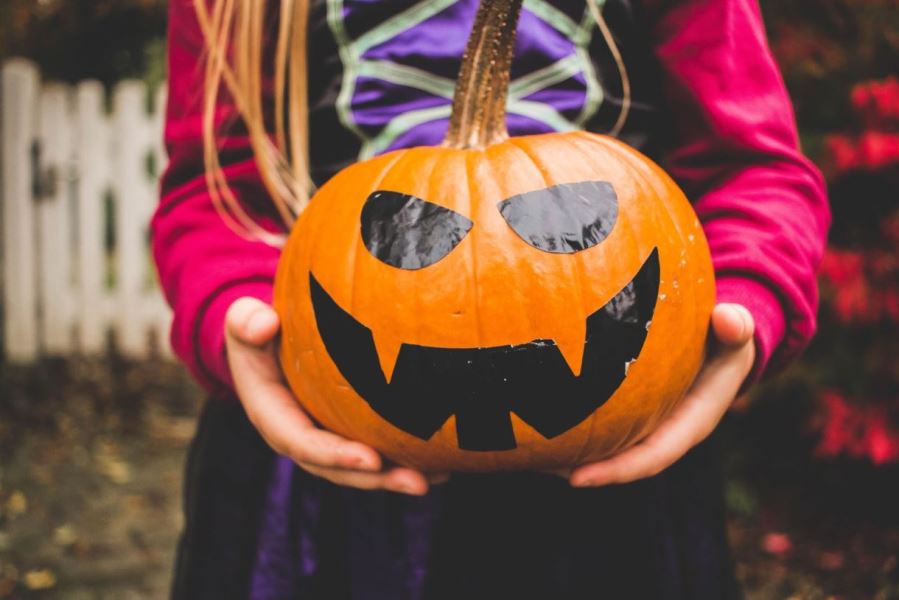 Pumpkin paths and mysterious trails

What could be a better way to make the most of the first proper month of autumn than taking a spooky walk or ghostly trail to explore Nottinghamshire's most beautiful sights?
Help out the Rufford Park Rangers and hunt the monsters on the loose – a prize awaits those who restore the harmony and make it through safely… At Wollaton Hall grab a trail map and find out where the path of pumpkins will lead you, or join in on a bewitching torch lit stroll through the deer park. You'll be taken to places where secrets are hidden and tragedy has stricken on a tour suitable for all ages.
Step into the twilight zone at Newstead Abbey to discover the dark and mysterious ways of its former pets cemetery and Monks wood. More a fan of the living? Don't worry, the bats of Newstead Abbey have got you covered with their very own Bat trail – can you spot these vampire-like creatures fluttering about?
Arts, crafts and monster mash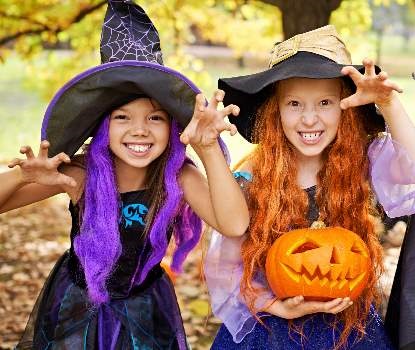 For little ones, the best part of Halloween is trick or treating, but this frighteningly fun pasttime wouldn't be complete without a spooktacular mask to scare victims into handing over their sugary treats. Luckily, Green's Windmill is just the place for some masquerade magic and kids can create their very own halloween-inspired mask. They can can also learn to bake their own spooky biscuits or try their hand at some bread baking with a pumpkiny twist, making this the tastiest Halloween yet.
For a Family Fun Frightfest head to Belvoir Castle where together you can explore the castle, listen to stories of the real Witches of Belvoir, carve pumpkins and much more. Children who complete this spooky adventure can become a member of the Belvoir Wizards and Witches club!
Make sure to pay a visit to Newstead Abbey, where you can build a den and make bat cave, perfect for letting the little creatures hide away from all things evil. The witching hour is nigh and at Thoresby Park and children can embark on a magical adventure as you join the Thoresby Academy of Wizardry – will they learn the cunning art of magic?
Fun days and fright nights

For those who are keen to play dress-up and have got a competitive strike, Family Halloween Night at Conkers is the place to be. Dare to follow the footsteps into the haunted woods where ghostly ghouls, witches and trolls have come to hide, then let the mischievous monsters show off their scariest dance moves and spookiest outfits at Conker's 'Ugly Bugs Disco'.
Is the autumn wind not biting enough for you yet? Then venture into a world of ice at the National Ice Centre's Scaries & Fairies party for a good old monster mash - children might even win a prize with their enchanting halloween costumes. For more spooky antics and wicked fun, head to Halloween fun day at Wollaton Hall or Newstead Abbey – but don't forget to get in the Halloween spirit and come dreadfully dressed up!
Spooky rides and wild creatures

Oh no! Monsters have taken over Gulliver's Theme Park and they're causing monstrous mayhem. With rides to make your tummy flutter, spooktacular surprises and plenty of tricks and treats – get your inspector on and you might even see your favourite Uglydolls characters! For loads of frightingly good fun with Honey and Sunny bear don't hesitate to visit Sundown Adventureland – that's where you'll find them exploring the magical land!
What could be more fitting for a supernatural Halloween adventure than a place full of creepy crawlers and frightening familiars? At The Tropical Butterfly House there's spooky adventures in galore. Get on your broomstick and join the magical school of witchcraft where children can follow the trail of activities around the park. From the enchanting sorting hat and potion class to the haunted house and pumpkin carving – there's plenty of magic going on here!
---
This blog was written by Ananda Datema, Marketing Assistant at Visit Nottinghamshire.
Related
0 Comments