These are trying times indeed and we want to help support all the independent businesses in Nottingham who are staying open and doing their best to serve the community and help people stay safe by adapting to offer take-away and delivery services. You'll get a foodie fix and know you're helping local businesses in this time of need: win-win.

Here you'll find details of restaurants, cafes and chefs offering meals for home delivery or collection, groceries, sweet treats and also drinks including coffee, beer direct from the brewery, wines and spirits. (click the link to skip ahead to the relevant section).

Latest Update: 21/05/2020, 12pm. Please check with the individual business on their website or social media for the latest updates.
Restaurants and Cafes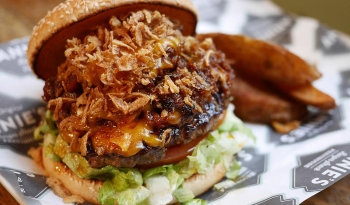 Annie's burgers are the stuff Nottingham legends are made of and from Thursday 21 May we can once again get our hands on them, plus their incredible American style breakfast and brunch dishes, with the launch of their 'call and collect' service, avilable Wednesday-Sunday each week. A full breakfast menu will served 10am-2pm, meaning fluffy pancakes and waffles are back on the menu, along with smoked salmon benedict and a host of other hearty brunch classics. They'll even have their sausage and egg muffin meal deal (served with a hash-brown and coffee) avilable for just £3.80 - making it not only tastier but better value than a certain fast-food chain who aren't currently offering their breakfast menu anyway 😉. From 5-9pm they'll be offering a choice of 10 brilliant burgers, along with your favourite sides and a selection of beers and wines. As always, each of Annie's dishes are available meaty, veggie or vegan.
---

This fabulous restaurant in the North Nottinghamshire village of Edwinstowe offer a collection service Thursday-Sunday with limited local deliveries avilable. They release a new menu each week on their Facebook page, with delicious dishes like seared sea bass, crushed new potatoes, spring greens with a mussel and saffron sauce, alongside a selection of wines. They also have a special Sunday Lunch menu including traditional roasts like sirloin of Derbyshire beef or pork loin with all the trimmings. To order call 01623 822266 from 2pm on Thursdays. Their currnet operating hours are 4-8pm Friday and Saturday, and 12-4pm on Sunday.
---

The award-winning Anoki Indian restaurant's exquisite food is now available to enjoy at home with a no-touch collection or delivery service for takeaways, plus their Express Van is out serving a range of chilled ready meals which are suitable for home freezing so you can reheat and enjoy them at your leisure. Order by 4pm and the team will do their best to get your order to your doorstep using a no-contact delivery system by 8pm. Check thier Facebook page for updates and details on how to place an order.
---
Tom Browns Brasserie have made their traditional Sunday lunch with all the trimmings available for collection from the restaurant each week. Choose from sirloin of beef, roast chicken breast or veggie friendly nut-roast, all served with Yorkshire puddings, seasonal veg, roast potatoes and Order on their website by 11am Friday and select your preferred collection time, then if you give them call once you arrive they'll even place your order directly in your boot for a truly contactless collection.

---


Chef Louisa Ellis
Masterchef: The Professionals finalist Louisa Ellis has launched an affordable delivery service for anyone in need of treat or craving some restaurant quality food to enjoy from the enforced comfort of their own home. With a huge focus on quality and freshness; this is comfort food at its best with the bonus of being able to eat it in your pyjamas. As well as making these meals as affordable as possible, Louise is providing all NHS and Emergency Services workers an extra main meal for free to pop it in the freezer for a rainy day or share with a loved one. Order on her website.
---
Vegans of Nottingham rejoice! Prickly Pear vegan cafe are bringing their incredible plant-based goodness direct to your doorstep via Deliveroo 2-8pm Mon-Sat, or you can call to collect on 0115 958 1339. Even if you don't follow a vegan diet their flavorsome dishes will not disappoint, with comforting dishes like creamy Mac 'n Cheese or satisfying Seitan Ribs. Remember our current crisis doesn't mean we should turn forget the climate crisis by reducing our consumption of animal products. You can also support them by buying gift vouchers on their website. Check their Facebook page for updates.
---

Sweet Treats...


Sugar can't solve your problems, but a little treat can make your day sweeter. Doughnotts are the kings of delicious fried dough-based delicacies and they are available to order via Deliveroo.
---
Nottingham's multi-award winning artisan chocolate maker Lusia's incredibly indulgent small batch hand-crafted chocolate is available to order online. All Luisa's chocolates are made with 100% natural ingredients using beans which can be traced back to their organic, natural farms. This direct trade ensures the farmers are paid a fair price to enable them to support their families and empower local communities, resulting in chocolate that is delicious and ethically produced.
---
Purveyors of all things sweet and scrumptious The Pudding Pantry have re-opened their Sherwood café between 9am-3pm, Friday to Sunday. You can preorder their drinks and treats for collection or order via Deliveroo or Uber Eats for delivery. They even have a limited number of afternoon tea boxes available for collection. Check their Facebook page for the latest updates.
---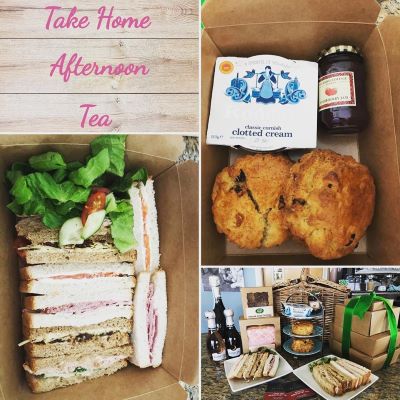 This delightful tea shop now offers a take-away Afternoon Tea perfect for a picnic or to enjoy at home. For £11pp (minimum of 2 people) you'll get a selection of sandwiches, a choice of two delicious cakes a homemade fruit scone with strawberry jam and clotted cream, plus some Taylor's breakfast tea bags. You can even add a bottle of Prosecco if you're looking to add a little sparkle to the experience. Check their Facebook page for the latest updates.
---
Something to Drink...
If there's one thing that's going to get us through this, it's coffee, and thankfully our good pals at 200 Degrees can help you out. You can get their famous Brazilian Love Affair and other blends delivered right to your door. If you're in the city centre with a coffee craving only a well-equiped barista can satisfy, their Carrington Street cafe is open for takeaway hot drinks and cakes.
---
An iconic Nottingham brand who still brew in Basford to the original recipes like Nut Brown and Shipstone's Mild will now delivery great beer to your doorstep! Take your pick from 8x500ml bottles, 5 Litre Mini Kegs or even a 35 pint Polypin of the beer of your choice. They are also offering Hollow Stone beers if you prefer something a little more exotic, like their Hawaiian red ale Kazumura or their sharp and fruity raspberry and lime Sorbeto. Check their Facebook page for updates.
---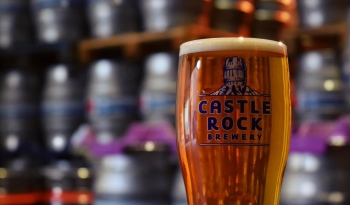 Castle Rock Brewery have set up a zero contact drive-through service and are currently trialing home delivery. Choose from a range of Castle Rock beers in 5L, 10L or 20L polypins or 5l minikegs, along with a huge selction of bottles and canned beers and ciders. Order via their online shop and your orders will be dropped directly into the boot of your car during your 5 minute collection slot, avialable 10am-12pm, Thursday-Saturday. For home delivery place your order online by 12pm on Wednesday and it'll be dropped at your allocated safe space between 12-6pm on Friday.
---
You can now enjoy some of Blue Monkey's award-winning brews from home! The Organ Grinder Pub in Arnold is operating a take-out service from 9am - 3.30pm, Monday to Saturday. They have mini casks, 3 or 10ltr bag-in-box ales, bottled Ale and bottles of Blue Monkey gin and rum available. They are also opening their Brewery Shop from Monday to Saturday 9.30am - 3.30pm and 10am-2pm on Sunday. One person at a time is permitted in the shop and hand gel must be used on the way in and before any money/card transaction (contactless card payment is preferred). Please check their Facebook page for the latest updates.

For anyone self-isolating they are setting up a delivery service operating within a 15-mile radius of the brewery, which will run once a week from Thursday 9 April – call them on 0115 9385899 for more information.
---
The team at the Trent Navigation have been doing an incredible job throughout the Covid-19 crisis to provide free meals for those in need, to keep everyone's spirits through their charity fundraising pub quiz . As if that wasn't enough, they now have 5L (9 pint) mini kegs of Navigation Brewery beers available to order with profits split equally between NHS Charities Together and local charity Bloomin Dementia! They've also got some very tempting ciders avilable, and - ingeniously - you can even order a pack of produce from local butchers Owen Taylors to go with your mini-keg ready for a BBQ. Order on their new website (BBQ packs must be ordered before 10am on Wednesday for collection on Friday).
---
Redsmith Distillery is the only gin maker and distillery in the City of Nottingham, and they're still continuing with their local contactless deliveries. Simply drop them an email or visit their website to get their fantastic gin delivered straight to your home!
---

Weavers of Nottingham is one of city's oldest independent businesses and stock an incredible selection of wines and spirits - order online for delivery to your door.
---
If you're after your wine fix, why not visit Gauntleys website? You'll find special offers on mixed cases of wine which can be delivered right to your doorstep!
---

Groceries and Provisions
This amazing independent delicatessen are now offering a drive through service. Call 0115 9484461 to place your order, they will then call you once they've got your order ready and take payment, then all you have to do is drive to the store they'll pop your shopping in the boot of your car. You can laos speak to them about home delivery if you're not able to collect.
---
As of Saturday 21 March the lovely people at Homemade Pavilion closed the cafe, but they're determined to help the community until they can re-open so have started a delivery service for the local area. Their Homemade at Home menu includes their delicious cakes but also family sized trays of comforting main meals like Lasagne, most importantly they're also delivering a range of groceries for those who can't access or want to avoid supermarkets (or can't get an online delivery slot for several weeks). They have a range of essentials like pasta, toilet roll, butter and eggs as well as a 'provisions box' which contains a range of fresh fruit and veg along with milk and eggs. Order by 5pm on Wednesday for delivery on Friday. Check their Facebook page for the latest updates and to place your order.
---
Nottingham's most sustainable retailer is staying open to help you shop safely and responsibly. They stock personal care items, household goods, detergent refills and foods which are all ethically sourced and with no unnecessary packaging. You can call, text or email your order then collect from the shop (details on their Facebook page), or order on their website for door-to-door local delivery or postal delivery.
---
The city's artisan cheese shop is still open and they're now offering a delivery service to your door. Give them a call on 0115 941 9114 to arrange your order. It's not just an amazing selection of cheese on offer either, they stock fresh bread, pork pies, preserves, wines and loads more.
---
And Finally...

There are many more restaurants, bars and cafes in Nottingham and Nottinghamshire which remain open in some capacity and have adapted to help support Nottingham through this tricky time. This is small selection of those we've heard from. If there's one we missed that you think needs a shout out, why not let us know on Twitter or Facebook?

---

This blog was written by Claire Jones, Marketing Assistant at Visit Nottinghamshire.
Related
0 Comments