Aahh you've re-watched that Netflix show for the 5th time, you've played every drinking game in your repertoire at least 50 times, and you've taste-tested half of the restaurants on Uber Eats. Maybe it's time for you and your flatmates to get out of the flat and explore some of the exciting things Notts has to offer (which aren't all drinking 😉). Here are five fun things do to in Nottingham with your flatmates!

1. Try out these Crazy Golf courses

This has to be up there with one of my favourite things to do as it's always guaranteed to bring out everyone's competitive side (and at least one person's extreme competitive side). Two amazing crazy golf venues for you to try out in Notts are the Lost City Adventure Golf and Gloryholes.

Gloryholes, situated in the Hockley region, is an adult-only indoor crazy golf course. It has 18 quirky, crude, and highly entertaining holes. The lovely people at Gloryholes also serve up an array of cocktails and drinks, which can be taken around the course with you, and delish pizza from the Ugly Bread Bakery. Tickets are £10 per head (Monday – Thursday) and £12 per head (Friday – Saturday).

The Lost City Adventure crazy golf is the more PG-13 option. It's situated within Cornerhouse, which is near to loads of incredible eateries and bars worth paying a visit whilst you're out. Within Lost City, you get a choice between two different 18-hole golf courses (or knock yourself out and do both) which are as enjoyable as each other! The holes are fantastically decorated and themed around a mystical tropical jungle. The sounds, sights, and smells will honestly make you feel like you're on the set of Indiana Jones! Once you've finished golfing, head over to the Tikki Bar and enjoy their incredible tropical cocktails and freshly made pizzas. Tickets – (18 holes) £5-9, (36 holes) £8-15, + a range of packages.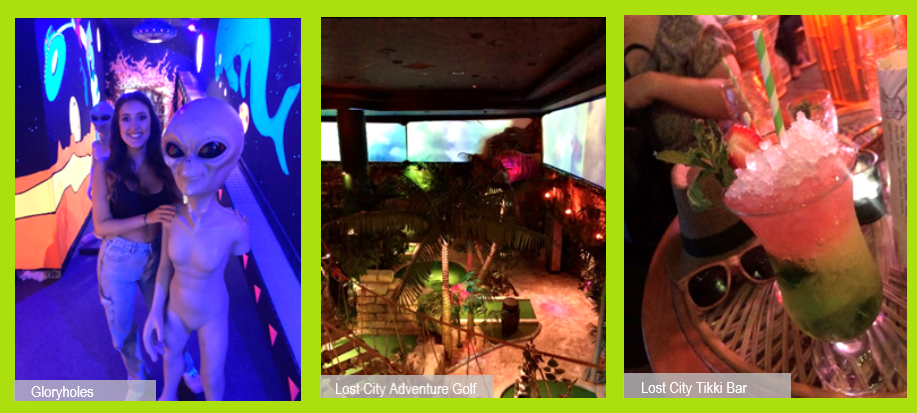 2. Watch a Sport Game

Get the ball rolling and go cheer on your local team! Notts is home to some amazing sports venues and teams, such as Trent Bridge (home of Nottinghamshire County Cricket Club), City Ground (home of Nottingham Forest), and the National Ice Centre (home of Nottingham Panthers).

Arguably the most recognisable venue, Trent Bridge is a world-renowned cricket ground, home to domestic and international games! Games happen all year round, but an exciting fixture coming up in the summer of 2022 is the England vs New Zealand test match. Grab tickets now (from £15) for a perfect day out with the whole flat. Hot and cold refreshments are available to you on-site, or you can bring your own food and drink (avoid alcohol cans, glassware, or metal cutlery).

If cricket's not your thing, try out an Ice Hockey game! This highly fast-paced and thrilling sport will keep you on the edge of your seat! Home fixtures are within the National Ice Centre, a state-of-the-art venue with an incredible atmosphere. You can catch some of the Nottingham Panthers' upcoming games in the Elite League. Tickets range from £11-20.



3. Visit an Arcade Bar

Why not spice up your Pre's with a trip to an arcade bar. Some of my favourite venues are Penny Lane and Roxy Ball Room. Both these venues provide a whole host of fun old-school arcade games (that get even more entertaining after a few drinks).

Starting off with Penny Lane, this bar is a dip into your summer seaside trips, combining heart-warming food, fun playful drinks, and nostalgic arcade games! Set in the heart of the iconic Lace Market, Penny Lane has games such as Air hockey, Basketball, Table Football, Donkey Derby, Claw machines and many more. Their kitchen serves a range of mouth-watering fresh food, with great vegetarian options as well. The highlight of your trip will definitely be their cocktails! The cocktails are full of playful novelties that make them irresistible to try.

A similarly fun bar is Roxy Ballroom, situated a stone's throw away from Penny Lane! This bar has Pool tables, Ping Pong tables, Lawn Games, a Karaoke Room, Ice Curling, Crazy Pool, Duck Pin Bowling, Ten Pin Bowling, Shuffleboard, and Beer Pong Tables. You can hire each activity out per hour, but prices will range for each activity.



4. Visit the City Farm

If you're missing your pets at home, or just love animals, check out this charming farm! Stonebridge City Farm is a green sanctuary within the heart of the city. They have adorable animals in all shapes and sizes, ranging from cows, sheep, and goats to rabbits, guinea pigs, chickens, and ducks. The Farm allows you to experience these wonderful animals up close; the bigger animals can be fed with food brought from their shop and the smaller animals can be petted within their animal handling sessions!

The Farm is a registered charity and relies on donations. They pride themselves on their accessibility to all so offer free admission! Get your flat together and wonder down to Stonebridge City Farm to meet these cuties 👇.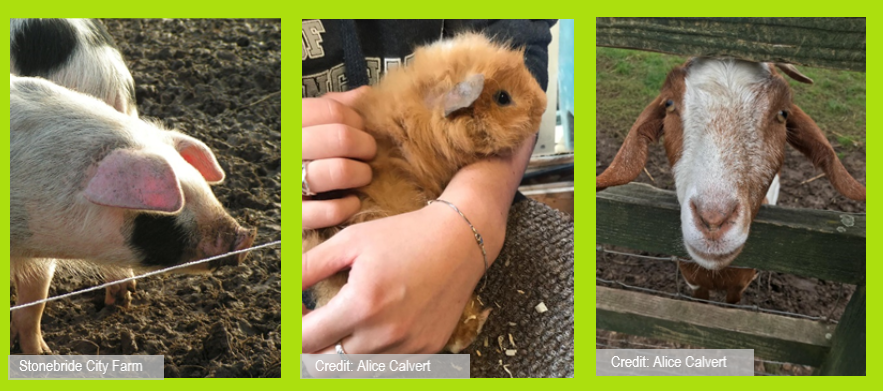 5. Paint some Ceramics

This chilled activity offers you and your flatmates a perfect rest bite from uni work! Grab a coffee and a cake, and chat amongst friends whilst painting your woes away. Two lovely studios in Notts are Razzle Dazzle Pots and Pot N Kettle. Both offer a wide selection of plates, mugs, trinkets, animals, money boxes, figurines, and seasonal ceramics as well! All the prices of the ceramics are fully inclusive of the cost of paint, glazing and firing.

Razzle Dazzle Pots ask that you book in advance. Your session usually lasts 2 hours but during quieter times you can stay all day!

Pot N Kettle does not require you to book, you can either drop in or book in advance if you prefer. They also offer takeaway kits for you and your friends to paint in the comfort of your own home.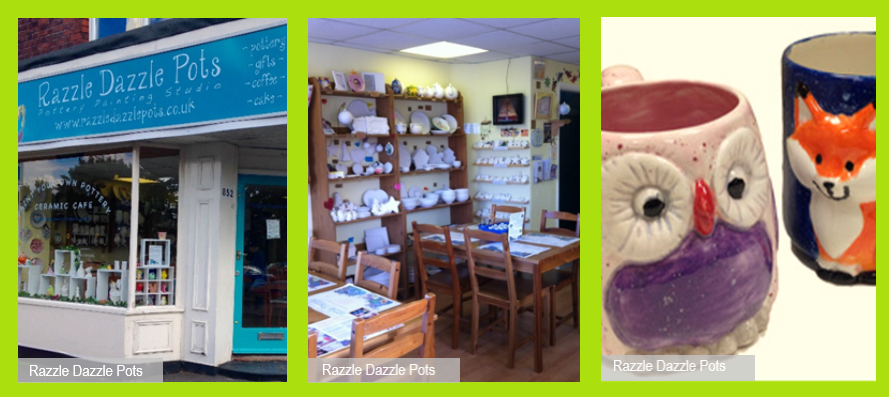 ---
By Katrina Farrier - Marketing Intern
Related
1 Comments