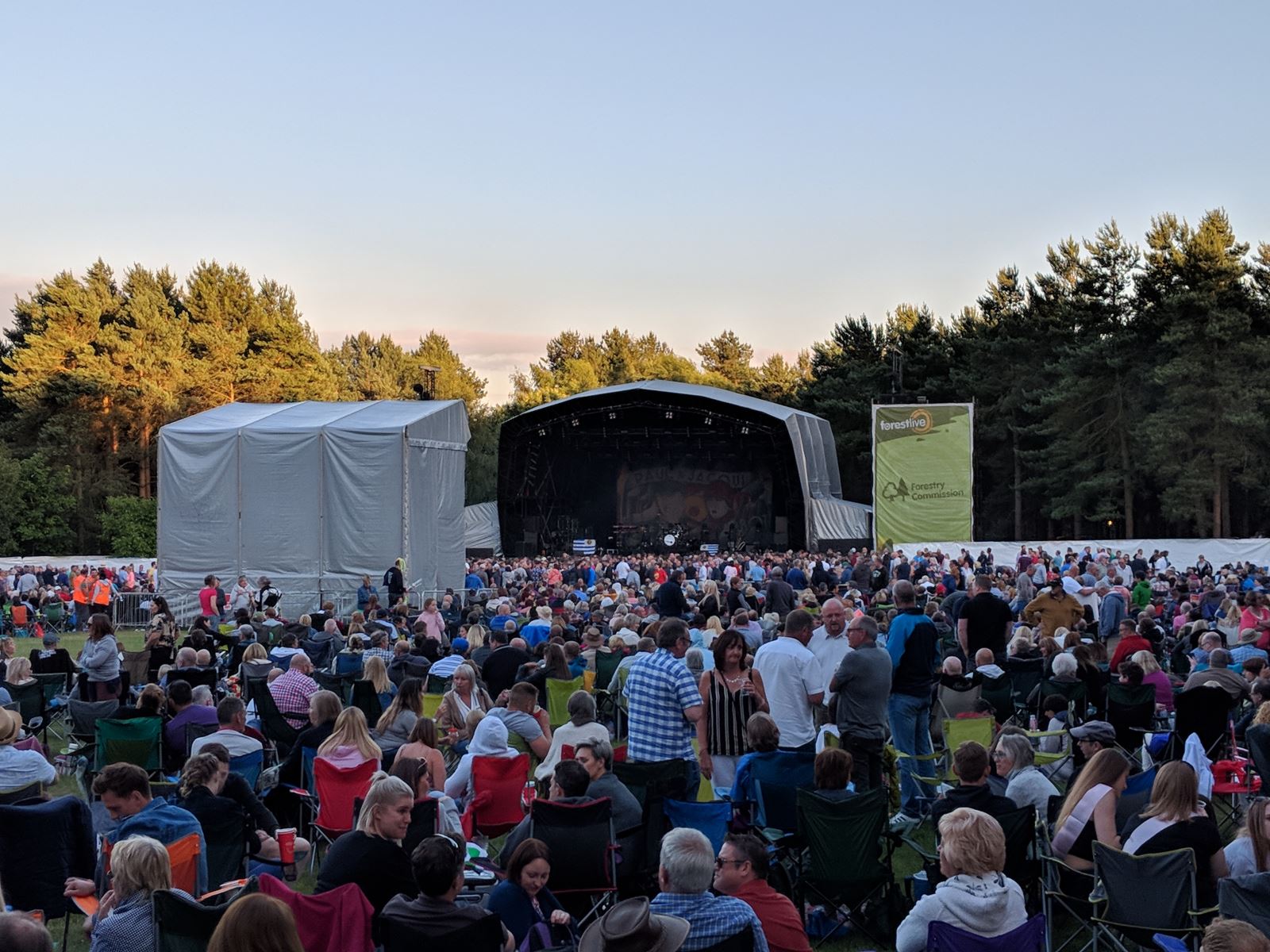 Forest Live is a three-day, outdoor festival based in the woodland heart of the county – Sherwood Pines and showcasing some of the best singers and performers out there.
With the weather being very kind to us this year, the festival was a perfect choice for a day out with friends and family. We were thrilled to be a part of it and see Paul Heaton and Jacqui Abbott as well as UB40 featuring Ali, Astro and Mickey.
Read on to find out what we thought about this year's festival.
UB40 featuring Ali, Astro and Mickey
Having been a UB40 fan for over 35 years, my friend and I headed to Sherwood Pines on the hot sunny evening of the 24th June ready to enjoy the nostalgic reggae beats of UB40, albeit three of the original members Ali, Astro and Mickey.
We arrived an hour early and were directed to a car park just a short walk from the stage. We placed our blanket near the front of the stage, which quickly became redundant as we immediately leapt to our feet to dance to Prince covers by the support band Radio Riddler, who proved to be another nostalgic and therefore fitting act for us 40-50 somethings.
Ali started the set with the Al Green cover Here I am Baby and it was clear that Campbell's sweet voice had not changed over the years. Red, Red Wine proved popular with the crowd, who along with us sang along to every word, as they also did to the fun feel good Rat in mi kitchen performed by Astro! However, from my own personal point of view it was the early UB40's socially and politically charged One in ten and Food for Thought with their thought provoking words that resonated with me. These were the tracks that I fell in love with at such an impressionable young age, and the ones that immediately took me back to my teenage bedroom where I would play my very first vinyl album Present Arms at full volume, much to the annoyance of my parents. Their early musical style with its unique dub producer techniques, deep bass and Ali's voice is the UB40 sound that I fell in love with all those years ago and still love to this day!
Nevertheless, the older version of me now has a true appreciation for the pop version of UB40, and it was these that whirred around in my head way after the gig had ended. It's sad to think that the band are now split into 2 very separate camps when once they performed as brothers and friends in a tired old bedsit in Birmingham. However, UB40 fans of old will not be disappointed by Ali's camp and I certainly recommend you experience them live, particularly I might add in such a beautiful open-air venue!
~ Vanessa

To say I am a fan of Paul Heaton is an understatement. A man that would travel 40 hours on a train to watch Italian football, owns a pub and loves cycling and trainers – what's not to like! As a ten-year-old, I'd attempt to sing like him but soon realised my voice was more Neil Tennant/Bernard Sumner than his falsetto.
Having not seen him for six years, I was mega excited to see his set at Sherwood Pines, especially now he was back with Jacqui Abbott, the reunion best described as a 'rebirth of a beautiful friendship'.
They arrived to a Spaghetti Western intro, with Uruguay flags draped over the stage. Recent songs, The Lord is a White Con (racial politics) and People Like Us are typical Heaton nature, touching on important subjects, but told in a dry, observational way and, as always, condensed into four minutes.
Not surprisingly, the loudest cheers were for old favourites from The Housemartins and The Beautiful South – the latter of which broke up due, not to personal differences, but musical similarities – always witty and never middle of the road. Sheep and Five Get Over Excited made me feel like the first time I heard them over thirty years ago…. stupid and silly. Judging by the reaction of the crowd, it wasn't just me who felt like this, the majority of whom seemed to be born in the 60s and 70s.
The Beautiful South tracks were brilliant, Jacqui made the songs feel less opinionated versus Paul's dry wit with big-heart style. They belted through classics Old Red Eyes, Perfect Ten, Carry on Regardless, I'll Sail This Ship Alone and Song Forever, with no track ever feeling like a filler. A Little Time at the end was up there for me – brilliant. To say we got a Happy Hour(s) is an understatement!
PS Apologies for the bad pun at the end!
~ Simon
Forest Live will return next year with even more musical talent so keep your eyes peeled for future announcements and don't forget to check our what's on for all the latest news.
This blog was written by Simon Kirk at Invest in Nottingham, Vanessa Corns at Marketing NG, and Kinga Kapias at Visit Nottinghamshire.
Related
0 Comments