When Nottingham's iconic sports bar, Southbank, announced their bold decision to transform the venue into something rather different, creating a space to relax, drink and dine rather than watch the footie, they certainly raised an eyebrow or two. Following a dramatic £450k revamp it has now emerged, butterfly-like, as the brand-new all-day venue, Waterside Bar + Kitchen, making the most of its fabulous riverside location in the heart of Nottingham's sporting quarter - a mere stone's throw from the vibrant suburb of West Bridgford and the city. Having heard on the grapevine about quite the dramatic transformation, Visit Nottinghamshire couldn't resist going along to check it out.
Sure enough, it's completely unrecognisable. Gone are the plasma screens and beer posters, and in their place is sleek wood panelling and luscious plants, lending a stylishly rustic feel to the place. We make a beeline for the conservatory, which is decked out with twinkling fairy lights and an impressive wall of leafy greenery, and boasts stunning views across the large terrace and the river beyond. It's rather a drizzly day when we visit so the riverside garden area is sadly out of the question, although the sound of raindrops on the conservatory roof has a cosy charm all of its own.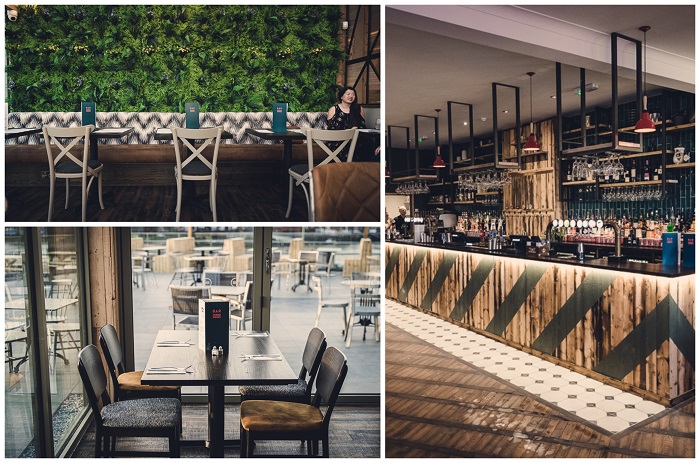 Barry Garton, the Catering Operations Manager, tells us a little about the menu whilst we sip our drinks. It's pretty eclectic, innovative and experimental, and we can tell he had a grand old time designing it, taking inspiration from his travels and culinary adventures to create a menu filled with flavours from across the globe. There's also an unmistakeable nod to Great Northern Group's other successful venues, Copper and the Refinery.
Most of the menu is tapas-style, with a range of small and large dishes divided appealingly into Garden, Farm and Water. We study the Garden section with interest; vegetarian and vegan options can often feel like an afterthought, with a dreary salad or bland bowl of pasta tacked lazily onto the end of the menu, but we're pleased to note a large and carefully considered selection of plant-based dishes which even the meat-eaters in our group are drawn to. There's more than a hint of fancy fine dining (the small plates section includes 'Pickled candied beetroot stack' and 'Bone marrow and soldiers') alongside crowd-pleasers like stone-baked pizza and tacos.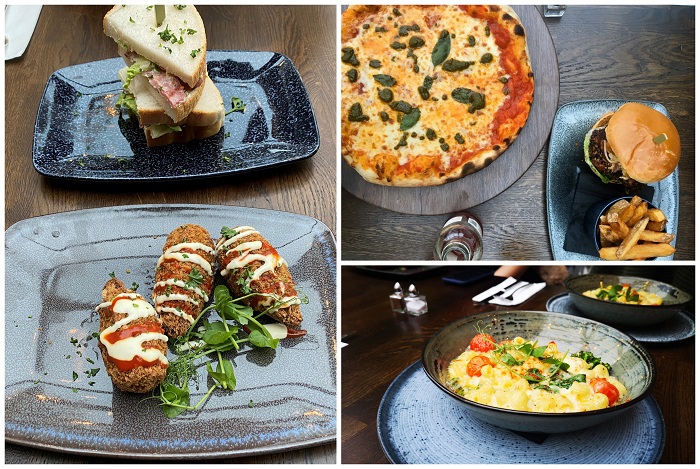 The miserable weather outside calls for comfort food, so we find ourselves ordering the Mac'n'Cheese from the excellent value express lunch menu, which was up there with the best we'd ever had - deliciously cheesy, hearty and flavoursome. Given the dish is vegan and made without a drop of dairy, believe us, this is quite the coup! We're curious about the Jackfruit Wingz - presumably one of the more challenging meat dishes to attempt to recreate - and are pleasantly surprised to find them savoury and tender, enveloped in a crunchy breadcrumb coating, and not a million miles away from the taste of real chicken and come complete with a sugarcane 'bone' – now that's a sign of impressive plant-based culinary creativity.
The fried kimchi chicken burger is a triumph. The distinctive kimchi-style slaw, pickled onion and delicious glaze made a mouth-watering combination: heaps of crispy, spicy, Korean-inspired deliciousness in one dish. The admittedly rather unappetising-sounding B.L.A.T turns out to be a refreshing twist on the classic BLT: crispy bacon, fresh lettuce, tomato and avocado on a thick farmhouse loaf – simple and delicious. We also try the Margherita pizza, a stone-baked sourdough with fresh plum tomato, mozzarella, basil and rocket pesto, which would surely get the Italian seal of approval for its unpretentious simplicity.
We have to say, we're rather impressed by Waterside Bar + Kitchen, and we're very glad that Great Northern Group decided to take the plunge with this venue. While it retains its charm as a great place to visit for a pre-match pint on your way to the City Ground or Trent Bridge, the stylish décor and amazing menu full of international flavours make it a drinking-and-dining destination all of its own, and they'll definitely be gaining plenty of new fans from Nottingham and beyond. It was always going to be tough to say goodbye to Southbank, but we're very excited to say hello (and hola, bonjour and halo!) to Waterside Bar + Kitchen… it certainly floats our boat!
This blog was written by Sophie Milne, Communications Executive at Visit Nottinghamshire.
Related
0 Comments